Fashion is all about recycling trends, with fashion weeks all over the world showcasing top fashion houses that have taken decade-old trends and making them contemporary again. We need only look at the 2020 autumn/winter trends to prove this. Puff/balloon sleeves are back, giving us a nod to 1600s and 1980s fashion trends of dramatic silhouettes. Wide leg jeans are creating waves, giving us 1960s and 70s vibes, and small, shrug-on fluffy cardigans are having a moment, giving us peak early 2000s feels. So, this suggests that part of the beauty of fashion is that if you keep a quality piece for long enough, it will mostly likely come back into style. This is where second hand clothes become the savvy, environmentally-friendly and generally smart way to shop. 
What is Second Hand September?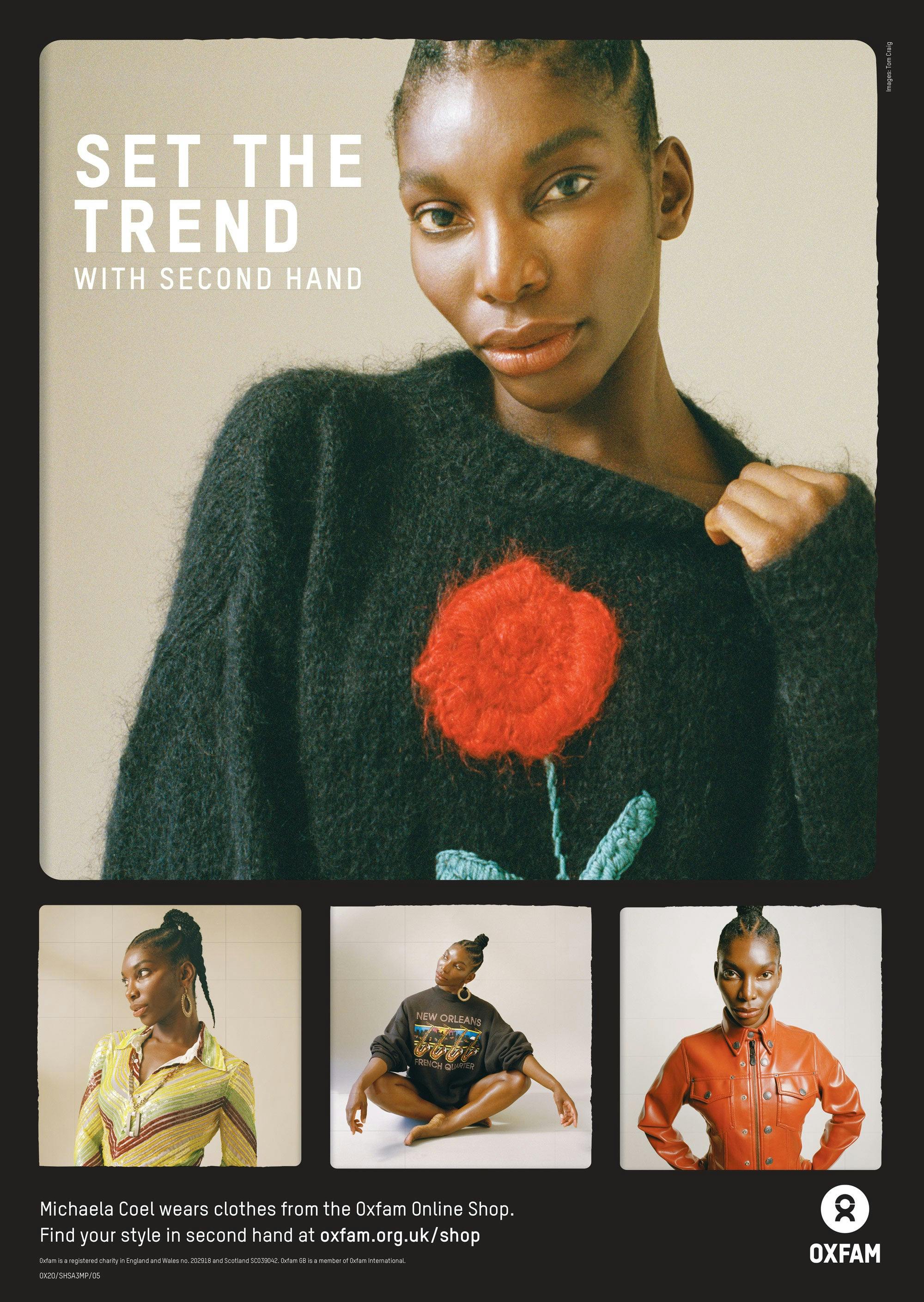 Credits: Oxfam
Second Hand September is an initiative launched by Oxfam, fronted by actress, writer, producer, director, poet and general queen Michaela Coel. The message is simple: for the whole month of September, you avoid buying new clothes. However, if you're desperate for your fashion fix, you can opt for purchasing second hand clothes. 
Why is Second Hand September important?
Fast fashion reportedly produces 1.2 billion tons of CO2 each year which is around 10% of global emissions, and it is also responsible for 20% of the world's wastewater. However, according to Thredup, buying clothes second hand reportedly extends a piece of clothing's life by an average of 2.2 years, which reduces its carbon, waste and water footprint by 73%. Oxfam is leading the charge on making fashion more sustainable by curating a mix of designer and high street clothing and making it available for people to buy online during September.  
The trend that keeps on giving
As well as being sustainable, it is also a thrifty way of getting more for less. For example, Oxfam is selling a Fiorucci Sweatshirt for £35, and though it is without tags, it is still new and in perfect condition. This is a designer piece — and for reference, a sweatshirt identical to this one goes for a cool £140. In fact, the cheapest jumper they have on the website goes for £95 each. This is a perfect example of how as well as being environmentally advantageous, it is also a great way to get designer pieces for much less. This is also true in the case of more vintage pieces. Last season's faux fur Karen Millen Coat was typically upwards of £240 full price, however a similar Karen Millen vintage jacket from the 1980s can be bought from Oxfam for £45.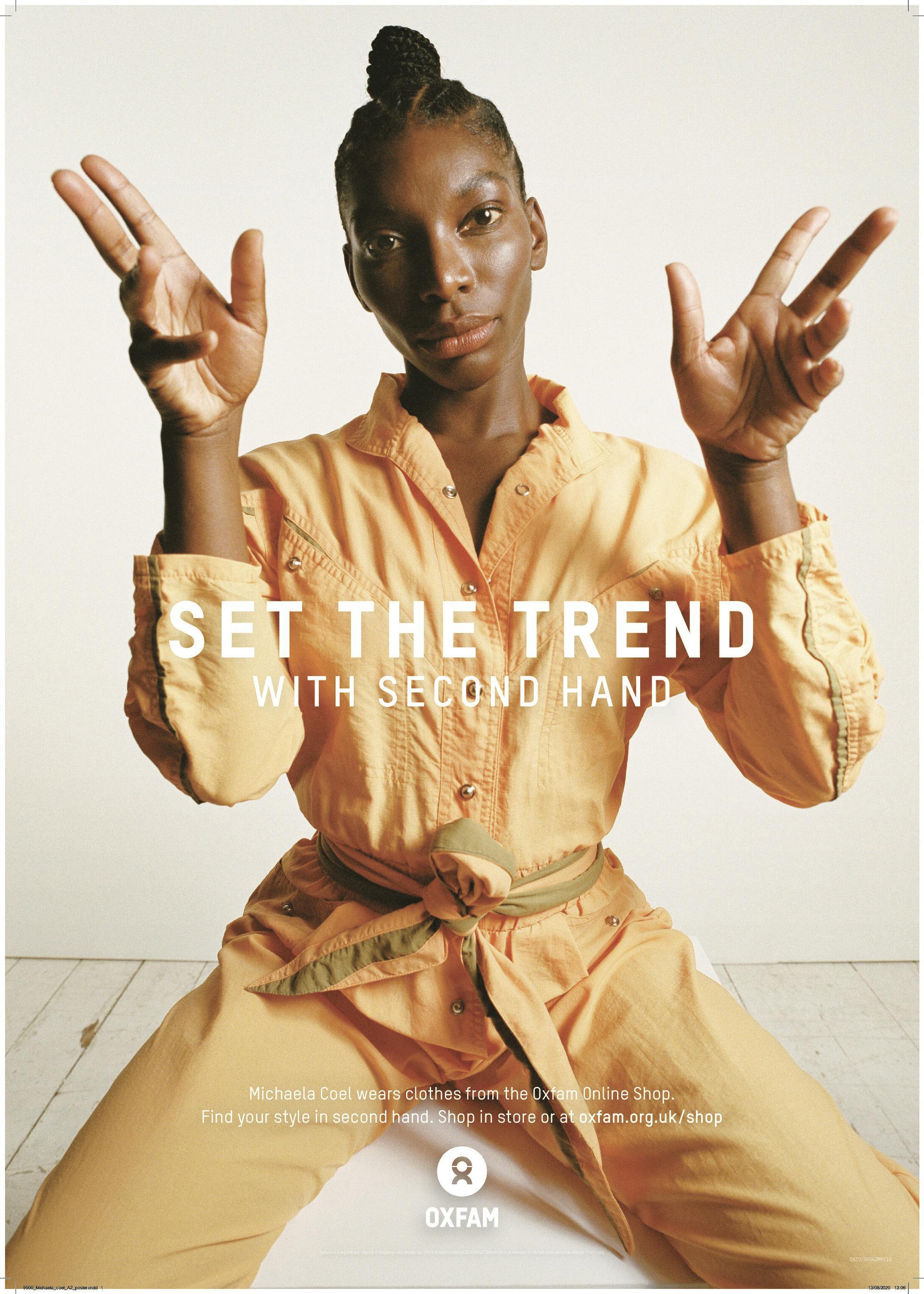 Credits: Oxfam
Oxfam brings lots of fantastic finds, and its vintage online shop as well as its physical shops should be explored for some on trend, staple pieces. Coel has hand-picked 1500 pieces for a luxury pop-up shop in Selfridges, open from the 7th September. eBay is also selling a curated collection of vintage pieces from Oxfam, holding an online auction for them. It has never been easier to get your hands on great quality, custom-picked pieces than right now.
How to get involved in Second Hand September
The spirit of second hand September means finding old clothes from lots of different, new places: try charity shops, like Barnardo's, Sue Ryder and British Heart foundation, to name a few. Have a go at thrifting, at vintage stores like Blue Rinse or Rokit and be on the lookout for vintage kilo sales that may be arranged in your area. Also have a look at clothes sold online from eBay and Depop, which is growing in popularity as more people learn about simple ways to upcycle clothing, whilst also earning some cash. 
And let's not forget, my personal favorite: raid your parents' closet. Fast fashion has only become a booming industry in the last 20 years. Beforehand it was typical to invest in select pieces with the intention to wear them for years to come, and so you may be surprised to find your dad's old denim jacket or branded sweatshirts fit perfectly and look brand new, or your mum's 90s midi skirts can be reworn with some of her old chunky knits this autumn — and will look more trendy than ever. 
It's not too late to get stuck in with this challenge; and who knows, maybe you'll end up loving it so much you'll carry on for longer. Not buying new clothes doesn't have to mean you can't buy clothes at all — the beauty of second hand clothing is that they'll still be new to you!