Nearly half of the population of Ethiopia are Ethiopian Orthodox Christians (43.5% in a 2007 census) and the Church advises that Wednesdays and Fridays are fasting days. Fasting in this context doesn't mean omitting food completely, instead it involves not consuming any animal products on fasting days. Essentially, eating vegan two days a week.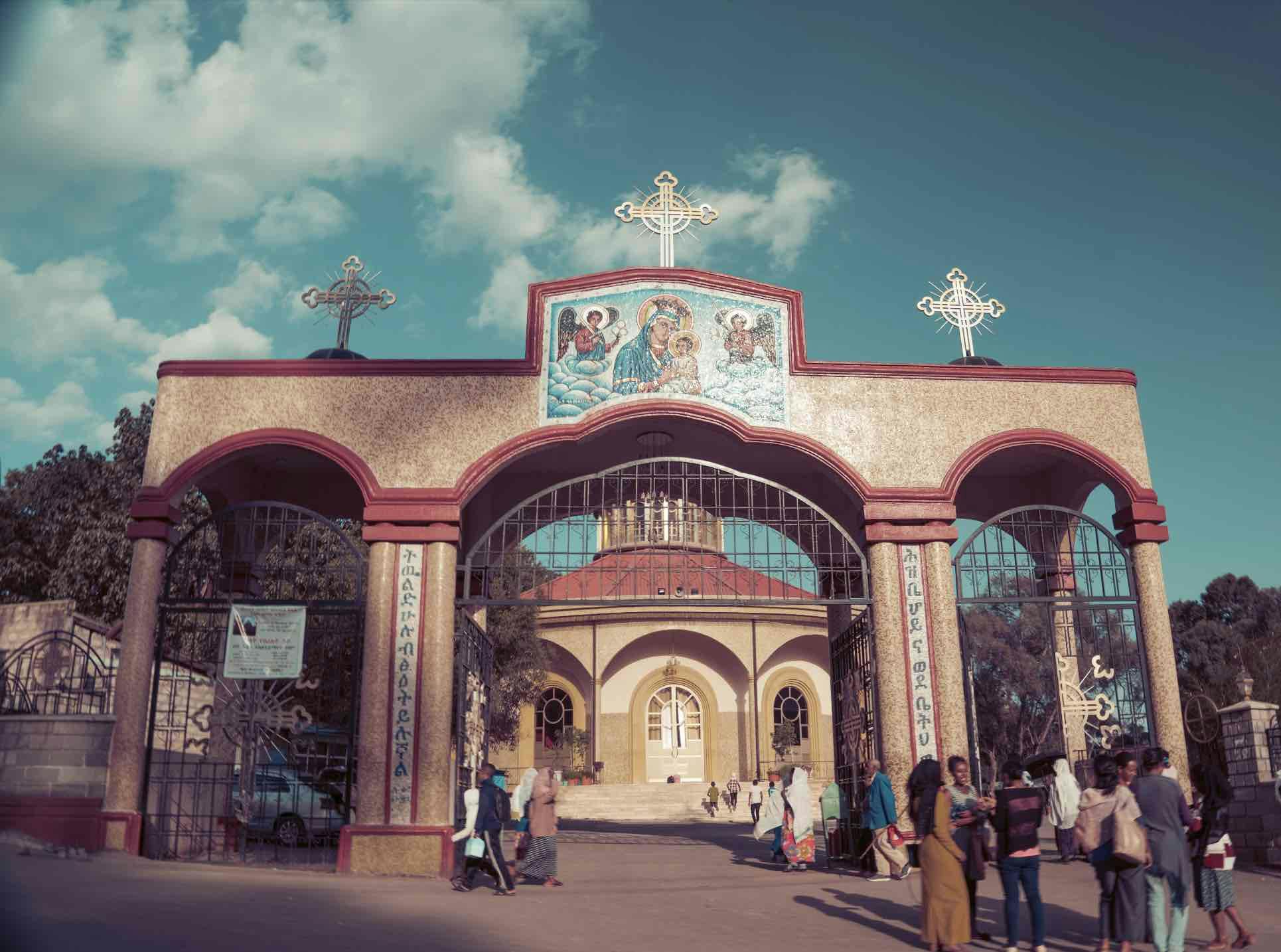 An Ethiopian Church shot by Gift Habeshaw. Source
In addition there are several major fasting periods for different occasions including The Advent Fast (or Nativity Fast) which precedes Christmas and The Fast of Great Lent which precedes Easter, where one vegan meal is eaten per day for two months. There are also optional fasts such as The Fast of Puagumen in preparation for Ethiopian New Year. Observance varies from person to person, with some Christians observing most of the fasting days, and others only fasting around the time of Lent. Nevertheless, as a result, Ethiopian cuisine contains a multitude of vegan dishes, and you can usually find them on the menu of most Ethiopian restaurants throughout the year.
Injera is the staple of many Ethiopian meals. It's traditionally made from a grain called teff. Teff flour is mixed with water and fermented for two to three days before being fried similar to a pancake or crêpe. It's naturally gluten-free and rich in protein, calcium, fibre and iron. Typically, it's eaten with the right hand, torn into small pieces and used as a utensil to scoop up delicious sauces and stews. Berbere is a distinctive seasoning blend used in Ethiopian cooking and is made from chilli peppers and spices such as cardamom, cinnamon and paprika. Some of the most common vegan dishes you'll find on an Ethiopian menu are Shiro Wot (a stew made with roasted ground chickpeas, split peas and berbere) and Misir Wot, a stew made with lentils.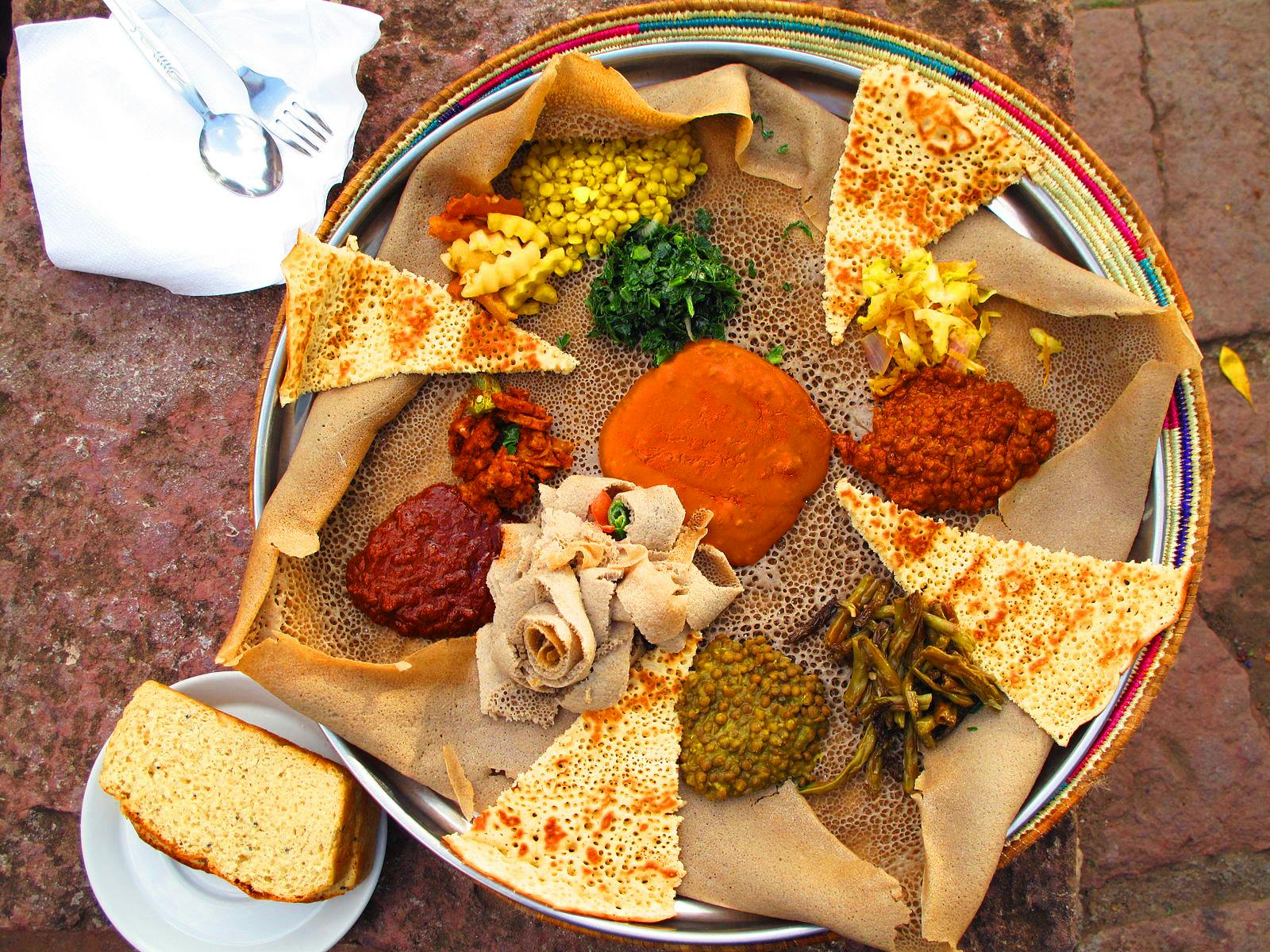 A typical meal served during the fasting time before Easter in Ethiopia. Source
Another common dish found on an Ethiopian menu is Beyaynetu, which is a combination platter of vegan sauces and stews served on top of injera. These sauces often include a bounty of vegetables and legumes. Beyaynetu will almost always come with Shiro, Misir Wot and a variety of other things that might include:
Alicha: split yellow peas with onion, garlic, ginger and turmeric
Atkilt Wot: curried carrots, cabbage and potatoes
Atkilt Salata: boiled potatoes, red beets and carrots in a dressing of lemon, jalapeno & spices 
Azifa: a cold green lentil salad spiced with Senafich (mustard)
Fasolia: green beans with carrots sautéed in caramelised onion
Gomen: sautéed collard greens
Misir Wot: split red lentils with onion garlic and berbere 
Timatim Salata: diced tomatoes, onions, and finely chopped hot peppers - typically seasoned with berbere, oil, vinegar and lemon juice
And if you're feeling peckish, traditional Ethiopian snacks include Kolo (a combination of roasted grains including barley, chickpeas and sunflower seeds) and Dabo Kolo (small pieces of baked bread similar to pretzels) which are also vegan. So - if you happen to live close enough to any Ethiopian restaurants we'd highly recommend checking them out. Some of our favourites are Beza and Andu Cafe in London.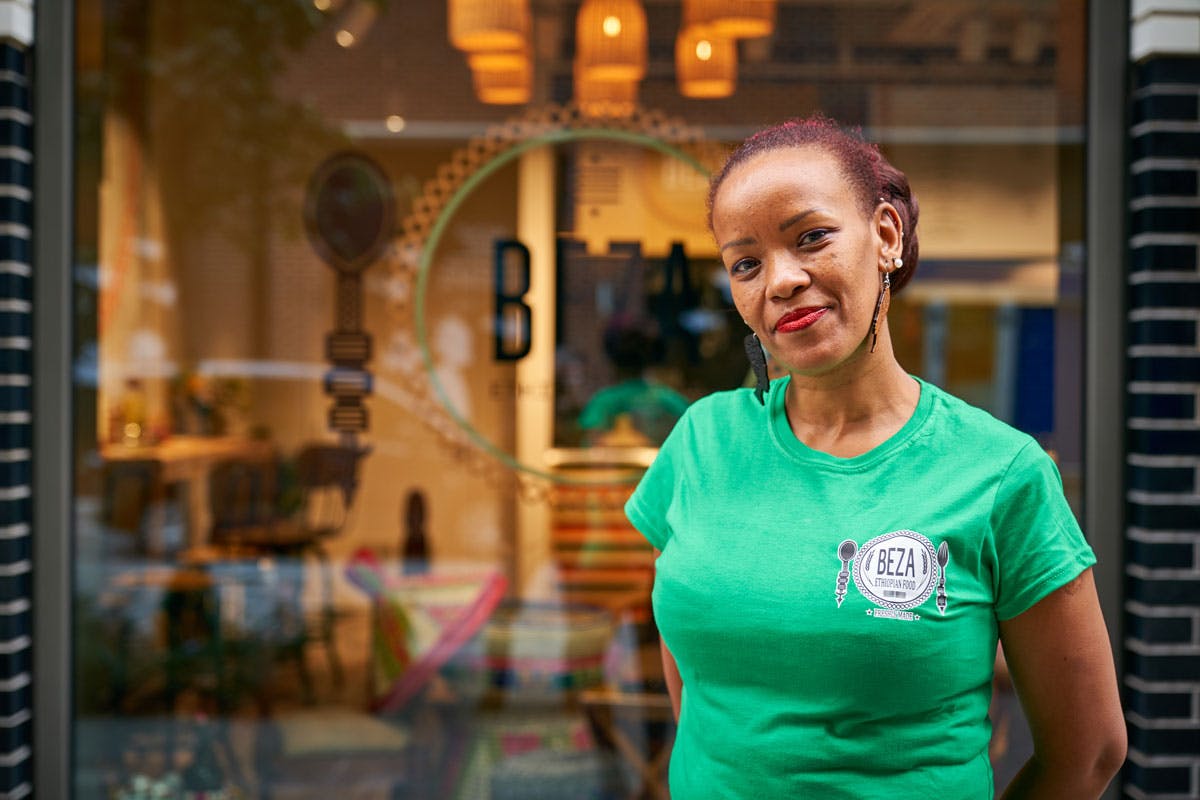 Beza, Founder of Beza Ethiopian Food. Source
Are there any great Ethiopian restaurants near you? We'd love your recommendations in the comments below!