Lifestyle
allplants x Ahi Poké Collaboration
by Laura Barns
3min read
"People are more powerful than they think". This mantra defines the allplants approach to putting more plants on our table. Every one of the choices we make every day, shapes and changes the world we live in. That's why we've collaborated with poké bowl experts Ahi Poké on a beautifully delicious autumnal plant-powered bowl. Available on Deliveroo or in-store, we're making plant-based eating irresistibly convenient. We sat down with our Senior Development Chef Joey, and Ahi Poké's co-founder, Jeremy, to get a cheeky insight into the masterminds behind the dish.
So, what exactly is poké!?
Jeremy: Historically, poké stretches back to the 1920s, when mass migration of Japanese to Hawaii gave birth to a culinary fusion with the South Pacific diet. Today, it has resulted in a flavoursome dish that requires no cooking. Myself and the two other co-founders Gabriel Cohen-Elia and David Bellaiche became obsessed with poké as soon as we tried it back in Cali – there were these bowls bursting with vibrancy and goodness. We couldn't not bring poké over to London! 
Why did you collaborate?
Jeremy: Popularity of plant-based options are continuing to grow and we want to be able to offer a wide variety of delicious tasting and exciting foods for our customers. When thinking about developing our next guest bowl, allplants, who we've been following for quite a few years now, felt like the perfect brand to collaborate with. 
Can you talk me through the dish itself?
Joey: Totally autumnal inspired, we devised the bowl using the best seasonal veg, really bold flavours, amazing colours, and an awesome array of textures. We've gone for a base of whole grain rice and kale...with ginger roasted sweet potatoes & garlic roasted broccoli. The dish is topped with charred corn, pickled carrots, crispy fried onions, and - our hero ingredient - some sweet & salty glazed smoked tofu. All topped with a peanut, miso and lime dressing! 
Were there any challenges behind creating the dish?
Joey: Not really! The process felt very organic and collaborative with Ahi Poké. All meetings included poké tasting so the process was a pleasure.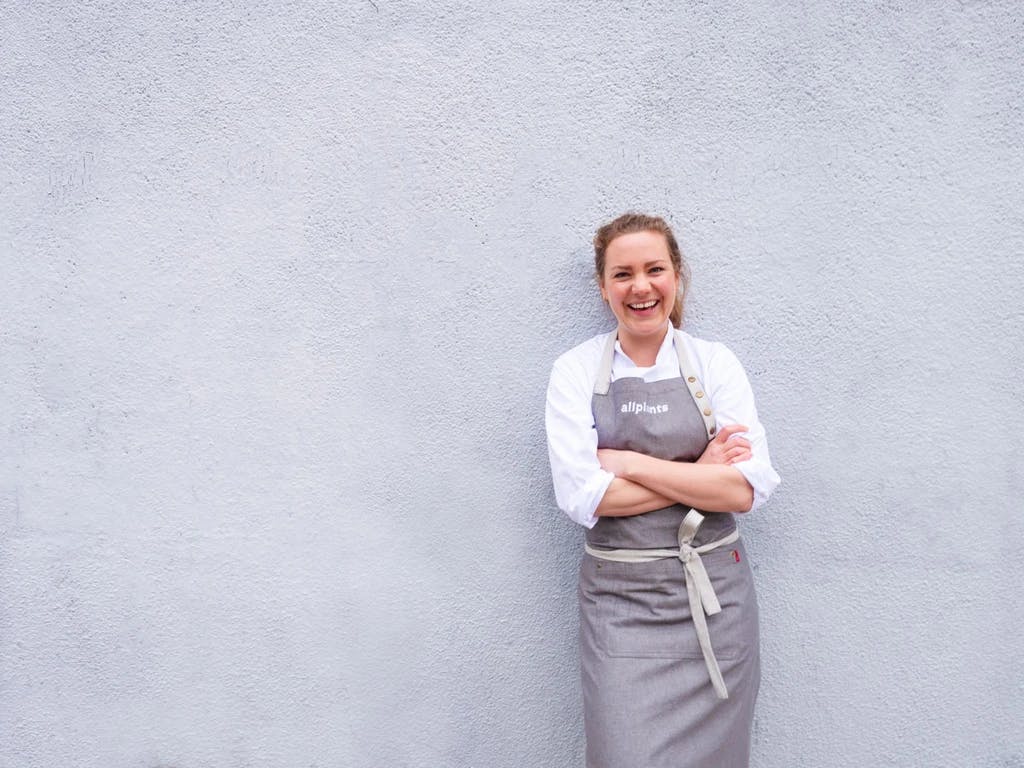 What is your favourite element to the bowl?
Joey: I absolutely adore our Peanut, Miso & Lime dressing! This dressing is a personal favourite I've been making at home for months, so it's awesome to see it come to life at such a large scale for others to try. It's rich and creamy, yet zesty and umami too, and the way it coats the smoked tofu here is extra delicious! 
Jeremy: There are so many amazing parts to this bowl but if I had to pick one, I would also pick the dressing. It perfectly binds all the autumnal ingredients and colours together, whilst allowing each of the individual flavours that make up the bowl to come through. 
Other than poké of course, are there any other cuisine's you'd love to put an allplants twist on?
Joey: So many! I think there's huge scope within Mexican Cuisine for delicious plant-based dishes. We've actually recently re-worked our BBQ Burrito Bowl to include a punchy pibil sauce on our marinated jackfruit and roasted pepper medley... it's delicious with our classic refried beans and Tex-Mex rice.
The allplants poké bowl is available now for three months across all six Ahi Poké London-based stores and on Deliveroo - delivering allplants exactly on your schedule. Grab it before it's gone
---
By Laura Barns
Laura is our Copywriter, who is obsessed with the Hearty Roots Stew (and has been known to eat a double serve for lunch on more than one occasion). On her day off you'll find her walking her puppy Ralph, stopping off at bookshops and cocktail bars along the way. 
---
Let us take care of dinner
We help to make eating more plants easy and delicious. Fancy letting us take care of dinner? Check out our delicious meals here.