Lifestyle
An Interview with PlantHub
by Laura Barns
59min read
If you haven't heard of PlantHub, consider this your formal introduction to the amazing plant-based culinary school and restaurant here in London. Keep reading for an interview with Lauren Lovatt, co-founder of the PlantHub and creator of the Plant Academy, as she discusses her inspiration behind the project, her future plans and some plant-based cooking tricks. 
Can you tell us a little bit about what Plant Hub is?
Plant Hub is a Culinary academy and kitchen all about inspiring a passion for plants through true community, real creativity and forward-thinking education.
How did it all come about?
I met David (Bez), Author of Salad Pride a few years ago when invited to host a new series of pop up supper clubs at his Pride Kitchen in Neals Yard. At the time I had a restaurant in the Cotswolds called Asapragasm where we had done funky fine dining for some years, so coming together to create something in London was really exciting.
We hit it off right way bonding over a passion for naturally different, well-sourced Plant food.
After working together on and off for a year I had also started teaching for PlantLab and was leading the Barcelona academy. The idea to bring this sort of concept to London was planted in my mind. So, when David closed his space and was looking to do something new we met and had the idea of opening a school and cafe in unison.
The Plant hub is about reconnecting people with real ingredients in the most delicious way.
What inspired you to open London's first plant-based cooking school?
Cooking has been my passion for as long as I can remember and I've always loved learning about classical techniques and new ideas in all realms of food.
This passion always seemed like a hobby, but upon finishing my degree in fashion I knew that a different path lay ahead so I made the decision to retrain as a chef and follow this dream. At this point, I was newly vegan and super passionate about the power of plants. So, I was keen to learn but found it hard to find a purely Plant-Based chef training.
This curiosity sent me from Bath to Bali exploring new cuisines and techniques in the realms of Plant Food. I was frustrated that more holistic, innovative and professional training was not offered in London. We have great individual teachers and schools but no one place bringing them all together. So, as David and I spoke more about the idea of opening a school the idea blossomed into creating a place that not only offered professional plant-based training, coming later this year but that we would work with plant-powered visionaries to showcase specific techniques and create a place that was accessible to all. Really breaking down the barriers around classes and offering a wide variety of things under one roof.
What have been your biggest challenges in opening a fully plant-based kitchen and cooking school?
We co-founded the space between the three of us. Myself, David and Antonio, our chef. Having done a Kickstarter last year we had support behind us but there is just so much you need especially setting up the school with 12 of everything!
It's been tough trying to open early in the year and getting everything together over the festive period was a big challenge but we are just so happy to finally be open!
What's something you've learnt since opening up?
Our big thing is our gluten-free bakery. Even more so than offering vegan food, people travel from far and wide to get our miso fermented loaves. We've learnt so much developing this recipe - getting the right kit and evolving what we can do. It's heartwarming to see we can create something people dream of and really miss!
Do you have any words of wisdom for someone who wants to open a plant-based restaurant in London?
Stay true to your vision. Its easy to get sucked in to what everyone else is doing and the market is now so saturated.  If you have a niche you really believe in, stick to that thing and it will be what makes you stand out.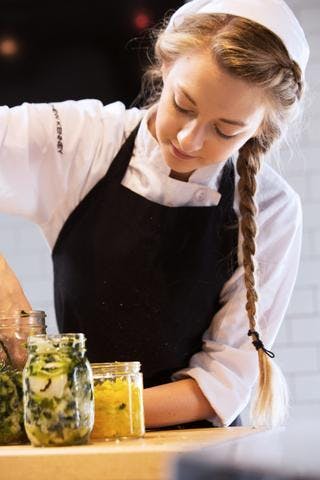 What are your future plans for Plant Hub?
This year is all about getting the brand out there, collaborating and developing our core curriculum. From here we aim to get our courses accredited and recognised by the wider world and also to expand.
Hopefully the school will expand adding an additional kitchen targeted towards gluten free baking and kitchen co-working spaces. We also have plans to collaborate on opening Plant Works, vevolutions conscious coworking space, alongside the Plant kitchen and Plant Academy.
What's something you want everyone to know about plant-based cooking?
It's delicious! Fun, easy and good for the soul.
My personal passion is sharing the connection between good nutrition and your mental health which I do through my 'Feed your Mind Candy' Workshops and supper clubs from the Plant Hub. I think the power of hands-on cooking can be life-changing for some people and I dream of getting this recognized by bigger powers so that we can get real food and connecting to food to those who would really benefit from it.
What's your favourite thing to cook at the moment?
Personally obsessed with making CBD slices - superfood of the moment and so delicious with coconut caramel and rich chocolate top.
From the kitchen we are also into our plant-powered Sunday roasts with smoked celeriac, rich mushroom gravy, crispy spuds and all the trimmings - something that has been missing from the London vegan scene!
Do you have any go-to plant-based flavour hacks?
Focus on the season and let it shine!
Fresh herbs go a long way on sweet and savoury dishes - thyme on sweet dishes can be game-changing.
Think about fermentation - I love to make cultured creams and sauces using brines from ferments. Like fermenting cashews with kimchi for a slightly spiced sour cream and fermenting desserts with kombucha. This adds new layers of flavours and exciting surprises.
Follow PlantHub on Instagram and via their site to stay up to date on their latest events, workshops and news!
---
By Laura Barns
Laura is our Copywriter, who is obsessed with the Hearty Roots Stew (and has been known to eat a double serve for lunch on more than one occasion). On her day off you'll find her walking her puppy Ralph, stopping off at bookshops and cocktail bars along the way. 
---
Let us take care of dinner
We help to make eating more plants easy and delicious. Fancy letting us take care of dinner? Check out our delicious meals here.
Shop now