Lifestyle
Ask A Vegan: Can Vegans Date Non-Vegans??
by Laura Barns
8min read
Got a burning question for a vegan you're curious about, but don't fancy starting a debate? In this series, we've put some of the most common vegan queries to some of the plant munchers on our team so you don't have to. 
Whether you're a curious carnivore simply interested in learning more about a different diet, or if you're interested in dipping your toes into plant-based life, this info is for you. (Or maybe you're a vegan and want that 'I thought I was the only one!' feeling. You're welcome). 
So hold off faking the emergency call from your best mate when you find out your date is vegan; we've got the low-down from a few members of our team who are living proof veggie cupid does exist. 
Can vegans and meat-eaters really fall (and stay) in love?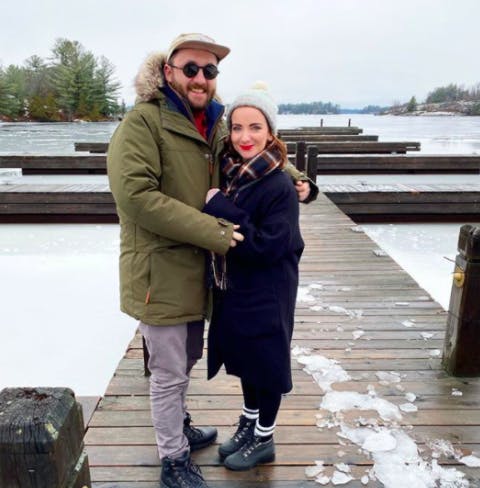 Laura: Living with her meat-loving fiance of two and a half years
Put simply, yes. It's something people ALWAYS ask me when they find out I'm in a relationship – 'is he vegan/do you cook vegan together/do you eat vegan at home' etc. I do understand the curiosity. They're two completely different lifestyles, and Rob (my fiance) is on the 'I'd eat anything' end of the meat-eater spectrum, which probably makes it even more bizarre for people. 
He works for a British, Michelin starred restaurant, and great food is a big part of his life. So I told him really early on, which was important, as if he wasn't on board it would have been time to re-download the dating apps. I'm not saying you need to 'confess' to being a vegan on your first date/in your Tinder bio, but it does help to put it out there. 
I'm pretty lax when it comes to people eating meat in front of me (though I drew the line when he ate calves brains on my birthday one year in Paris. Seriously). I expect him to be respectful of my food choices, and calves brains aside, that works both ways. I don't tell him what to, and what not to eat, just as I wouldn't tolerate him doing that to me. 
He's a great cook, and prepares a lot of vegan food for us to eat at home. He might just add a slide of cheese/an egg onto his portion. The thing that surprised me most was that having a fully vegan wedding was his suggestion. 
So yeah, mutual respect, open-mindedness, and some boundaries are all you need.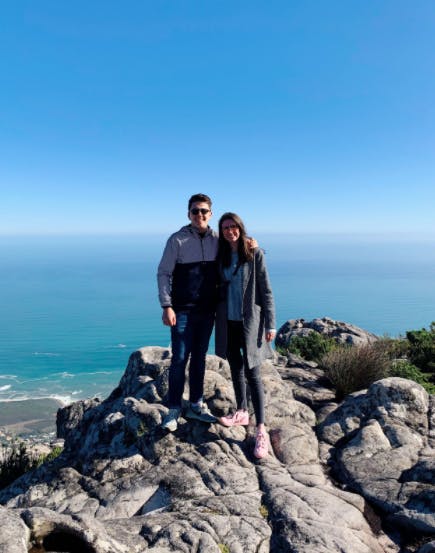 Emily: Has been in a relationship with her meat-eating boyfriend for four years
If I can date a meat-eating, braai-loving South African, then YES. My move towards a more plant-based diet has been a very gradual one over the last couple of years, so I'm not a fully-fledged vegan (yet!). This probably makes dating someone who does eat meat a little easier, but if you're both accepting, understanding and adaptable, then it will work, just like any other set of values.
Being respectful on both sides is what makes it work. If they are supportive of you eating plant-based then you should also be accepting of their choice to continue eating meat, even if it's not for you. 
Adaptability from both of you is also crucial! Cooking dinners that can be adapted for both of your dietary choices is a good idea, as you're still sharing a meal (no one wants to be cooking two dinners every evening). Choose dishes that can be switched up to suit both your tastes. Take a chickpea curry, for example; all of the key ingredients can be plant-based, but to finish it off you can both add whatever you wish (tofu for you and chicken for them, for instance).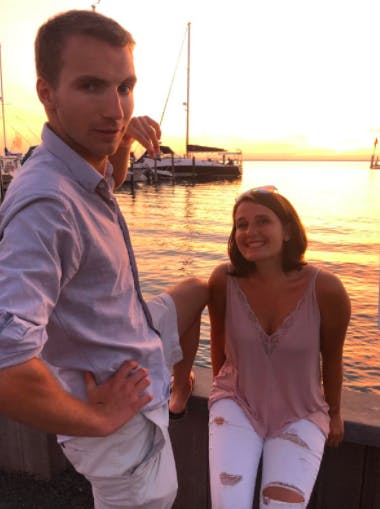 Albie: Living with his "99% vegan" wife for a year 
Of course you can! Aside from the importance of having different interests, and beliefs to your partner, I think it should be easy to live with someone that doesn't share your diet.
My partner Kaitlyn describes herself as being 99% vegan, as she will sometimes consume animal products every once in a while, but she has two big reasons for not being fully vegan herself:
She has a severe nut allergy
She's as American as apple pie (real apple pie, not our apple pie bircher breakfast)
Veganism is a choice, but life-threatening allergies certainly aren't. It's fairly pain-free going vegan if you can still get a lot of your protein from nuts, and you can make carbonara with good ol' soaked cashews. But it's a lot harder to go the whole hog (pardon the pun), if you can't go anywhere near any kind of nut. It also makes most wait staff at restaurants roll their eyes a lot when the question about nuts is followed up with, 'and do you have any vegan options?' 
Coming from a country that, in some places, believes veganism is a form of mental illness or a psychological disorder, it also makes it pretty hard for her to fully commit to going vegan. I wouldn't be able to, nor would I want to, force her to give up: the traditional turkey and stuffing at thanksgiving; the less formal but equally-culturally-important bacon, egg & cheese bagel; and good luck to anyone that tries to get in between a Connecticutter and her Dunkin Doughnuts caramel swirl iced coffee! 
So there you have it! Don't delete your Pinterest wedding board just because it turns out your date is vegan. (Though absolutely do refrain from showing them said Pinterest board until at least date 12). Grab another round, because despite the things on your plate – or in your glasses – it might just work. And hey, if you find yourself needing a wedding caterer, you know where to go...
---
By Laura Barns
Laura is our Copywriter, who is obsessed with the Hearty Roots Stew (and has been known to eat a double serve for lunch on more than one occasion). On her day off you'll find her walking her puppy Ralph, stopping off at bookshops and cocktail bars along the way. 
---
Let us take care of dinner
We help to make eating more plants easy and delicious. Fancy letting us take care of dinner? Check out our delicious meals here.
Shop now