Lifestyle
Behind The Scenes: Building a 360 Campaign with the Creative Studio Team
8min read
From billboards to quiz characters, Tik Toks to TV adverts… we asked the allplants Creative Studio team to tell us more about what they do and what it takes to produce a January Campaign for a vegan food startup.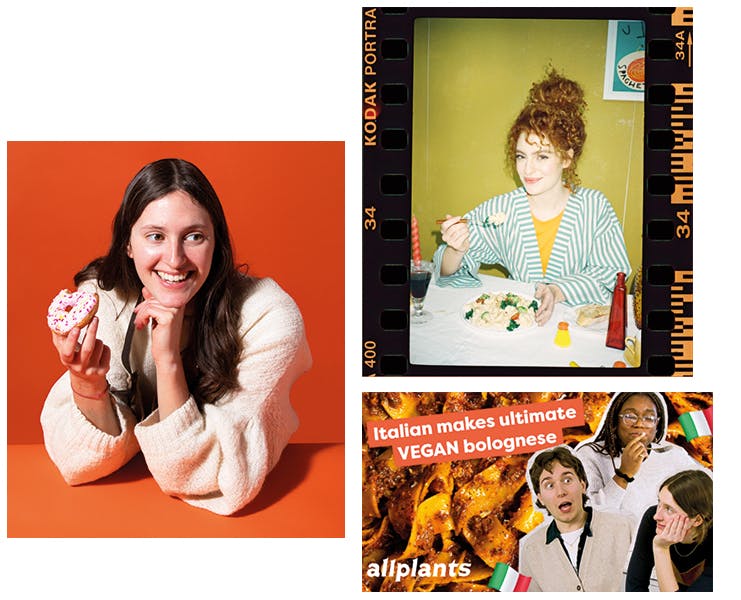 Valentina Concordia
Food Editor, Stylist & Photographer
I started working at allplants as a junior creative, almost three and a half years ago now (time flies!). Throughout that time, my role transitioned into that of a photographer and food stylist - working across internal campaigns, OOH (Out of Home) shoots and recipe shoots - as well as food editor for our blog Planted. Depending on the week and month, my day to day work ranges from creating, writing and shooting recipes, to food styling and brand shoots. Basically, I shoot a lot, dirty my kitchen and my apron a lot, and eat even more. 
What was your role in this year's Jan campaign? 
I mainly worked on three projects in the January campaign this year. The first involved presenting recipes and cooking on camera for a set of videos we were creating for our Youtube channel. Although I still can't watch the videos of myself as I find my voice hard to listen to, I feel proud of everything we achieved that week! 
The rest of my role in the campaign was centred around shooting our OOH campaign with our Senior Designer, Rachel, as well as shooting and food styling our Member Get Member scheme with our Art Director, Steph. 
Now that we've launched the campaign and the adverts are live, what was the funnest part of the process or what are you most proud of?
It's only my second time, but seeing the OOH I shot out in the world is always such an amazing feeling. It's easy to critique the photos once the shoot is done and try to immediately learn and improve, but seeing the live tube ads and the images on buses kind of forces you to stop for a minute and acknowledge the work you've done. 
For both shoots, we wanted to create a set that would look like a home (rather than a studio), so we spent a day wallpapering the wall to give it texture, and painting the wallpaper yellow as well as (badly) building a couch. Making our studio feel like a home on a budget, and making shots feel lived-in and busy is something we've been trying to achieve for a long time, so it was a great feeling to be able to achieve that. 
Favourite allplants dish?
Teriyaki udon - forever and always. It looks great on camera (I know that wasn't the question), and tastes delish.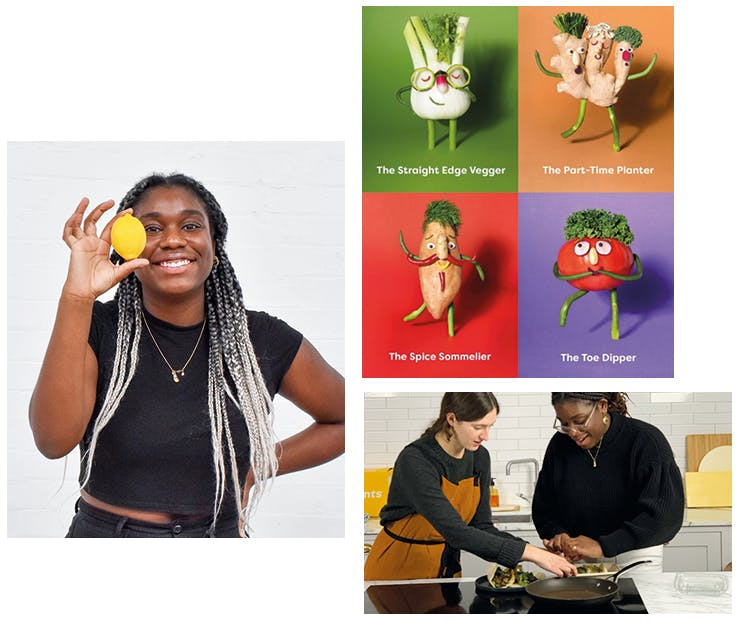 Toni Olukiran
Content Marketing Assistant
I joined allplants in summer 2020, initially as an intern for three months. Now a permanent member of the team, my role is updating the blog with new content for anyone looking for more resources on plant-based lifestyles — and it's definitely influenced my own habits for the better. I have also had the opportunity to work on campaign copy, which I've enjoyed massively.
What was your role in this year's Jan campaign? 
I was involved in our Youtube relaunch, where Fabian and I made some vegan food haul videos. We were given a brief outline of what the food would be for each video, and then given free reign with filming. I also gained some experience in producing one of the recipe videos we shot, too. Copy-wise, I wrote the new 'Find Your Flavour Profile' quiz, which meant doing a few Buzzfeed quizzes and some personality quizzes for inspiration before using the learnings on different flavour profiles, which were provided by our Senior Development Chef Flo, to write the flavour personality profiles. 
What was the funnest part of the process or what are you most proud of?
I wasn't even directly involved in them, but seeing the OOH ads is always so exciting. It honestly fills me with such pride knowing how much time and meticulous planning has gone into the activation; I turn into a fangirl of the whole team. Seeing the Youtube content going up has been really cool too.  Despite being too cringed out to watch myself react to eating a hobnob, it's nice knowing that it's out there somewhere!
Favourite allplants dish?
There's something about the Protein Power Bowl that has a hold over me. So good.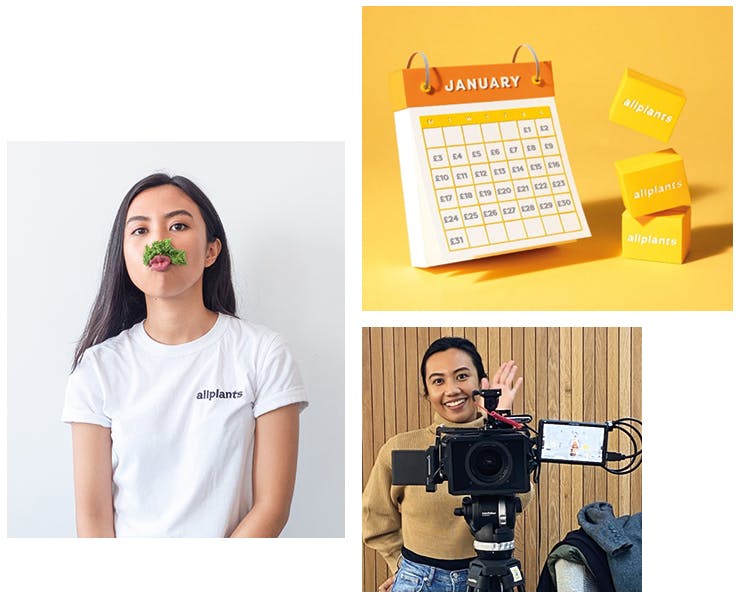 Aliza de Lima
Multimedia Designer
I joined allplants in 2017, interning for a couple of weeks. I then started working as a Junior Creative and now Multimedia Designer. My weeks vary depending on what projects are on. It ranges from designing ads, emails or print assets, to dabbling in some food photography and brainstorming for campaigns (and shooting the content for it too). My main role revolves around shooting brand content, which ranges from producing, filming and editing videos to shooting photography and stop animation. If you ever come looking for me, the chances are I'll be in the studio!
What was your role in this year's Jan campaign? 
My main role for this year's campaign was to focus on producing and filming our YouTube content. This involved brainstorming the narrative of each episode, creating guidelines and prompts for our talent, filming on set and editing the videos after. I got to work on other projects where we created stop motion animation for the 'Pay The Date' campaign and shooting assets for our 'Find Your Flavour Profile' quiz. For the first time, I also experienced being a DIT (Digital Image Technician) on set for the '22 for 22' campaign video. So a lot of early starts, van-loading, coffee-fuelled days on set for the first half... and then an editing blackhole towards the end!
Did you come across any challenges and how were they overcome?
I would say mainly keeping the momentum and energy, with different parts of the campaign needing various shoots within under a month. Shooting consecutively for weeks and jumping on different projects can be a lot physically, but working with amazing people on set and the growth team has really helped me manage throughout!
Favourite allplants dish?
Mac + Greens and Teriyaki Udon for life! Can never go wrong with a pasta/noodle duo.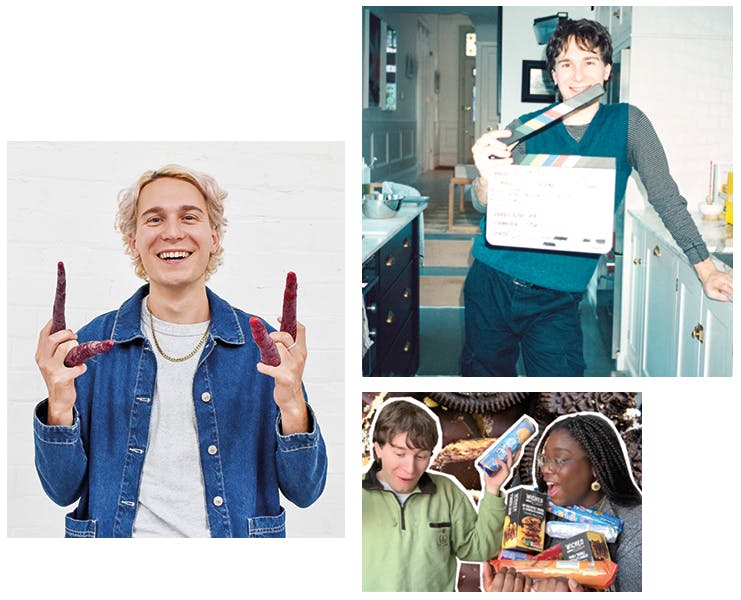 Fabian Jackson
Content Marketing Assistant
I joined as a Content Marketing Intern at the same time as Toni, after a shorter-than-planned career in contemporary dance (thanks covid x) and together, our first job was to boost organic traffic to the site with SEO-focussed copy. Along the way, we helped build brand awareness and create more pathways to shop through our blog. Around the 5 month mark, shortly after our positions were made permanent, we'd helped boost organic visits to the site by around 700%. Next came time spent in content curation for Planted, finding the best and most accessible ways to showcase our recipes and articles. A year and a half later, I'm finishing an 8-month stint as interim socials and content manager(ish). 
What was your role in this year's Jan campaign? 
Acting as a channel lead for organic socials, I needed to digest all aspects of the campaign before planning how, when and which key messaging we shared with our social audiences – all whilst keeping it as native as possible and coherent with the other channels like OOH and emails. In my favourite part of the process, I got to be the producer for much of our YouTube relaunch, helping do justice to Aliza's great vision of what the series could be. I even found myself in front of the camera on a few videos. 
Did you come across any challenges and how were they overcome?
So, we're drip-feeding this side of the campaign to the public one feed post, reel and set of stories at a time: Doing all the work then leaving space to be reactive, seeing which aspects are landing and which aren't resonating so much is always a hard one to prepare for. It's so easy to get attached to certain assets, copy lines or bits of work that might end up being swapped at the last minute. That's always a little sad because I've seen how much work the team puts in to make every asset!
Favourite allplants dish?
Easy – Rigatoni Bolognese. D-lish.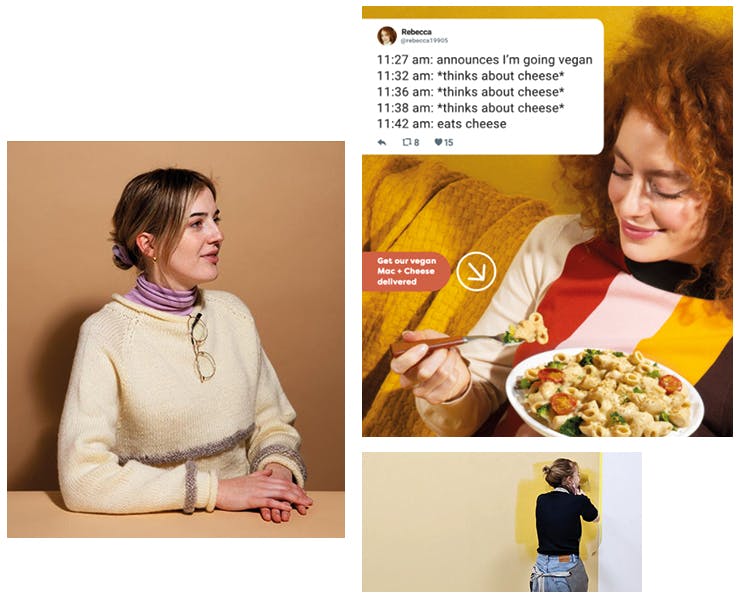 Rachel Fingleton
Senior Designer
I started at allplants as a freelance designer over two years ago and ended up loving it so much that I became a permanent member of the team. Starting as a Midweight Designer and Art Director, I was then promoted to Senior Designer and Art Director helping to manage members of the creative team. The briefs at allplants are really varied which is really nice as a creative to always have something new to work on each week.
What was your role in this year's Jan campaign?
For this year's campaign I helped brainstorm and execute the OOH campaign that you might have seen in the underground and on buses too. From brainstorming the concept to art directing on shoot, helping with the retouching and to working on the final layouts. It's really nice to work on a project all the way from ideating to execution. I also worked on a lot of print assets for our new and existing customers. Creating Direct Mailers, Roll-Folds, Leaflets and Inserts for popular magazines and newspapers.

I also created digital ads for Facebook and social media including Instagram and Tik tok. Working with our product team I created a number of assets for our website that could be tested and changed depending on what was performing best. 
Did you come across any challenges and how were they overcome?
Sending anything to print especially with tight deadlines before the Christmas period can feel a bit daunting. Especially when there's lots of assets going at the same time. I think taking the time to proof your work and getting a comprehensive sign off before you hit the send button is the best way to avoid any stress or mistakes!
Favourite allplants dish?
Has to be the 'Chicken' Katsu Curry, I always have an emergency one in the freezer.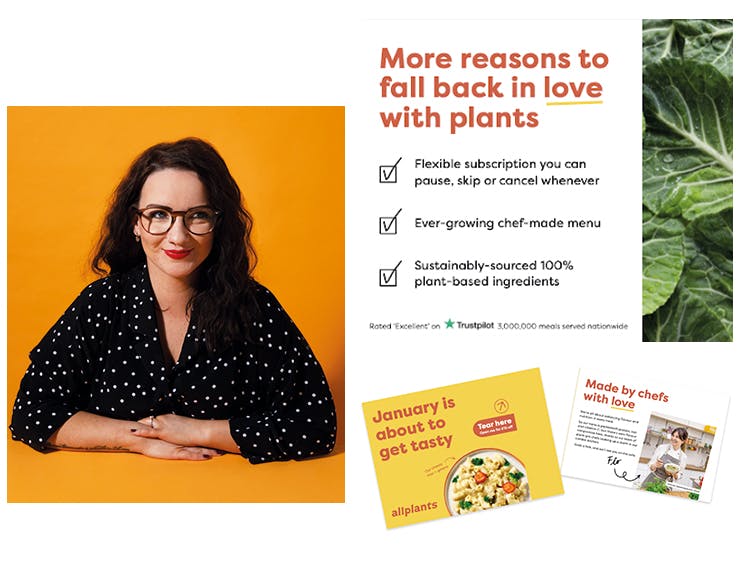 Laura Barns
Copywriter
I've been the main Copywriter at allplants for two and a bit years now, and in that time work on basically anything that involves words. So everything from social media to OOH, recipe booklets to website copy and everything in between. I also head up the TOV strategy and implementation, to make sure what we're saying is consistent across all channels. 
What was your role in this year's Jan campaign? 
I worked on lots of exciting stuff, starting with OOH in tandem with Rach and Steph. Together we brainstormed and planned the messaging of the ads in line with the research provided by the agency around New Year's resolutions. We then used this as a base to work across all the other channels, from ads to in-box booklets and more. I was responsible for the copy (shock) and supporting Toni and Fabian if they needed it. 
Now that we've launched the campaign and the adverts are live, what was the funnest part of the process or what are you most proud of?
As well as the OOH concepting and ideation, I was really personally proud to see how much Toni and Fabian smashed the projects they were working on. It was a tough year this year, being away from each other, onboarding new team members, working with a new agency, never mind the C word, and they handled it like pros. 
Favourite allplants dish?
Hearty Roots Stew. It's got onions, beetroot and wine in it. What's not to like?! Oh and IT'S PURPLE.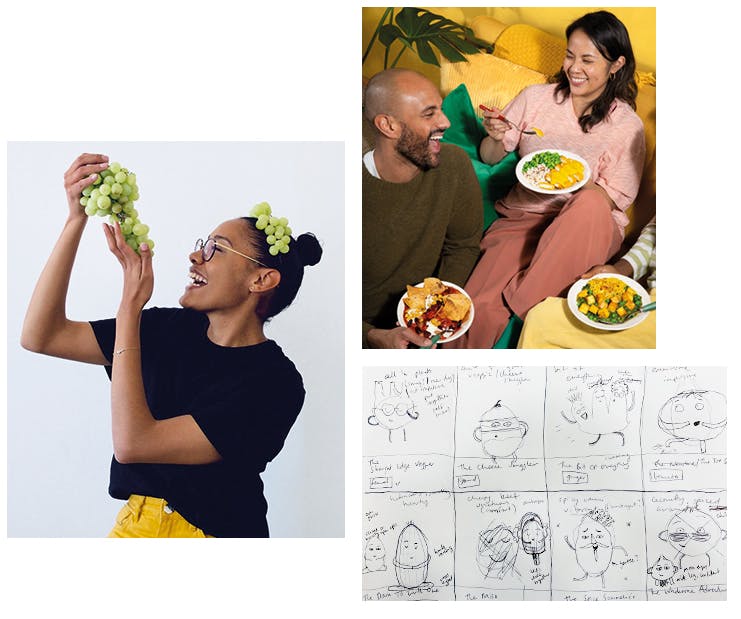 Stephanie Johnstone
Art Director
I joined allplants two and a half years ago as a Senior Designer and now Art Director, working across a range of projects from concepting to execution. I was inspired by allplants' inclusive approach to vegan food - encouraging more people to eat more plants more of the time. It's a unique position to take in the vegan space, where there's often a pressure to be perfectly all in. 
What was your role in this year's Jan campaign? 
The great thing about working at allplants (and startups in general) is the chance to work across a wide range of projects in many capacities - from strategy to hands-on design. My role in this year's campaign spanned a few projects, from rethinking our Youtube content strategy, to concepting ideas for our OOH campaign, to working out the best way to bring our flavour profile quiz to life with food personas, to art directing a shoot for our referral journeys and designing in-box print materials. 
Now that we've launched the campaign and the adverts are live, what was the funnest part of the process or what are you most proud of?
It was an incredibly tense situation at the time but in hindsight I enjoyed standing in a vegetable grocers at 9am having very serious conversations with Katie, our Head of Creative, about things like whether or not spirulina was the best choice of hair for a flamboyant, spice-loving character we were about to create out of sweet potato. It's also always a proud moment to see our ads out in the world on socials, billboards, and in print knowing all the hard work and hustle our small but mighty team put in to bring everything to life in a very short amount of time.
Favourite allplants dish?
Protein Power Bowl is my ride or die lunch, but my winter favourite would have to be the Three Mushroom Risotto - it's like a warm hug on a plate.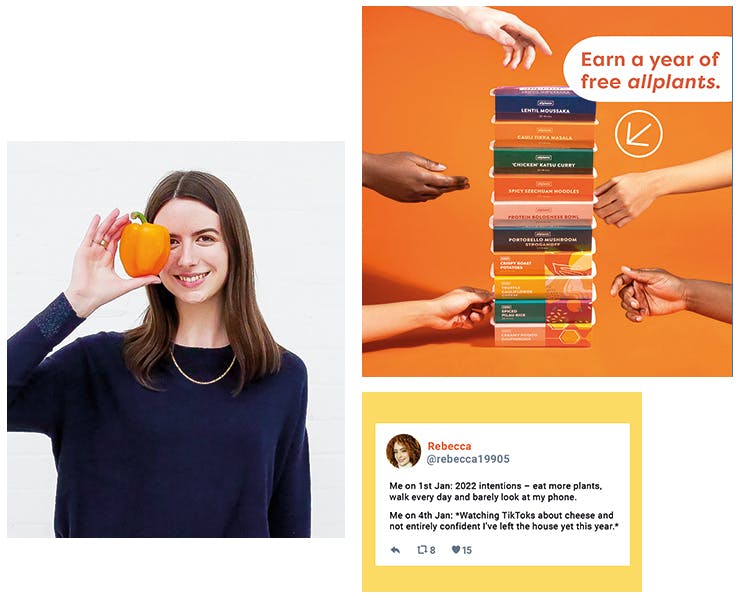 Emily Harris
Social and Content Assistant
I joined allplants in the Customer Delight team back in 2020, where I had 6 weeks in the office before we went remote due to lockdown! I always wanted to work in the social, marketing and brand side of things, so dabbled in other areas of the business like content writing and community management, before starting this as a full time role in 2021. I now help run our influencer marketing channel which entails a lot of back and forth with our agency, briefing and approving content, booking names and analysing performance. I also support across various organic and paid channels including Instagram, TikTok and YouTube.
What was your role in this year's Jan campaign? 
As I joined the team mid way through the Jan campaign, my role has mainly been to help to deliver this across social channels in a seamless and synchronous way. This includes scheduling and uploading content made by the creative team across YouTube, TikTok and Instagram, as well as suggesting edits and approving content created by influencers for the campaign. 
Did you come across any challenges and how were they overcome?
As a lot of the work being put out across socials spotlights all of the different projects and themes worked on by various teams, it means sometimes things are blocked or delayed. Influencers are also only humans who encounter human problems (unlike other marketing channels like Facebook where the biggest crisis it could face is the whole system being down!) so sometimes there were delays to posting dates or content. Being flexible and organised is the only way to overcome any challenge that arises, and having Jaya, our Project Manager, to keep everyone on track and aligned with each other was so crucial to the smooth running of the whole campaign! 
Favourite allplants dish?
I've always loved the Three Mushroom Risotto as it's an at-home restaurant fave for me. But I think this has been replaced by the Truffle Mushroom Orzo, just because it's so luxurious and I love anything with truffle (yes, I'm one of THOSE people).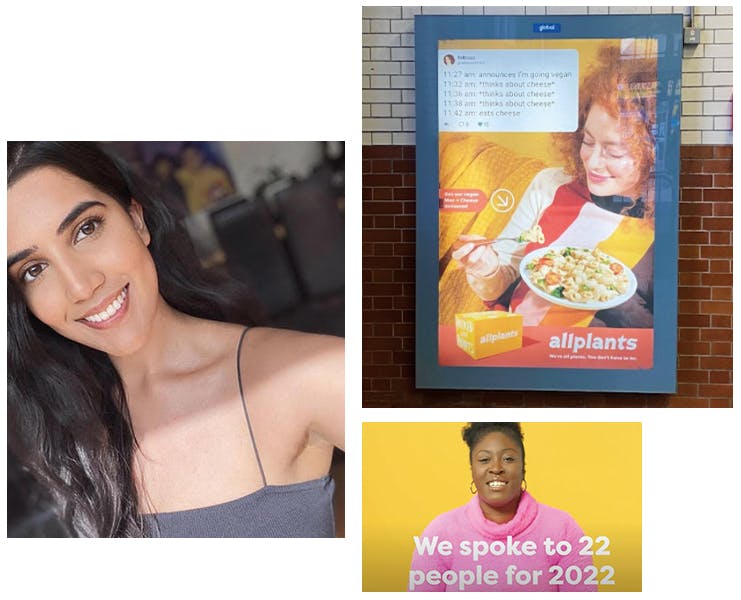 Jaya Sanghera
Project Manager
I joined allplants mid-July last year as project manager supporting the creative team. This involves organising the tasks and projects that the team will be working on both short and long term. I work alongside Katie to help resource the creative team's time for different briefs & projects, as well as other departments to make sure we have briefs coming through with adequate lead time for the creative team to work on.
What was your role in this year's Jan campaign? 
I worked as the Project Manager for the creative team during the campaign. The process for that involved a range of tasks: aligning with all other departments to create briefing templates for each channel and creating the Jan 2022 Asana board, booking time in with various agencies for TV and 'owned and earned' briefs, setting up briefings and review sessions with the team and channel leads, ensuring everyone had clear understanding of the briefs and deliverables.
Did you come across any challenges and how were they overcome?
I think just making sure that all teams were aligned and that the activities going on in creative were properly communicated, so other departments knew when to expect messaging docs, design assets etc. As well as communicating with the external agencies that we were working with for other parts of the campaign. Overcoming that was making sure that there was always an open stream of communication between myself and the channel leads and agencies - which included detailed daily Slack updates every morning for the last 2-3 weeks of the campaign, and multiple stand up calls with the agencies to check in throughout the week.
Favourite allplants dish?
Mac + cheese or aubergine parmigiana (I can't choose) - my comfort meals x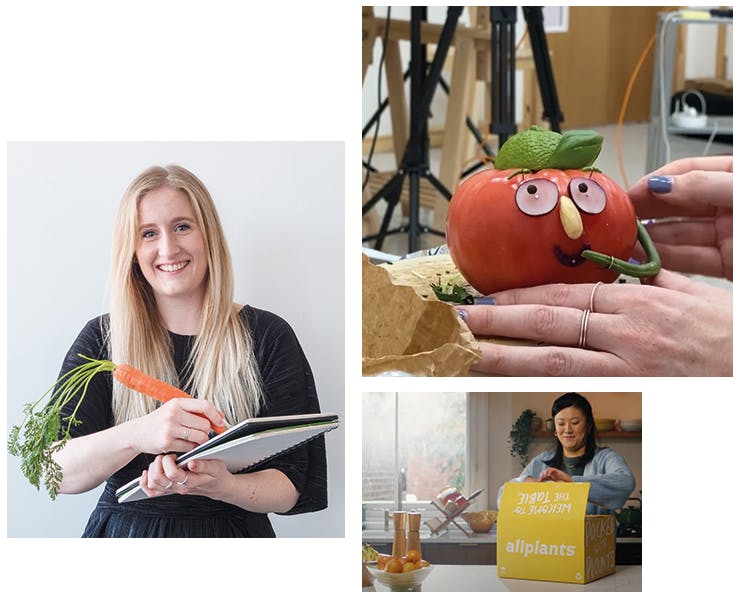 Katie McLurg
Head of Creative Studio
I'm a total food obsessive, and if you had googled me when I joined allplants 3 years ago, you would have found my face photoshopped onto a chicken nugget (my very non-vegan self having just completed a nug-free year to fundraise). Having landed on allplants' doorstep a meat-lover, nobody is more surprised than me that the people and brand mission behind those doors captured my heart and my eating habits quite like they did. I'm still not reformed when it comes to my diet, but have become deeply inspired by the need our planet has for us to cut down on meat and the impact it can make if we all did a bit more of it. I am excited by building a vegan brand with an open door policy, and the potential impact on our world if we land it well.
What was your role in this year's Jan campaign? 
I took the brand and creative lead on the campaign alongside our CGO Jenny and agency. Largely my role involved facilitating my brilliant team to do their best work, and providing emergency snacks when required. It made for a busy day to day, in November and December; kicking off briefs, giving feedback, linking ideas and working cross-functionally with Product and Marketing to align the campaign. I also love a craft project, so at one point I happily found myself building paper-crafted calendars and having very serious conversations with Steph, our Art Director, about whether a cashew nut was too serious a nose for a piece of ginger.
Did you come across any challenges and how were they overcome?
Oh, plenty! We're a small team with big ambition so we're always solving problems. What I love most about working on an in-house team is your access to everything from the strategy to the hands on execution. It provides an intense level of satisfaction in the work we produce. 
A key challenge we have, ironically, while presenting ourselves as a judgment-free vegan brand is being clear that we don't judge. It can get tricky to express in short hand when you are also offering up your product as a solution to life's slip ups and challenges. It means we need to find ways to collect and use genuine stories and language from customers and people who are trying to cut down meat, rather than making assumptions from the inside of our brand bubble. Food also carries a lot of emotion, and the last thing we want is to perpetuate a negative diet narrative. We used devices like tweets, message chats and "remind me later" install notifications in this year's creative to keep the conversation light-hearted and digitally native.
My favourite (though possible smallest) challenge-related victory of the campaign was finding a candle holder in Wilko that unscrewed to provide the perfect spike to build our veggie characters for our quiz. But the less said about the weight of a beef tomato on said spike, the better.
I have my most fun when the team are all in the studio hustling to make things happen. Their individual achievements and growth have been so exciting to be part of. They are what (who!) I am most proud of. Hands down.
Favourite allplants dish?
Look. I honestly cannot explain how transcendent the roast potatoes are. Hit up the sides menu on your next order and tell me I'm wrong. I'll wait.
---
By Stephanie Johnstone
Steph is our Art Director, lover of chai and keen wearer of yellow. She adores the Three Mushroom Risotto and anything with chilli involved. On her day off you'll find her drawing, or brewing her own beer, all of course, whilst wearing something crazily co-ordinated.
---
Let us take care of dinner
We help to make eating more plants easy and delicious. Fancy letting us take care of dinner? Check out our delicious meals here.
Shop now