Lifestyle
How Are Vegan Sweets Made?
4min read
Whether you've got the ultimate sweet tooth, or you're asking for a plant-based friend; here's all you need to know on how vegan sweets are made, and which are the best vegan sweets brands in the UK.
Strawberry laces, fruit pastilles, those pink and blue bottles… Can't you just taste them all now? We remember how far 50p could get us in the corner shop after school, but are our childhood favourites vegan, and if not, why not?
Vegan sweets are made by using plant-based alternatives to gelatine, like agar agar, carrageenan and vega gel. Plus lots of fruits, sugars and syrups! 
Are sweets vegan?
From gelatine and beeswax to dairy-milk powder, there can be lots to look out for when it comes to the confectionary aisle and keeping our choices vegan. But because nature's pantry is so big (and there are some clever chefs out there), we've still got plenty to choose from.  
So here we get to say a big yes to so many of our sugary friends! Many retro brands and newbies alike are vegan-friendly. From the Haribo rainbow range and Starbursts, to Candy Kittens and a massive M&S own brand range, there are so many easy ways to get a plant-powered sugar kick.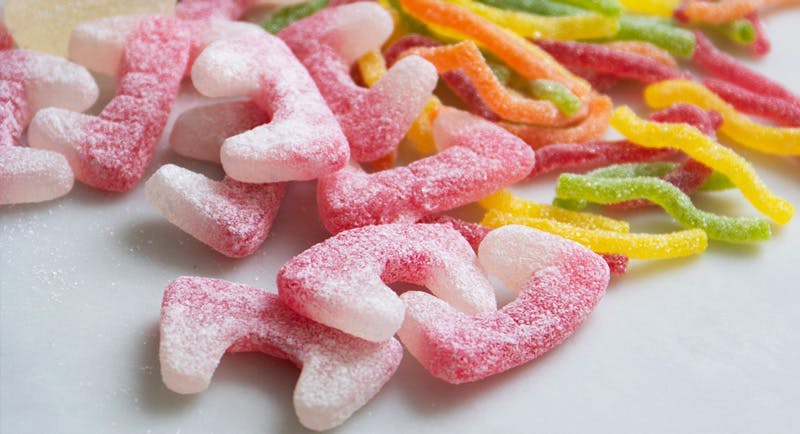 What is gelatine? 
A big recurring ingredient in non-vegan sweets is gelatine. Gelatine acts as a gelling agent in the sweet making process and raises its melting temperature for a more durable shelf-life. 
Gelatine is generally made from unused parts of the meat production industry. As it's usually derived from pig and cow skin and bone, it's definitely never vegan friendly! 
It may be what gave jelly it's distinctive wobble, but it's now so widely, and easily, replaced in favour of plant-based alternatives. 
Vegan alternatives to gelatin
A popular alternative is Agar-Agar, especially in professional kitchens as it has a much higher melting point. So less chance of a collapsing pudding on its way out to service! It's pulled from red algae and just like gelatine, it's famed for its absence of flavour, colour and smell. 
Have a look here to see our rundown on other popular vegan gelatine alternatives.
Best vegan sweets
Now, the sweet stuff. If you'd like to see some of our other favourite vegan sweet brands in the UK, check out Laura's ultimate guide to plant-based sweets! What to buy and why we love them so much.
If you've got any other favourite plant-based sweets we should know about, let us know in the comments below.
---
by Fabian Jackson
Fabian is one of our lovely Content Marketing Assistants who loves writing almost as much as he loves coffee, old episodes of Escape to the Country (no judgement here), and cooking up a storm in his kitchen.
---
MORE GREAT READS
Let us take care of dinner
We help to make eating more plants easy and delicious. Fancy letting us take care of dinner? Check out our delicious meals here.