Lifestyle
How To Cook (And What To Make) With Plantain
4min read
Plantain is used across many different cultures.  It's a versatile fruit loved by people all over the world. Here are the best vegan recipes that use plantain for, quite frankly,  delicious results.
Plantain is great for vegans to cook with. Though it's a fruit, it's eaten as a carbohydrate in the range of cultures that traditionally cook with it. Plantain is cooked and eaten in Southeast Asia, West Africa, the Pacific Islands, Central and South America and the Caribbean. Knowing how to cook plantain, and what to cook with it, unlocks a host of other dishes from a range of cultures for you to try.
How to cook plantain: the different types of plantain you need to know about
Green plantain
Green plantain is unripe plantain and therefore is not sweet, making it ideal for when a recipe calls for a savoury flavour. Use green plantain for traditional tostones, which are commonly eaten in Latin America; cut the plantain and smash them with the back of a spoon before frying them until they turn golden brown. You can also cut them into very thin slices and fry to make plantain chips for the same effect, a snack frequently eaten in the Caribbean. To prep green plantain, cut off the ends and make a vertical slice from top to bottom and peel the skin(use a knife to help peel if necessary!).
Yellow and black plantain
Yellow and black plantain can be used for sweet and savoury dishes, as they're sweeter and softer. Yellow plantain is great for savoury dishes that need a hint of sweetness for balance, which is why plantain is often a side dish accompanied by savoury curries and dishes in Latin American and Caribbean cuisine. It can be cut, fried, or roasted, and when ripe enough it will caramelise during the cooking process, making it beautifully decadent. To prepare yellow or black plantains, cut off the ends and peel it like a banana, as it is far softer than green plantains.
Now that you know how to prep and cook plantain, here are the best three vegan recipes that use plantains differently for delicious dishes that you've got to try.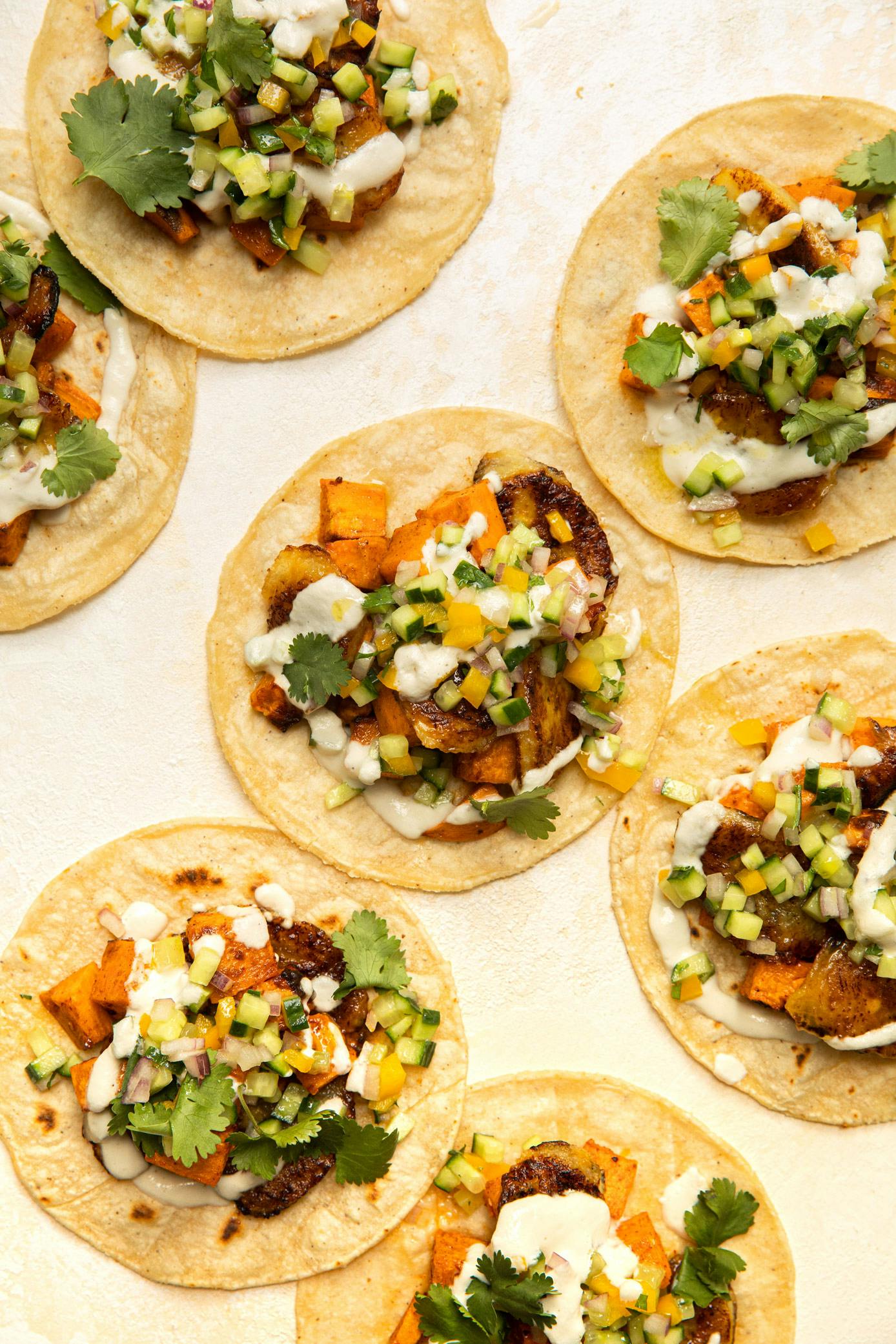 These sweet potato and plantain tacos are the best blend of sweet and salty. Crispy and sweet fried platano combined with roasted sweet potato and a zingy, crunchy salsa make these tacos a perfect fakeaway. A hit at any and every fiesta.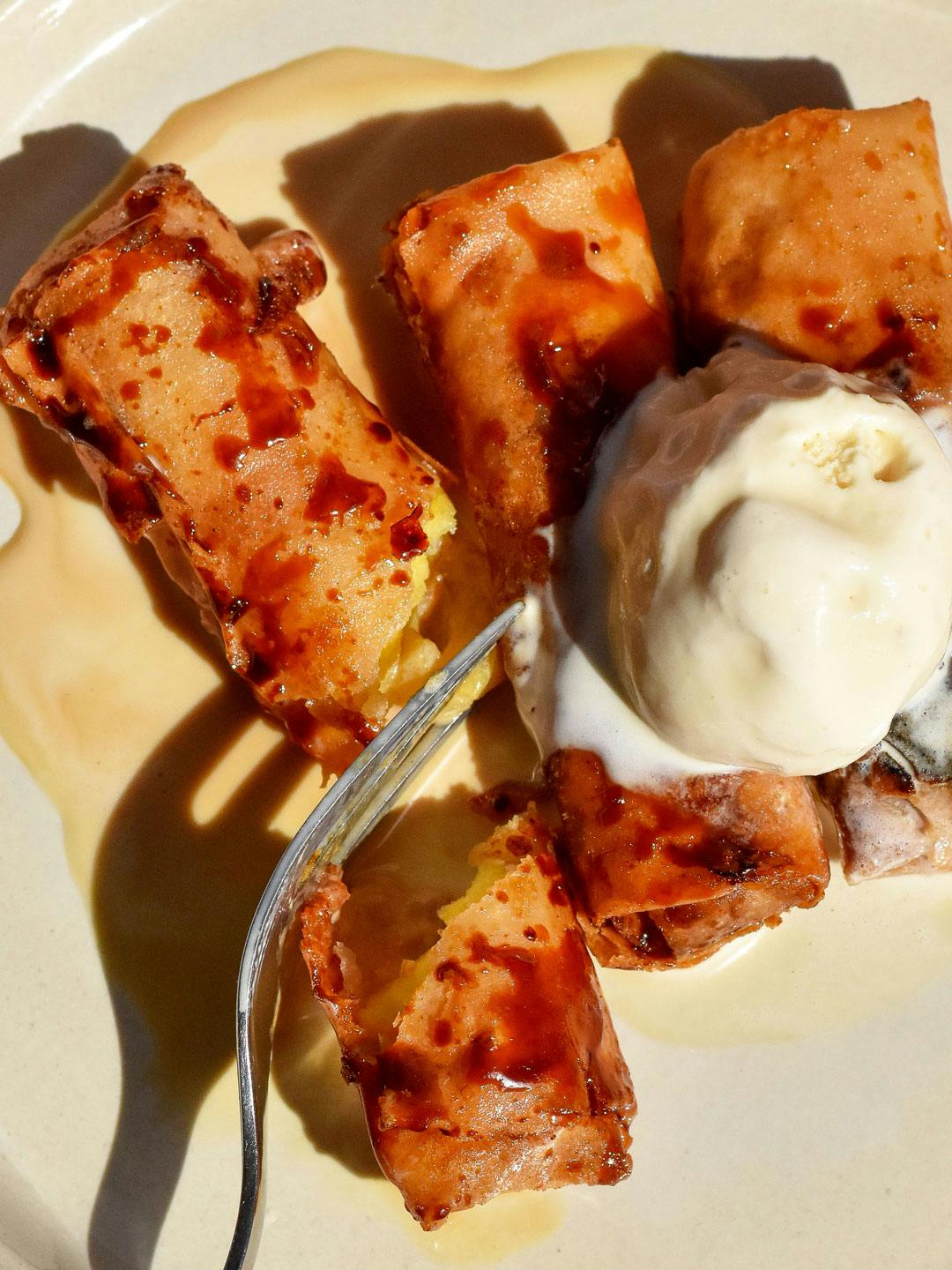 Turon is a Filipino street food of spring rolls filled with ripe jackfruit and sweet plantain. It's fried and caramelised to form sticky, sweet spring rolls that you'll want to snack on every day. With only six ingredients, this simple recipe can be made in twenty minutes — a fantastic and authentic sweet treat.
Love brunch? Us too, and we love it even more when guest blogger Tomi Makanjuola brings these bad boys into the mix. Get some of your favourite people together and rustle up stacks of these delightful plantain chocolate chip pancakes, proving once again how versatile overly-ripe plantain can be — you can make room for it at breakfast, lunch and dinner. 
---
By Toni Olukiran
Toni is one of our lovely Content Marketing Assistants, and when she's not writing posts about everything from Jamaican cooking to vegan champagne, she's making a Spotify playlist (she was at 200, at her last count) or playing tennis in the park.
---
Let us take care of dinner
We help to make eating more plants easy and delicious. Fancy letting us take care of dinner? Check out our delicious meals here.
Shop now