Lifestyle
How To Make The Best Vegan Aubergine Parmigiana
3min read
One of the latest dishes to hit our menu is a rich and dreamy aubergine parmigiana made plant-based. Wondering what's in it? Find out the full lowdown here.
A (brief) history of aubergine parmigiana
Parmigiana di melanzane, otherwise known as aubergine parmigiana, is a dish traditionally made of slices of roasted or fried aubergine layered with cheese and tomato sauce before being baked. Though native to Italy, it is disputed in what part exactly the iconic dish originated. Some claim Parma, the home of parmigiano-reggiano cheese which features in the dish, but many believe it is originally a southern dish from Sicily, Campania or even Naples. The modern version of aubergine parmigiana as we know it first appeared in a cookbook as far back as 1837. 
A (slightly less brief) rundown of our aubergine parmigiana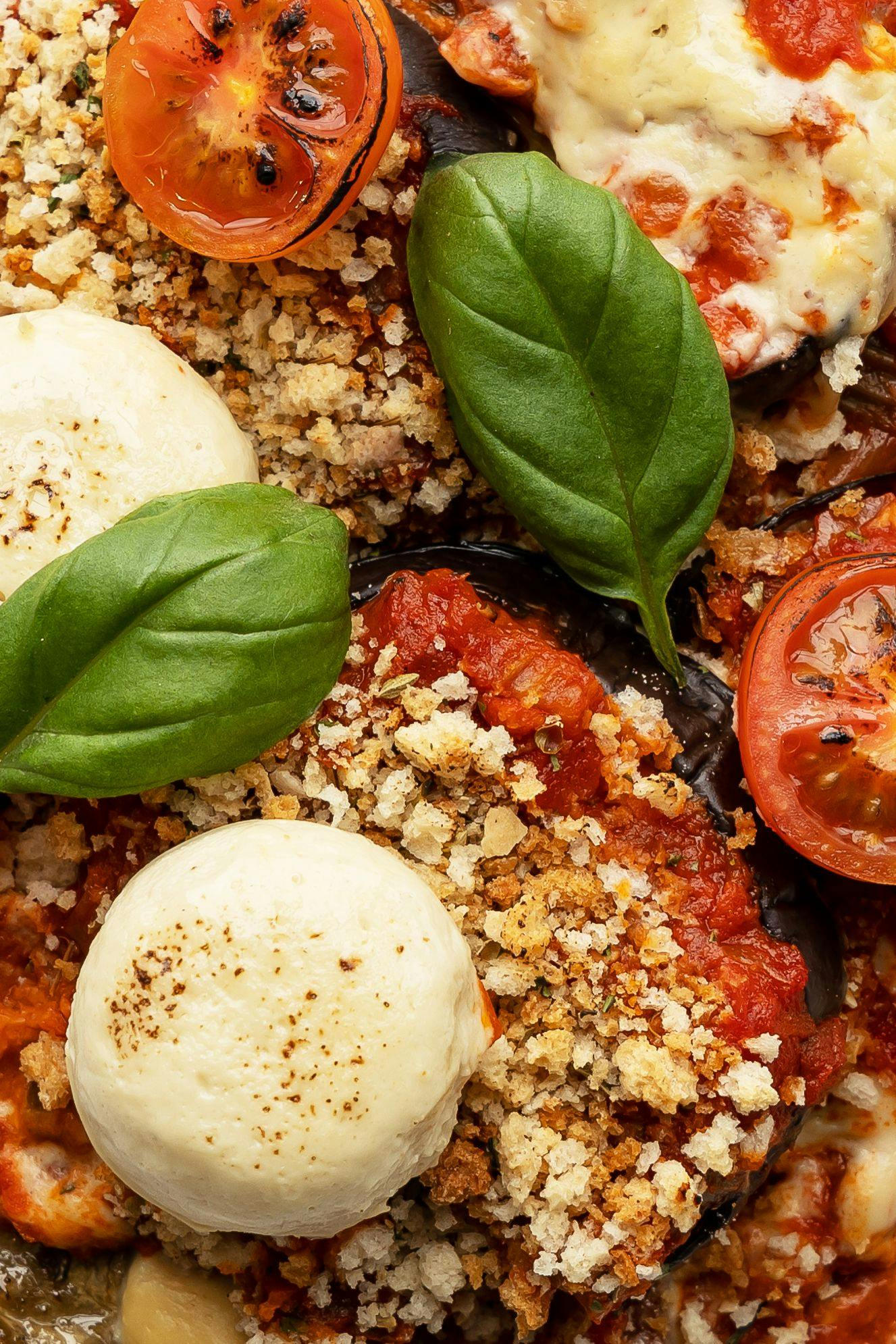 The key to a beautiful aubergine parmigiana, is, unsurprisingly, how you get the best out of the titular vegetable. Aubergine can be one of those tricky vegetables to cook if you're unfamiliar with it (so what luck that we have professionals that will do it for you?). Getting them thin and removing some of the moisture is key to getting the perfect slightly-crispy-but-very-creamy texture it wants to be. 
When coupled with a flavourful tomato sauce, the foundations of a great parmigiana have been made — and our dish provides this in spades. Flavoured with oregano, basil, garlic and roasted red pepper, it gives the dish a deep umami flavour you want. 
And as for the vegan cheese? Let's just say miracles have been performed here. 
A cashew cheese makes for a creamy and rich treat in every layer and every mouthful. Each portion is topped with vegan mini mozzarella balls which are pure magic. Garnished with three carefully-picked basil leaves, a couple of tangy halved cherry tomatoes and an oregano breadcrumb topping, this parmigiana feels like the definition of decadence but in some calculated, mind-boggling way, only comes to 351 calories. Now, as for cooking it, here are the crazy-complicated steps you've got to take:
How to make this parmigiana
Take off the beautiful sleeve and the film cover. 
Put on a tray and into the oven.
Run a bath, light some candles, do a face mask and relax. See our Instagram for inspo.
Take out the parmigiana, transfer to your favourite plate (because we all have a favourite plate) and enjoy!
It's that simple, because our chefs do the work for you. The only thing for you to do is heat, eat and repeat. 
---
By Toni Olukiran
Toni is one of our lovely Content Marketing Assistants, and when she's not writing posts about everything from Jamaican cooking to vegan champagne, she's making a Spotify playlist (she was at 200, at her last count) or playing tennis in the park.
---
Let us take care of dinner
We help to make eating more plants easy and delicious. Fancy letting us take care of dinner? Check out our delicious meals here.