Lifestyle
Is Bamboo Fabric Sustainable?
2min read
Bamboo is being used for everything from toothbrushes to clothes to cutlery. So why has it become a popular material in recent years, and is it really eco-friendly?
What is bamboo fabric?
Bamboo is the new fabric that has got a grip on the world of eco-conscious fashion. It is a fabric made from bamboo (unsurprisingly), which is a perennial plant that self-regenerates, growing from its own roots. It has become a massively popular material to be used across a multitude of products, from clothes, to cutlery. 
Is bamboo sustainable?
Bamboo is often touted as a sustainable material, due how quickly it regenerates itself (around 4 cm an hour, for some species), and how low maintenance it is. However, many people forget the downsides of bamboo farming, which can lessen how eco-friendly a material it is as a whole. For one, many environmental charities have brought up the fact that deforestation is actually a consequence of bamboo farming. In order to make way for the high rates of production for bamboo, forests are cleared to allow for it which hurts biodiversity significantly in local areas. The way in which it is produced from a raw material into a fabric also raises some issues. It is a very labour intensive product to make, and uses a lot of chemicals in its treatment, some of which is very toxic and can harm wildlife. Some fabrics made from bamboo aren't considered as eco-friendly enough by leading textile organisations such as the Global Organic Textile Standard (GOTS), due to its high chemical processing preventing it from even being a remotely natural material.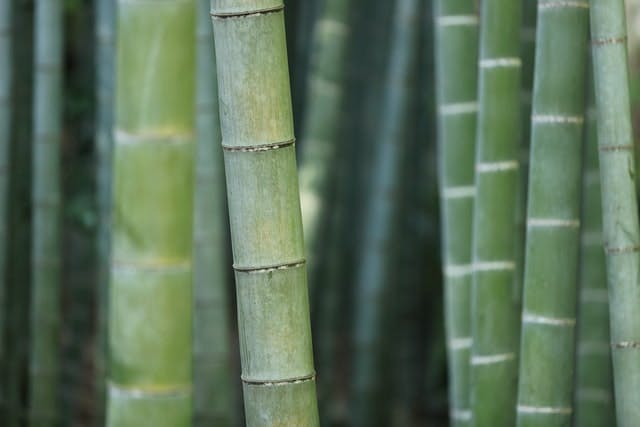 Ultimately, bamboo is a fabric that can be more sustainable than other materials like polyester — but that also doesn't mean it's perfectly sustainable, either. If buying bamboo products, make sure that its FSC certified, and its also worth looking into what type of bamboo material it is exactly, as they're not all made equal. Lyocell is derived from bamboo and is one of the most sustainable fabrics being used in clothes production in particular. 
Read all about lyocell here next. 
---
By Toni Olukiran
Toni is one of our lovely Content Marketing Assistants, and when she's not writing posts about everything from Jamaican cooking to vegan champagne, she's making a Spotify playlist (she was at 200, at her last count) or playing tennis in the park.
---
Let us take care of dinner
We help to make eating more plants easy and delicious. Fancy letting us take care of dinner? Check out our delicious meals here.
Shop now