Lifestyle
Lab Milk: The Next Big Thing?
3min read
As the market for plant-based milks continues to grow, companies look for alternatives to dairy products to suit a variety of diets. So is lab milk set to be the next big thing in the world of vegan milk?
There has never been as many options for milk to top up your cup of coffee as there is right now. In the last few years, we've seen plant-milk boom with the likes of oat, almond, cashew, peanut and much more providing consumers with a great dairy-alternative. And the latest to shake up the vegan milk sphere? Lab milk: milk that has been genetically modified to be like cow's milk, except it's made out of yeast.
So what is lab milk, and how does it work? 
Lab milk is a synthetic milk using a protein found in cow's milk that can be engineered with a specific type of yeast to make a milk that resembles dairy but contains no dairy at all. Through this manufacturing process, cow's milk can be made without the cow in the process. In theory it would suit those who are on a plant-based diet for animal-cruelty reasons, environmental reasons, and health-related reasons (it is suitable for those who are lactose intolerant, and has the same nutritional value and benefits as cow's milk). Though some vegans may be deterred from trying it as cow DNA is needed to retrieve the proteins that make the milk, the general consensus is that it is vegan. 
How marketable is it as a vegan alternative?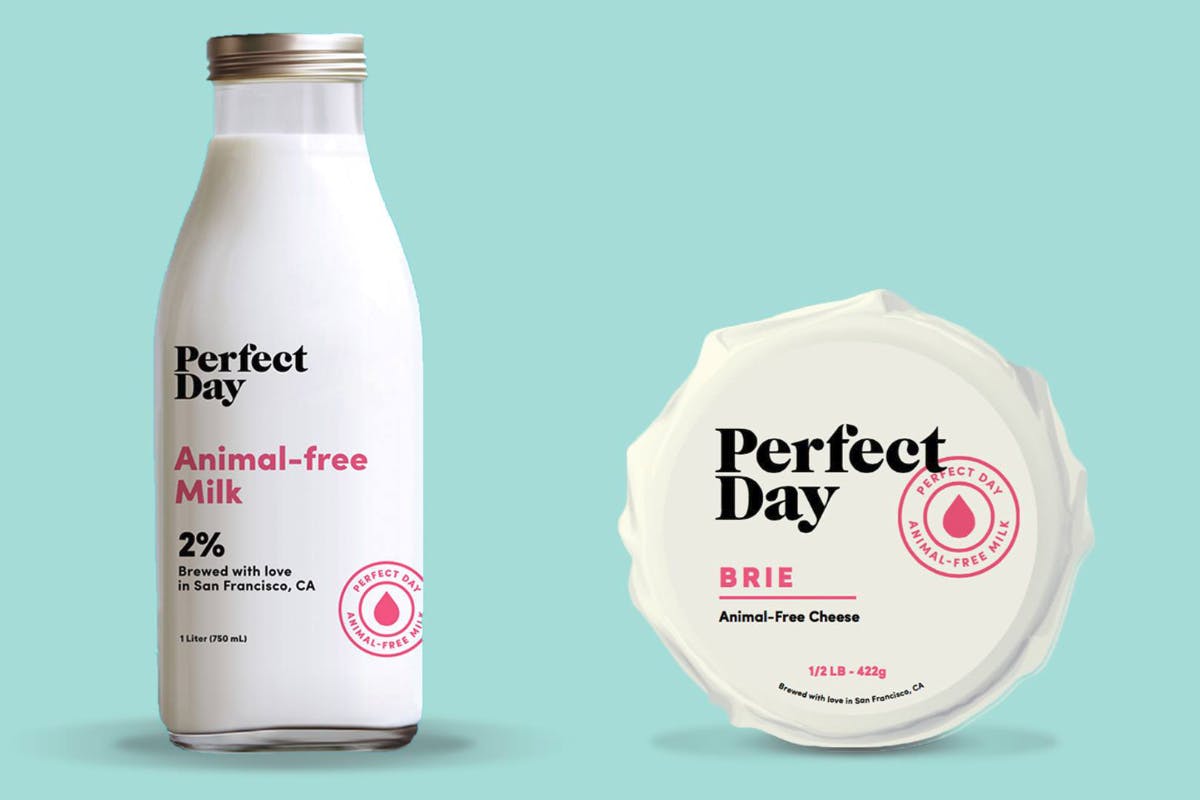 Source: Perfect Day Foods
We need only look across the pond for answers. Perfect Day is a food tech company based in California which has developed the process of making vegan cow's milk. Started in 2014, two vegan bio-engineers, Ryan Pandya and Perumal Gandhi created the company after lamenting the fact they couldn't find a milk alternative that still tasted like cow's milk. By April 2020 they got the FDA's approval for their whey protein, and in July 2019 they released their first product — ice cream. It sold out within hours. This only goes to show that the demand for vegan products is only set to grow, as the company has rolled out eight flavours available across 5000 locations in the US since the initial launch. 
And Perfect Day isn't the only company out there dabbling in lab milk. The first foray into synthetic milk was created by Turtle Tree Labs in Singapore, and Remilk, another company in the lab milk world, has also been making waves in Israel. Another startup in the world of lab milk is also based here in the UK; Better Dairy is another company looking to disrupt the dairy industry with their own synthetic milk, and hopes to commercialise their product in the wake of Perfect Day's own success.
The future of lab milk
So how likely is it to catch on? That depends on how satisfied people are with what many options they already have. With there already being a big  market for vegan milk, many consumers may not feel the need to branch out. That being said, the popularity of Impossible Foods in the US, the company that has engineered vegan meat using the protein heme to recreate meaty flavours, shows that people will likely embrace vegan alternatives. 
Lab milk may not be everyone's cup of tea, but being able to diversify the milk options is naturally a good idea if it can in some way take the pressure of dairy farming.  While it's impossible to know how energy intensive it will be to manufacture a product like lab milk, it will still be much more sustainable than the current dairy industry. For that reason, we can be sure that the foray into lab milk will ultimately be a (climate) positive one. 
---
By Toni Olukiran
Toni is one of our lovely Content Marketing Assistants, and when she's not writing posts about everything from Jamaican cooking to vegan champagne, she's making a Spotify playlist (she was at 200, at her last count) or playing tennis in the park.
---
Let us take care of dinner
We help to make eating more plants easy and delicious. Fancy letting us take care of dinner? Check out our delicious meals here.
Shop now