Lifestyle
Meet Our New Katsu Curry: A Chat With Chef Flo
by Laura Barns
5min read
There's not much I love talking about more than food, especially when it comes to new, exciting treats to try. So I was delighted to sit down and talk about all things katsu curry with our Senior Development Chef, Flo. She gave me the lowdown on the behind the scenes development of our new 'Chicken' Katsu Curry in collaboration with Meatless Farms. And let's just say, it left me very hungry. 
Any questions for Flo about this dish, or any others on our menu? Fire away in the comments!
Why are you so excited about this dish?
Let's face it, I get really excited about all the dishes on our menu, but there's something extra special about this one. Katsu is forever growing in popularity in the UK, and we think it will one day be up there with a comforting Sunday roast, a tangy tikka masala and a hangover-curing fry-up. It's great to add something to our menu that we know our customers are really excited about. 
It's the ultimate fakeaway dish, in the sense that it's filling, satisfying, sweet, saucy and basically everything else you want from a takeaway, but without some of the nasties often found on a takeaway menu. It ticks all our regular nutritional boxes, and it contains 2 of your 5 a day. Can your favourite high street version do that?!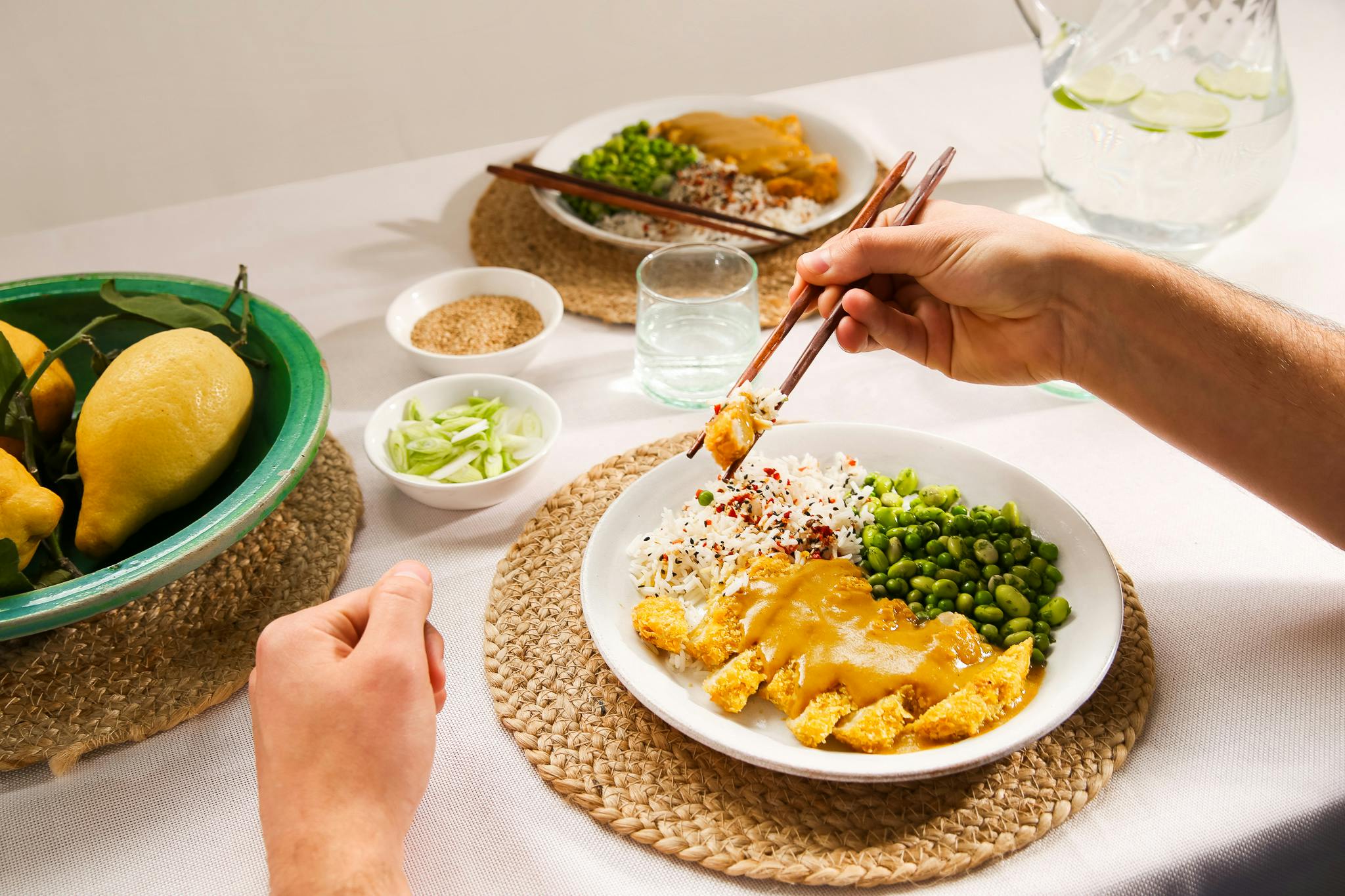 What was the trickiest part to get right?
Definitely sourcing the 'chicken' piece for us to use. In the allplants kitchen, we have really high standards in terms of taste and what's on our labels; we always want them to be as clean and simple as possible, which isn't always easy when you're bringing meat alternatives into the mix. 
I think as well, we had a big job to do when it came to meeting customer expectations. As I mentioned, this is such a much-loved dish and customers will be ordering it with a certain idea in mind of what they're going to get, so matching this was really important. I think we must have tried about every vegan katsu curry on the market in terms of taste testing to make sure we hit the mark. We focused on a top 10, which were all completely different – there was a huge scale of sweet and acidic ones on the list, so it was tough to know which way to go. But in the end, we went with a happy medium of a mellow, sweet curry with just the right level of tang.
Why was Meatless Farms the ultimate choice for the 'chicken' element?
They won for us for a few reasons. Most importantly, taste. Their 'chicken'-style schnitzel piece is absolutely delicious. Simple as. It also really held up well when serving with the sauce and the sides, and made for a really nice, well-rounded, balanced meal.
It was also really important to us that the brand we collaborated with shared our values of encouraging the planet to eat more plants, via convenient, delicious plant-based options. And Meatless Farms ticked these boxes and then some. Their products are good for you, and good for the planet. And we couldn't ask for more.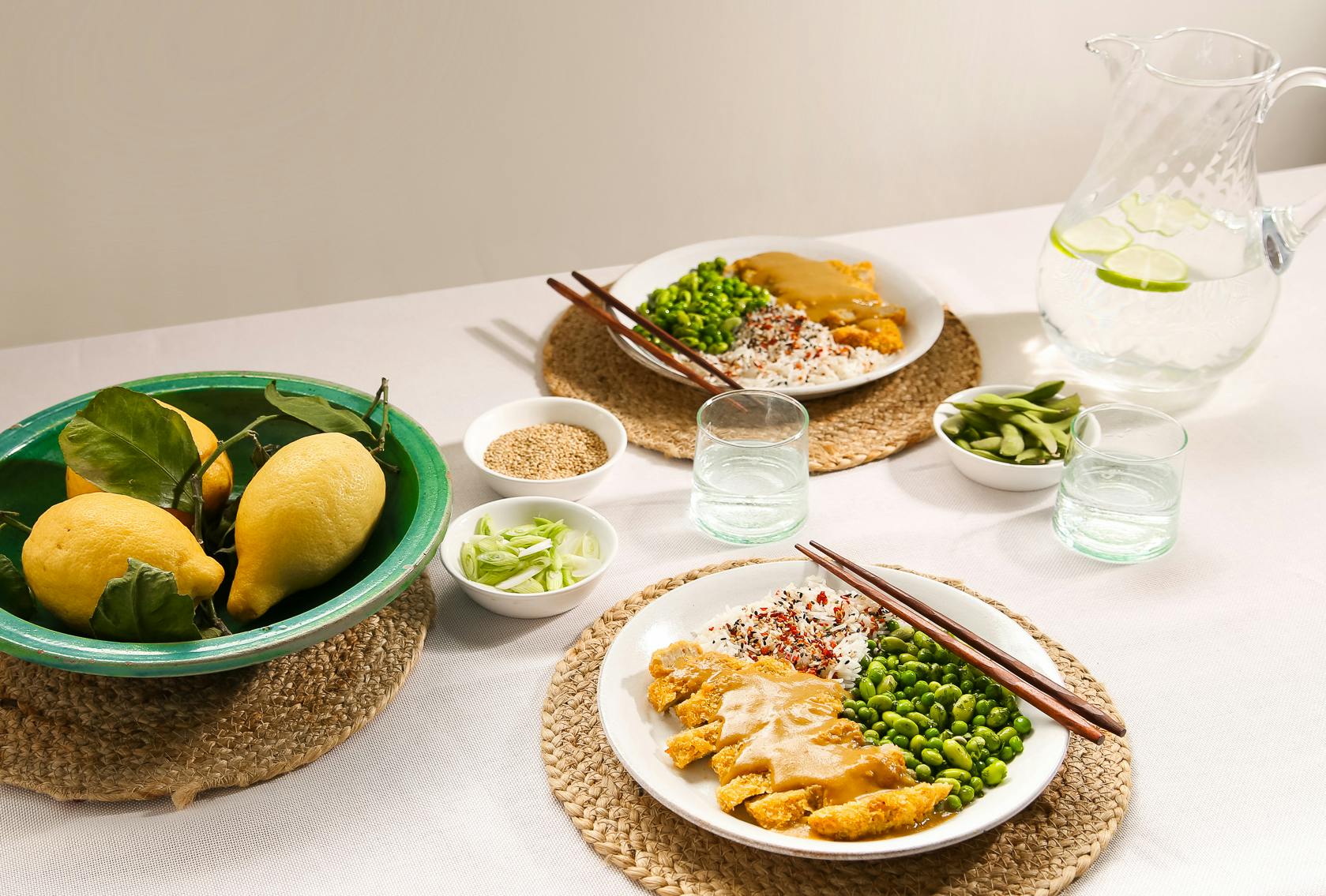 What advice would you give to someone cooking a katsu?
When it comes to serving up our katsu, it sounds really basic but triple-checking the instructions is really important. It's been designed so that it all comes together at the same time so you get a really seamless, easy experience.
And, if you're preparing your own vegan katsu curry from a recipe, my advice is to relax – it's honestly easier than you think. Also, we blend our sauce three times to ensure the result is a velvety smooth consistency which really wins it for us. So a good blender is key. Don't rush, and just enjoy it, too. 
Any pairing advice for enjoying your katsu?
It's a totally complete meal, so there's no need to add any sides (though one of our treats is always a good way to end a meal). In terms of drinks, I'd recommend serving with a nice Japanese beer or cider. My current favourite is Yosshi cider which is really nice and refreshing. Or, for those not drinking, you can't go wrong with a delicious Jarr Kombucha.
---
By Laura Barns
Laura is our Copywriter, who is obsessed with the Hearty Roots Stew (and has been known to eat a double serve for lunch on more than one occasion). On her day off you'll find her walking her puppy Ralph, stopping off at bookshops and cocktail bars along the way. 
---
Let us take care of dinner
We help to make eating more plants easy and delicious. Fancy letting us take care of dinner? Check out our delicious meals here.
Shop now