Lifestyle
Our Favourite Greek Vegan Recipes
6min read
Picture the scene – a deserted beach on a Greek island, a large glass of something cold, a table full of irresistible vegan Greek dishes and an endless sunset.
Well, there are a few of those we can't help provide (namely the beach and the endless sunset) but we can do something about the food by providing you with some of our all-time favourite recipes that help recreate the magic of Greek island flavours and dining in your own kitchen. 
Some of these recipes have a vegan...ish origin already and others are creative plant-based interpretations of classics. Either way, we know you're sure to love them all.
Vegan Greek meze recipes 
The style of eating and entertaining called meze isn't just about salivating over the wide variety of small plates and trying a bit of everything on offer. It's also about coming together with friends and family with laughter, love and probably even a drink or two if that's where the evening takes you. Here are a few of our top recipe picks to help set the mood:
Spanakopita
Inspired by the Greek classic, we love Val's vegan spanakopita recipe. They're crispy filo pastries, perfectly filled with spinach, garlic, leeks and vegan feta, and make an ideal candidate for your vegan meze platter.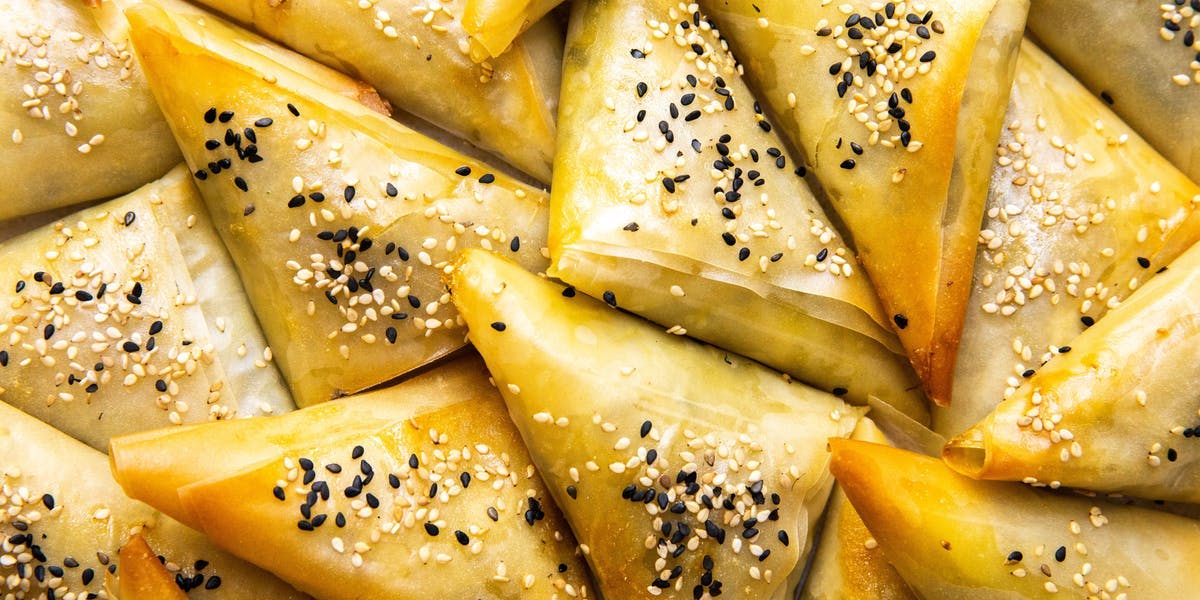 Horiatiki salad (Greek salad)
Most commonly known to us in the UK as a 'Greek salad', horiatiki champions all the best fresh flavours from the Islands. Sweet tomato, crisp cucumber, salty olive and sharp onion are married together with a deep lemony dressing, and in the case of this recipe form Yum Vegan Lunch Ideas, tofu pieces instead of feta cheese. If you love plant-based cheese, then try this plant-based feta.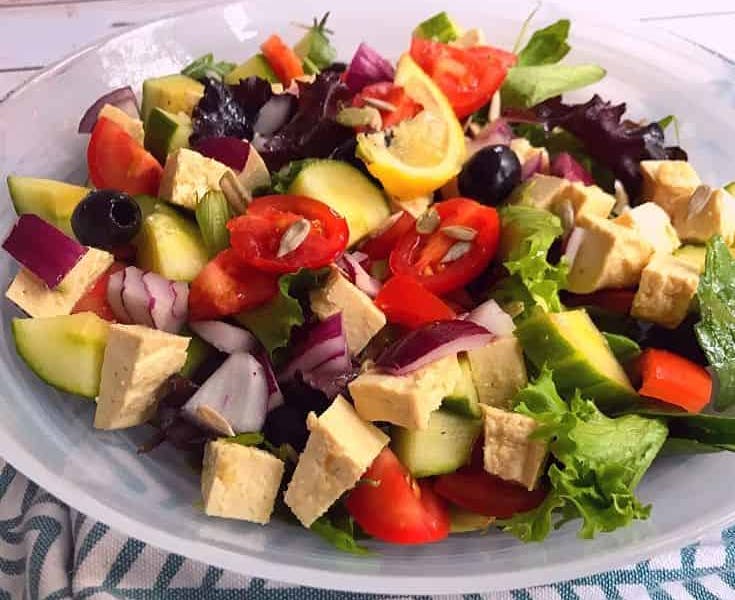 Photo credits: Yum Vegan Lunch Ideas
Kolokythokeftedes (courgette fritters)
These moist (sorry, but they are) and succulent courgette fritters recipe from Lazy Cat Kitchen are a great go-to weekend lunch on their own, but also fit perfectly in your vegan Greek feast.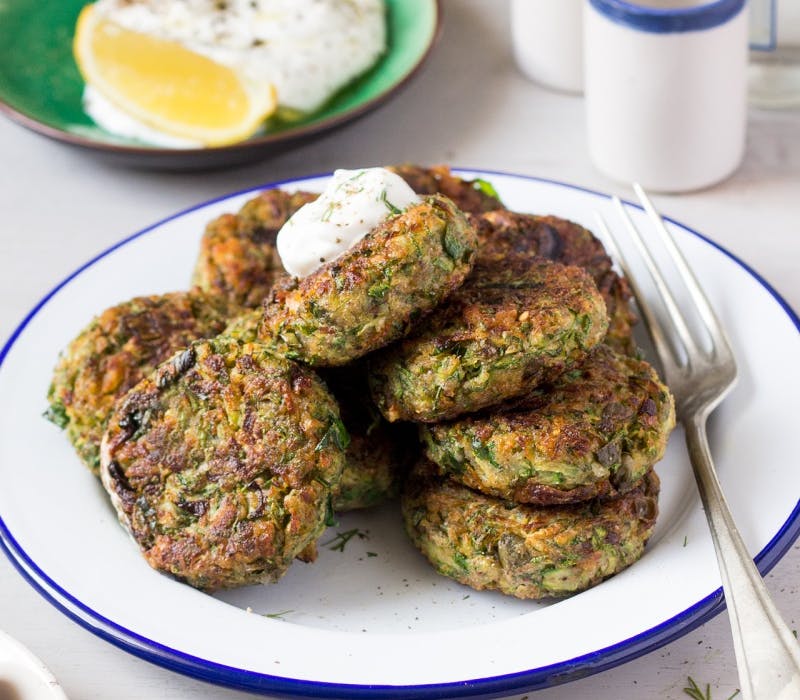 Photo credits: Lazy Cat Kitchen
This sticky recipe for stuffed vine leaves, or dolmades, from The Greek Vegan, is one you'll be sure to make again and again. They're stuffed with a herby rice filling that will leave your kitchen smelling of dill, mint and parsley in all the best ways. 
Eliopsomo (olive bread)
Another recipe from The Greek Vegan, this time for flavourful eliopsomo which is a traditional Greek olive bread that's a distant second cousin to the Italian focaccia. However, the olives aren't only on top of the spongy bread, but also incorporated through it.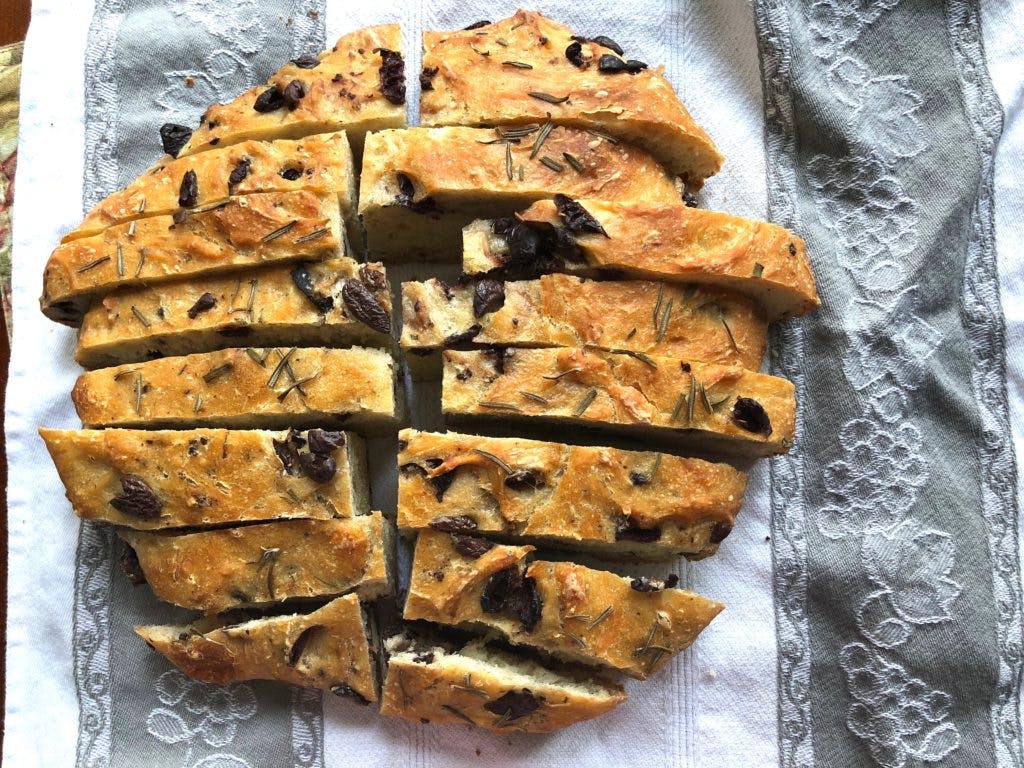 Photo credits: The Greek Vegan
Tzatziki 
Tzatziki is traditionally a dairy yoghurt-based dill and cucumber dip, but this recipe from The Minimalist Baker uses coconut yoghurt making it effortlessly vegan.
Photo credits: The Minimalist Baker
Hearty Greek vegan mains recipes 
Gyros
This filling and flavoursome vegan gyros is a hearty meal on its own. This recipe from Lazy Cat Kitchen is a sort of healthy at-home kebab for anyone unfamiliar and uses baked, spicy jackfruit as the main filling.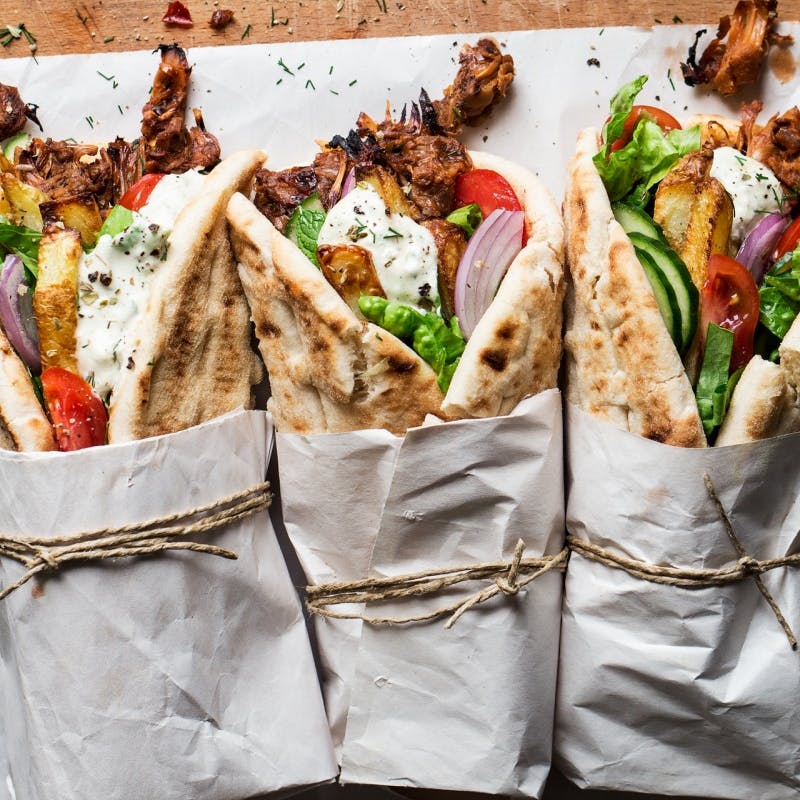 Photo credits: The Lazy Cat Kitchen
Moussaka
We're obsessed with Val's take on our plant-based take on a moussaka, she uses a rich lentil and porcini ragu with notes of red wine and cinnamon packed into tender aubergines and potato all topped off with a  creamy oat-based bechamel.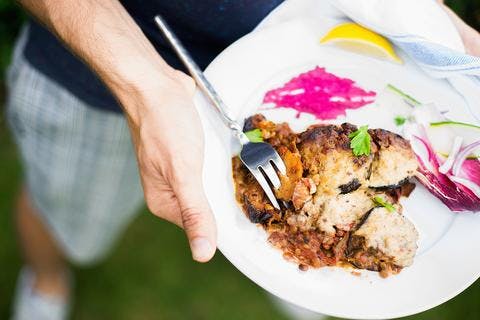 Biram
This recipe for traditional Greek roasted vegetables from The Mediterranean Dish makes for a perfect hearty dinner, any night of the week. Slices of potato, courgette and onion are arranged in a spiral and baked in a rich, herby and tomatoey sauce. A dish that's both healthy and comforting.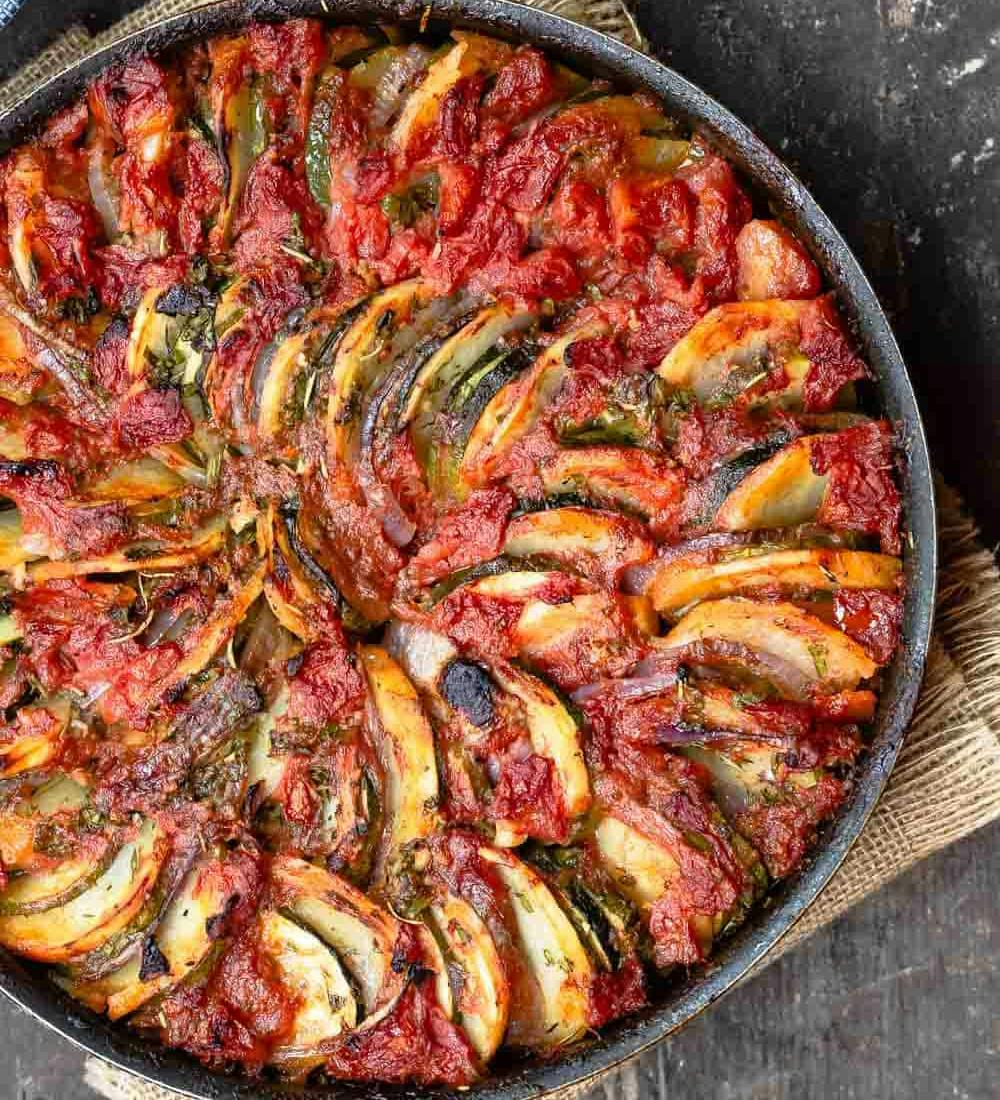 Photo credits: The Meddertiranian Dish
Irresistibly sweet Greek vegan dessert recipes 
Vasilopita (Constantinople cake)
As you might have guessed from the name, this cake is very popular in Constantinople and this plant-based recipe from The Greek Vegan is subtly spiced and citrusy and is traditionally served with Greek coffee.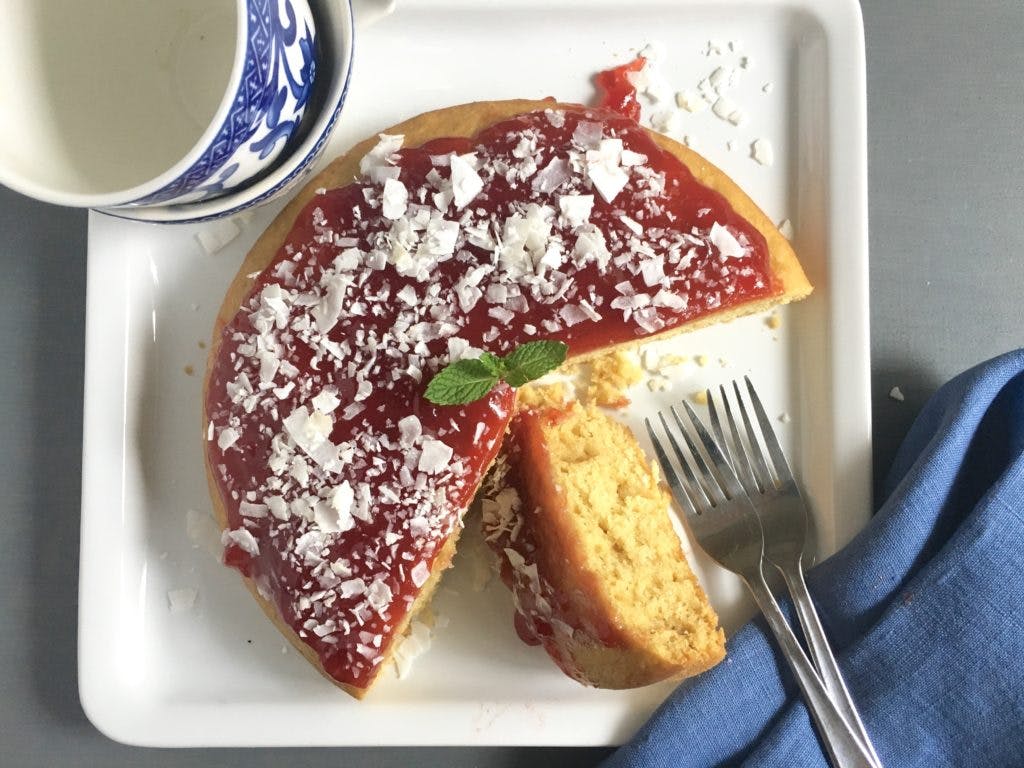 Photo credits: The Greek Vegan
Baklava 
Been having serious sugar cravings? Well then, you'll need to try this recipe for vegan Baklava from Yup, It's Vegan to finish off your plant-powered Greek feast.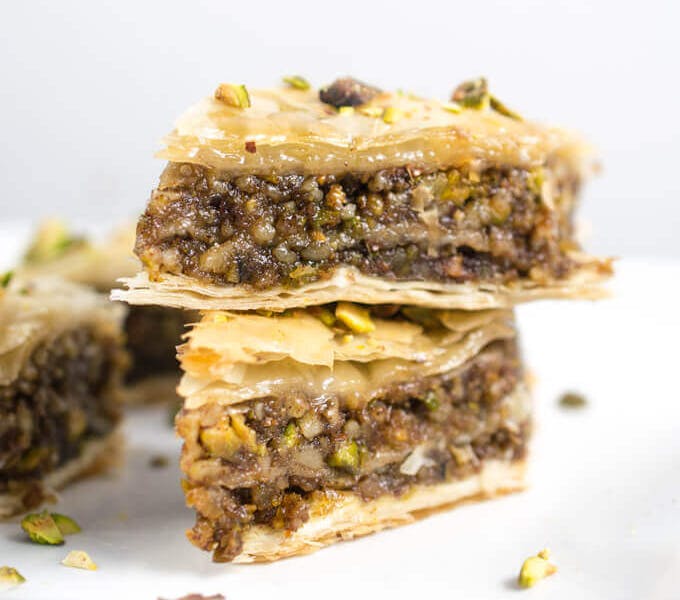 Photo credits: Yup, It's Vegan
---
By Fabian Jackson
Fabian is one of our lovely Content Marketing Assistants who loves writing almost as much as he loves coffee, old episodes of Escape to the Country (no judgement here), and cooking up a storm in his kitchen.
---
Let us take care of dinner
We help to make eating more plants easy and delicious. Fancy letting us take care of dinner? Check out our delicious meals here.
Shop now