Lifestyle
The Rise And Rise Of The Vegan Butcher
by Laura Barns
3min read
If you're a follower of all things plant-based news, you've probably spotted that there's a new vegan butcher in town. Well, in Nottingham town. 
When vegan butcher Faux opened its doors for the first time last week, it wasn't prepared for the demand. Queues formed outside the store in Nottingham, UK, with customers eager to sample its plant-based meats. 
The increasing popularity of veganism has seen major supermarket chains devote whole sections to meat-free products that resemble sausages, burgers and steaks. In fact, it's even been reported that a leaked letter from former Tesco CEO David Lewis to NGO Greenpeace reveals that the supermarket giant intends to offer a meat-free alternative for every animal product the retailer sells.
So, Is the arrival of vegan butchers on high streets the logical next step, right?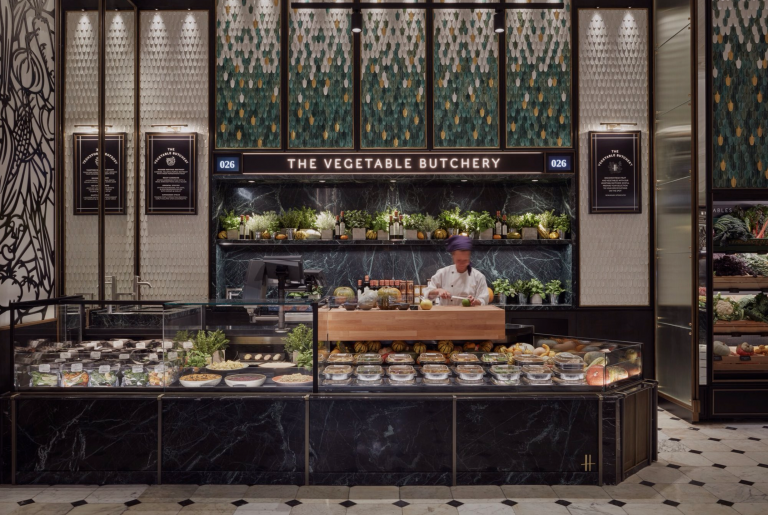 Meat-free butchers in the UK
Following its success in Camden as London's first-ever all-vegan American diner, Rudy's Vegan opened the doors to Rudy's Vegan Butcher – the country's first 100% plant-based butcher shop at the time, back in November 2020. Coinciding with World Vegan Day, the store offers customers all the butcher classics, from vegan bacon to pulled pork, black pudding and smoked ham. 
Though it's not just meat alternatives that have received the 'butcher' treatment in the UK (and beyond). Back in 2018, world-famous London department store Harrods added a new addition to its newly extended foodhall as it opened a 'vegetable butchers'.
According to the store, the vegetable butchery sees chefs creating "alchemy and amazement" with "bespoke cuts and blends." Just like regular butchers, vegetable butchers stand behind glass counters, and offer before-your-eyes precision chopping, and concoct the perfect seasoning for every dish.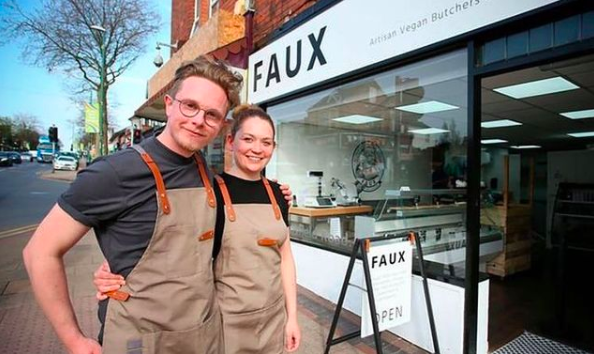 The lowdown on Faux
So maybe it's unsurprising just how well Faux is going down in Nottingham. 
Faux offers plant-based alternatives to bacon, brisket, chicken thighs, pork belly, salami, and more. It also has cheeses, coffee, and a deli counter with sandwiches and baked goods. By the end of its opening day, Faux had completely sold out of all products. By the following day, it had restocked, only to sell out again — and then a third time the day after. Phew.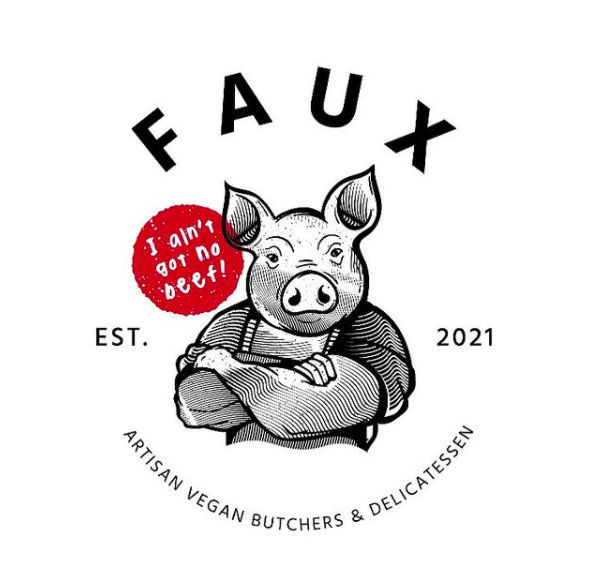 Our thoughts
I asked a few of our team members to share what they thought about the news, and about the rise and rise of vegan and vegetarian butchers. 
Pedro, Head of Marketing (and vegan): 'I haven't been to Rudy's yet but find their concept fantastic. Just like the Fauxmangerie they bring a concept that's really easy to understand to anyone in the public but make it vegan. No difficult or long explanations about what they - you get there to get a burger or sausages except they're made of seitan or soy instead of animal parts'.
Katie, Head of Creative (and not vegan): 'I'm lukewarm, to be honest. The idea of a vegan butcher in itself I have no beef with (pun never more intended) as I know disliking meat isn't the reason most people give it up. If I ever go fully meat-free it won't be because I don't enjoy it and I will definitely want days where I mimic it in a substitute or similar. However, personally, I'm not attached to the ritual of buying meat at a butcher and I am almost aggressively lazy when it comes to food shopping so I think I'd feel a bit silly making a special trip.'
Albie, Customer Experience Partner (and vegan): 'I love Rudy's been to the one in Highbury loads and can't wait to try out their counter food too. I guess it's a little gimmicky, but I don't see that as a bad thing!'
I think that's the thing for me, it's a little gimmicky, but if it's one way of showing just how amazing plants can be, I'm on board.
I'd love to hear your thoughts on vegan butchers. Share away in the comments!
---
by Laura Barns
Laura is our Copywriter, who is obsessed with the Hearty Roots Stew (and has been known to eat a double serve for lunch on more than one occasion). On her day off you'll find her walking her puppy Ralph, stopping off at bookshops and cocktail bars along the way. 
---
MORE GREAT READS
Let us take care of dinner
We help to make eating more plants easy and delicious. Fancy letting us take care of dinner? Check out our delicious meals here.