Lifestyle
Trofie, What Is It And Is It Vegan?
5min read
One thing we love more than watching endless loops of Pasta Grannies videos is learning everything we can about what they're effortlessly knocking together and how we can get a slice of the action at home. Today we're spotlighting trofie: where it comes from, how to make vegan trofie at home and which sauces will help to bring this mouthful of Italy alive.
What is trofie pasta? 
Trofie (pronounced TROH-fee) are small twists of pasta that form the base of famed dishes from Liguria, in Northern Italy. Unsurprisingly, one such dish is Trofie Pasta Liguria, a hearty bowl of trofie pasta with pesto, new potatoes and green beans. The small pieces of trofie are perfectly formed to be coated in sauce, traditionally fresh pesto and ideally made with fistfuls of sweet Genovese basil growing on your windowsill (the dream, right?!). The nutty taste of trofie also lends itself to other earthy flavours – anything with mushroom is a winner in our books.
The etymology is a little foggy when it comes to trofie, but a strong theory for the pasta's name is rooted in the Ligurian verb strufuggiâ, 'to rub', meaning there are no hidden secrets when it comes to imagining how this pasta is formed.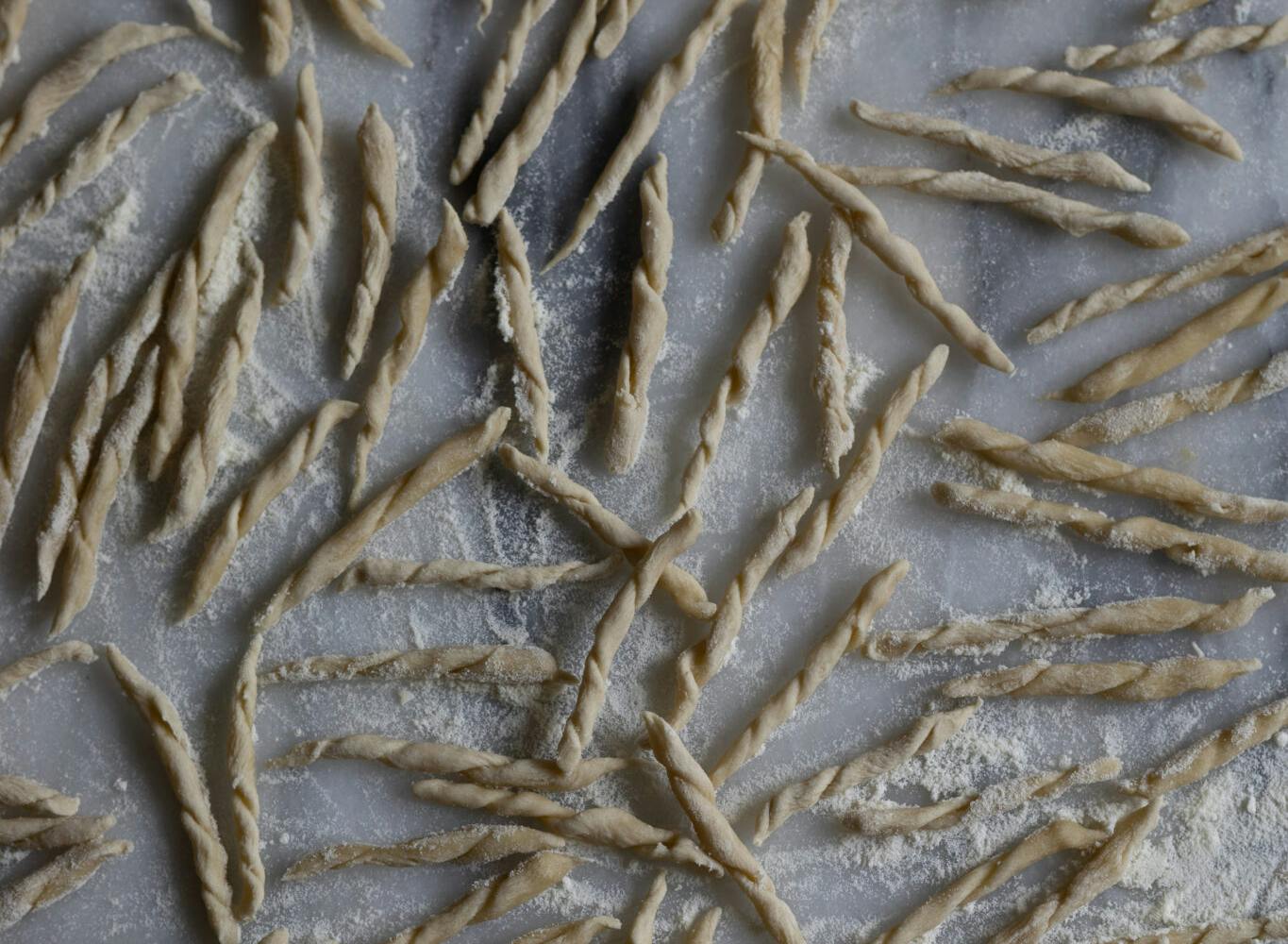 Photo credit: Twigg Studio
Is trofie vegan? 
The dough used to make trofie pasta is traditionally eggless, just consisting of water salt and either flour or, originally, semolina. This is true for home-made and shop-bought trofie alike, so all that's left to do is pick a sauce, boil a pan of water and dig in. 
How to form trofie's classic shape
Trofie can be shaped by rolling a marble-sized piece of dough between your hand and a flat surface, rubbing it back and forth until a twist of pasta has naturally formed from the ridges of your knuckles – here's a video from Pasta Grannies to watch and get the idea. 
Vegan trofie pasta recipes 
One of our favourite things to do is spend time rustling up fresh pasta and learning new patterns, folds and twists that have been used for centuries to create vastly varied dishes. Here are a few easy vegan recipes to make trofie pasta at home, and have your own taste of Northern Italy wherever you are: 
Top vegan trofie from the shelves 
Fear not if handmade pasta isn't your calling, you can still enjoy delicious trofie dishes that just start with a trip to the supermarket. This durum wheat trofie from Waitrose will form the base of a quick and tasty family meal, as will this hearty box from Barilla.
---
By Fabian Jackson
Fabian is one of our lovely Content Marketing Assistants who loves writing almost as much as he loves coffee, old episodes of Escape to the Country (no judgement here), and cooking up a storm in his kitchen.
---
Let us take care of dinner
We help to make eating more plants easy and delicious. Fancy letting us take care of dinner? Check out our delicious meals here.
Shop now