Lifestyle
Supermarket Vegan Launches You Need To Know About This Christmas
by Laura Barns
4min read
Whether it's your first vegan Christmas or your 50th, seeing the growing number of plant-based options pop up in the shops never gets old. 
As more and more people switch to a vegan diet, or simply add more plants to their plates, it's no wonder the supermarket giants are adding to their green offering. In fact, it's estimated that a quarter of UK households will cater to plant-based eaters this Christmas, with a vegan option overtaking beef and lamb for the first time.
So, what's on the menu this year?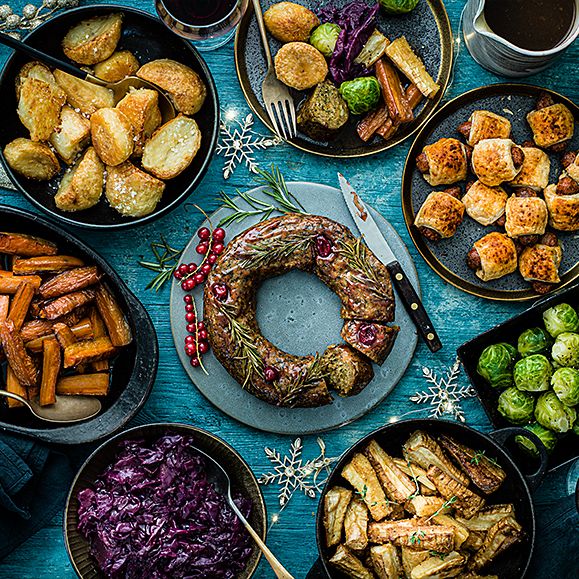 Photo credit: M&S
M&S
Plant Kitchen Vegan Festive Wreath – A classic centrepiece with a plant-based twist, this wreath features roasted mushrooms, chestnuts and pumpkin seeds and is topped with a cranberry and orange glaze. 
Plant Kitchen Butternut, Almond And Pecan Nut Roast – And don't worry about serving sauces – it comes with a rich red wine and thyme gravy.
Plant Kitchen No-Chorizo Pigs In Duvets – They blew up the internet last year, and this year they are back. Vegan chorizo wrapped in golden, flaky pastry – they are utterly moreish.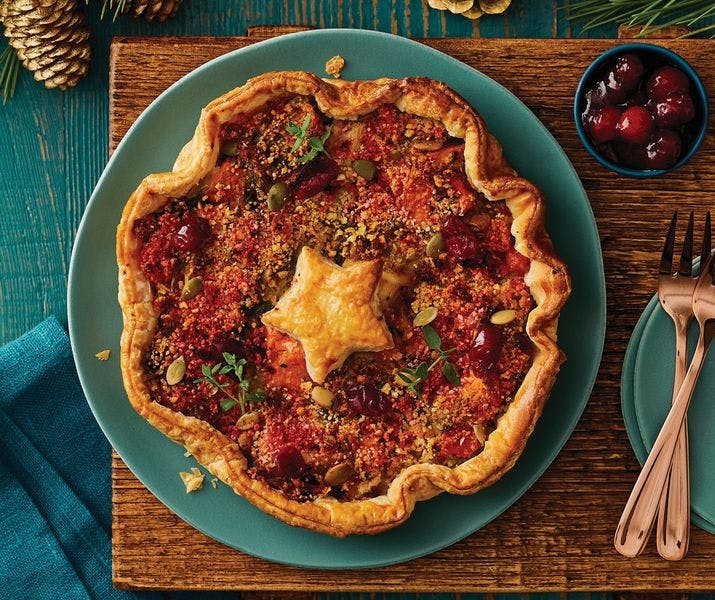 Photo credit: Morrisons
Morrisons
Vegan Trifle – This vegan version of the traditional trifle is as good as the real thing with strawberry sauce, boudoir biscuits and layered with vanilla custard and vegan cream.
Vegan Platter – This vegan platter is perfect for festive grazing. It includes Applewood smoke flavour alternative to cheese, semi-dried tomato segments marinated in oregano and garlic, and green olives.
Vegan Christmas Star Tarte – AKA the star of your Christmas dinner. Golden puff pastry filled with sweet potato, parsnip, mushroom with a creamy sauce made using coconut oil, topped with applesauce, a fruity seeded crumble and a puff pastry star.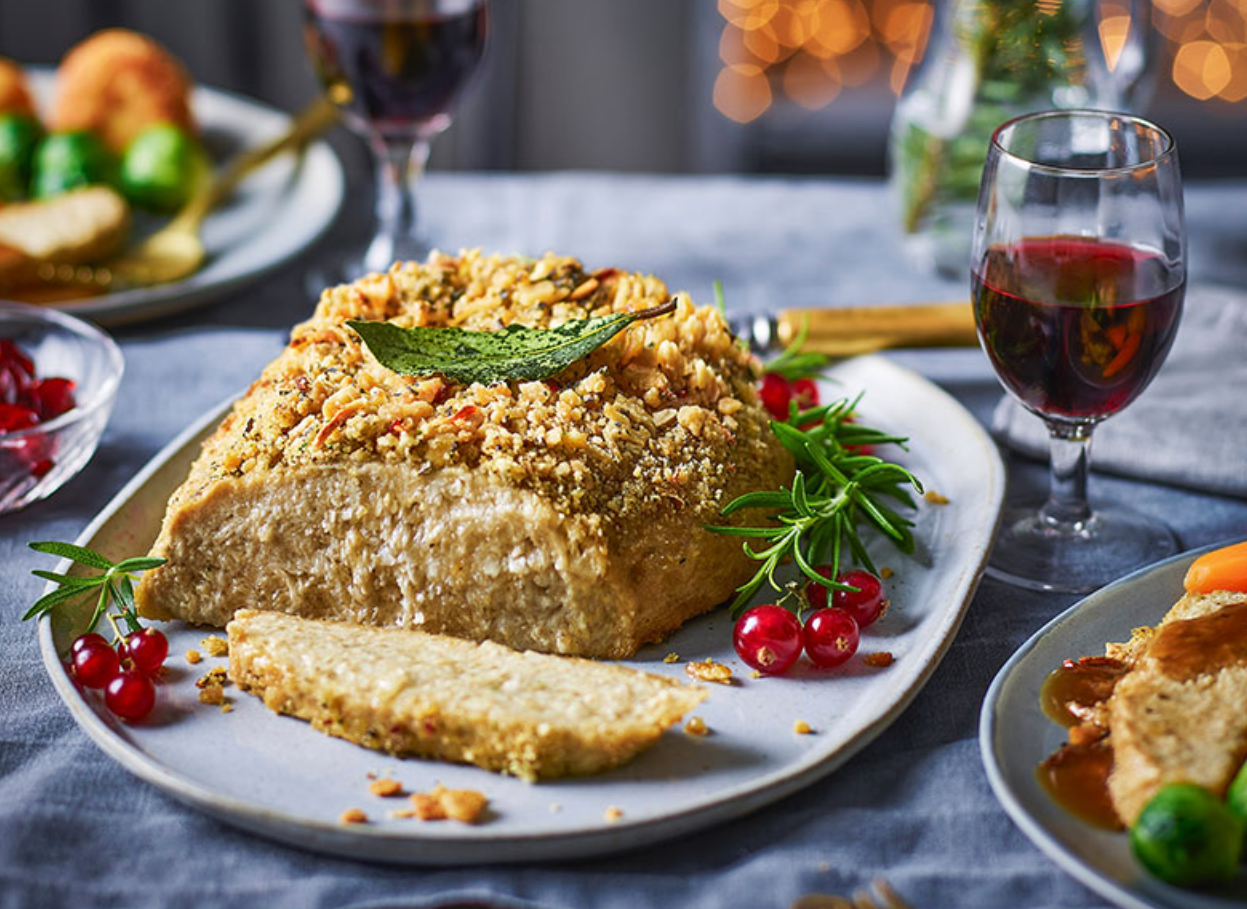 Photo credit: Tesco
Tesco
Tesco Wicked Kitchen No-Turkey Roast Crown – Tender and juicy, savoury wheat protein crown topped with a dreamy melt, sage and onion stuffing and a bay leaf. 
Finest Stuffed Half Butternut Squash – Butternut squash filled with apple, beetroot and green lentils, topped with a mixed crumb of pumpkin seeds, sunflower seeds and herbs.
Wicked Kitchen Ginger Chai Cake – Spiced ginger cake made with crystallised ginger pieces, filled with a ginger frosting and a spiced chai tea soak, covered with ginger frosting, sugar paste decorations, crystallised ginger pieces and dusted with a sweet cinnamon dusting.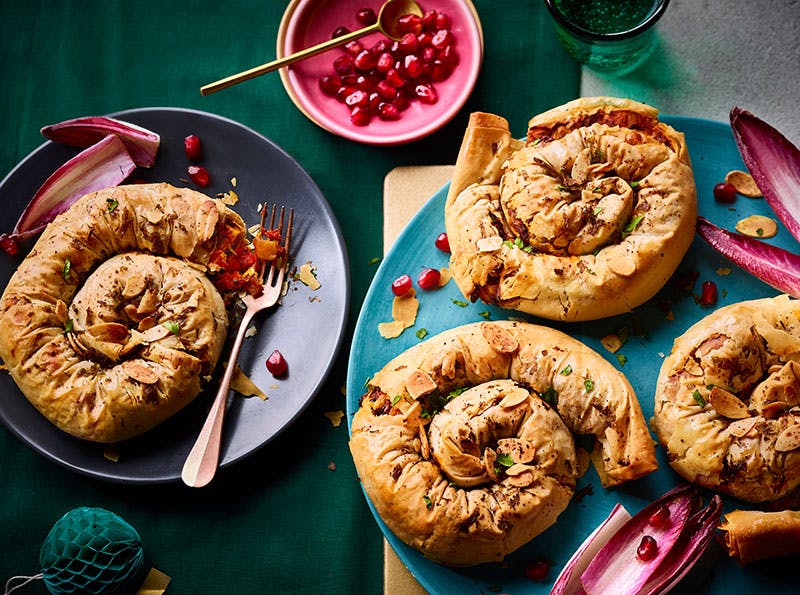 Photo credit: Waitrose
Waitrose
Vegan Nut Roast – If it's not broken, why fix it? This roast is a mix of mushrooms, pulses, vegetables, seeds, soya protein and grains with pecans, pistachios and walnuts.
Vegan No Pigs In Blankets – A deliciously vegan twist on the traditional trimming, and a perfect accompaniment for vegetarian and vegan main dishes.
Vegan Festive Filo Swirls – Squash, spice and all things nice. A Moroccan inspired spiced filling of butternut squash, red pepper, tomatoes, apricots and raisins are wrapped in crispy filo pastry with a scattering of almonds. 
Anything else you've spotted that you think we should know about? Let us know in the comments!
---
By Laura Barns
Laura is our Copywriter, who is obsessed with the Hearty Roots Stew (and has been known to eat a double serve for lunch on more than one occasion). On her day off you'll find her walking her puppy Ralph, stopping off at bookshops and cocktail bars along the way. 
---
Let us take care of dinner
We help to make eating more plants easy and delicious. Fancy letting us take care of dinner? Check out our delicious meals here.