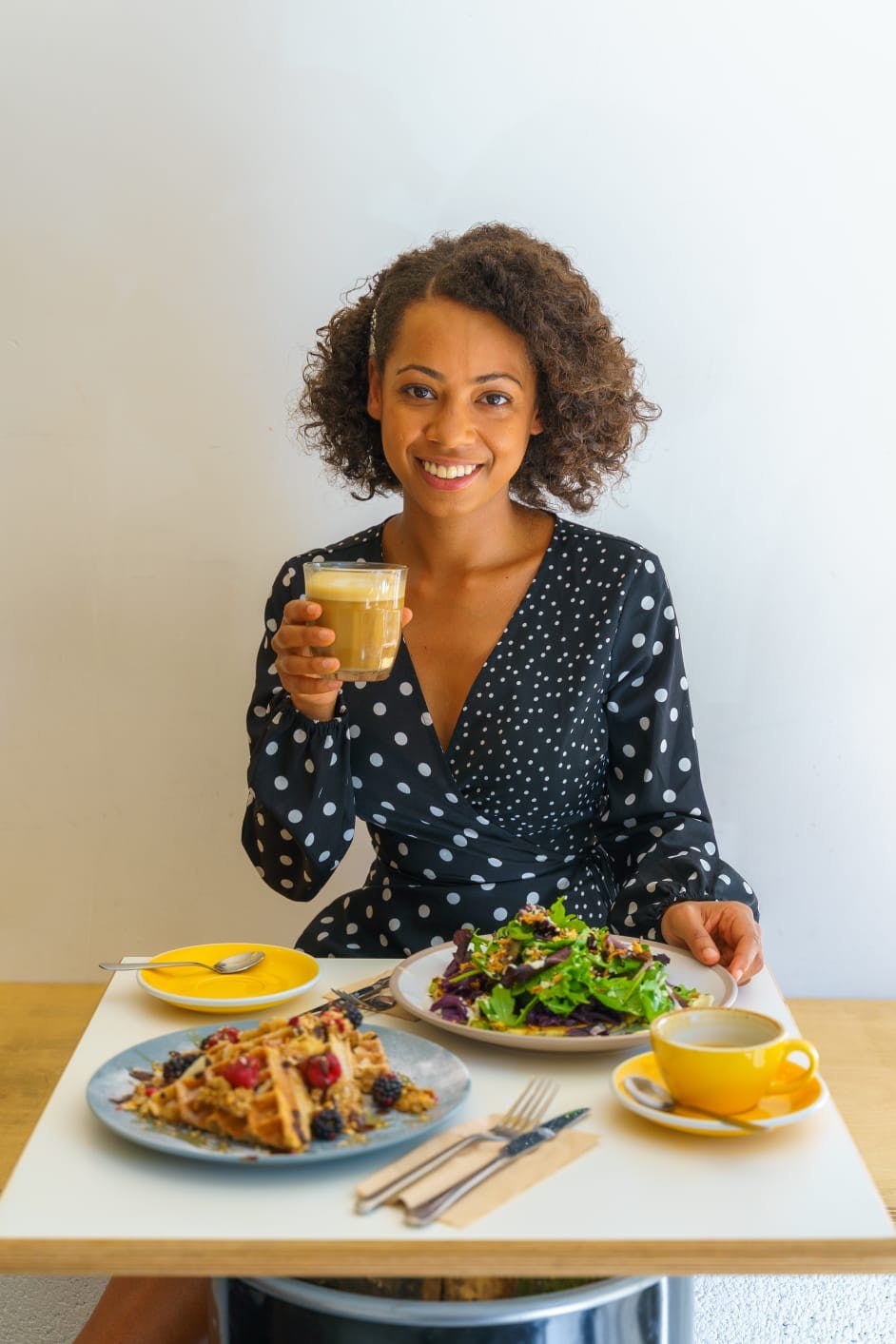 Food diary: talk us through what you eat in an average day
There's no typical day for me as I'm always trying new recipes. However, I do tend to eat the same amount of food each day. Here's what I ate yesterday:
Breakfast: before eating anything, I always make sure to drink plenty of water and take my daily supplements which include B12, Vitamin D, Vitamin C, Sea Moss & Bladderwrack Capsule, Maca Root Capsule, CBD Oil and Black Seed Oil.
I generally don't eat breakfast Monday-Friday as I do intermittent fasting, which is where my daily eating window is from 12 pm – 9 pm. On the mornings that I do have breakfast, I usually have a piece of fruit such as mango.
Lunch: as I am currently working from home, one of the perks is being able to make my lunch! When I'm in the office, I usually have leftover dinner from the night before or I'll find a local café to grab something from.
Lunch today is Chickpea Pasta with Rose Harissa Pesto, Roasted Aubergine, Roasted Piccolo Tomatoes, Kale Chips, Sunflower Seeds and Parsley. All washed down with a tall glass of water.
Afternoon snack: I made Bliss Balls on the weekend, as they're super easy to make and perfect for snacking on throughout the week. I make them by simply blending the following ingredients together: Medjool dates, ground almonds, pink Himalayan salt, almond butter, Ashwagandha, maca powder and then I coat them in shredded coconut.
Dinner: jackfruit. Loaded. Sweet. Potato! It's honestly gorgeous, I serve it with an avocado side salad.
Evening snack: yesterday I had pistachios – I generally like to rotate between nuts, crisps or fruit.
What keeps you motivated to run your beautiful Instagram, Vegan at Tiffs?
I'd say it's the enjoyment! I'm a huge foodie, so it's great to feel as though I'm part of a community. I enjoy creating content and I just try and have fun with it.
How do you decide which brands to work with?
I only work with brands that I have a real interest in, and would purchase from myself. This often involves researching the brand's values and understanding their DNA. It's about staying true to myself.
Your home-cooked food always looks INCREDIBLE. Tell us about your favourite dish you love preparing.
Aww, thank you! My favourite dish to make has got to be tacos. They're pretty straight-forward to make, and so much fun to assemble. I often make these if I have friends or family over and have a buffet-style taco night. Plus, you get to be creative, the fillings can be literally anything you like. My most recent tacos featured tempeh and plantain.
Where does your cooking inspiration come from?
Everywhere! I really love trying different cultural foods and try to recreate traditional recipes that people know and love, but I also enjoy adding a twist sometimes, too.
How have you seen London's food scene evolve over recent years?
I have been vegan for four years now and the number of plant-based options available has skyrocketed (thankfully!). Whether it's a new vegan establishment or vegan options on the menu at restaurants, I don't think vegans are as likely to go hungry or have to just order chips from the menu in London anymore.
What's your favourite place(s) to eat out for great vegan food?
I absolutely love Street Food, as you can find some pretty authentic, flavoursome and hearty meals. You can usually find me strolling through Brick Lane or Broadway Market.
Thanks, Tiff! You can check out her lovely Instagram here, which is jam-packed with tasty recipes, reviews and lifestyle content (and loads of photos of her insanely cute cat Seb).