Lifestyle
Vegan Eats: Best Vegan-Friendly Restaurants in Manchester
by Laura Barns
7min read
Energetic, diverse, lively and bursting with character, everyone is welcome in Manchester. And whilst we love visiting the city to see some world-class football, inspiring art exhibitions or live music, the main thing on our agenda is hitting some top vegan restaurants in Manchester.
We've got all bases covered in our guide below, so take a look, book your train tickets, or let us know which ones we missed over on Instagram. 
Best vegan food in Manchester for... when you're craving something naughty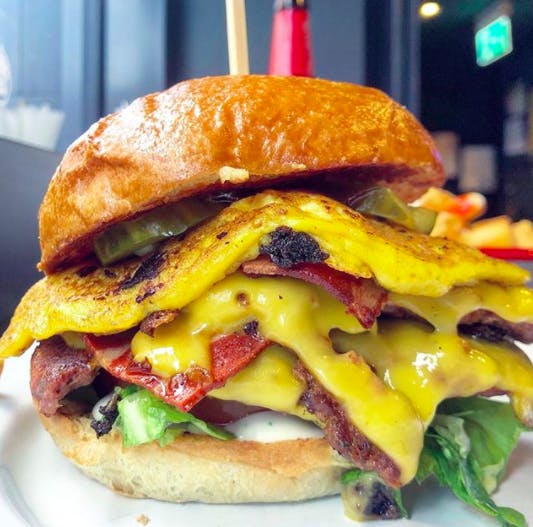 Photo credit: V-Rev
Where: 20-26 Edge Street, M4 1HN
Aka the place to cure your junk food craving/hangover/broken heart (probably) and much more. From pancakes to burgers (highly recommend the Kevin Bacon Burger, and not just for the name) this is everything you love from a typical diner, but vegan.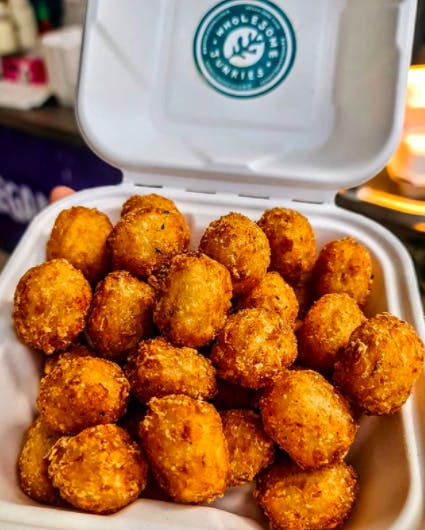 Photo credit: Wholesome Junkies
Where: Arndale Food Market, M4 3AH
As the name suggests, these guys are experts in plant-based junk food goodness. The chick'n burger and tater tot combo may just change your life after a heavy night, and the banoffee cheesecake? You'll forget dairy even existed.
Best vegan food in Manchester for… when you need some vitamins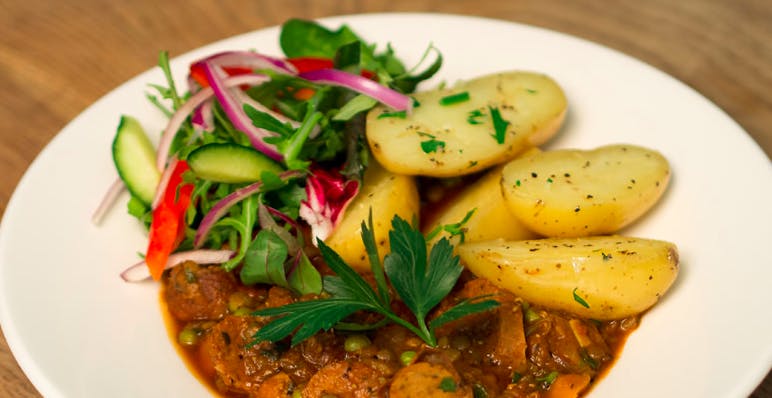 Photo credit: The 8th Day
Where: 111 Oxford Road, M1 7DU
Manchester vegans regard this place as a one-stop-shop for all things plant-based, as it's both a health food store and vegetarian cafe. The 8th Day stocks over 5,000 lines and offers a wide range of organic, vegetarian and vegan products. And this variety extends to the cafe, where you'll find freshly prepared, exciting vegetarian and vegan dishes inspired by foods from every continent. With the menu changing daily, you're sure to find a dish you'll love.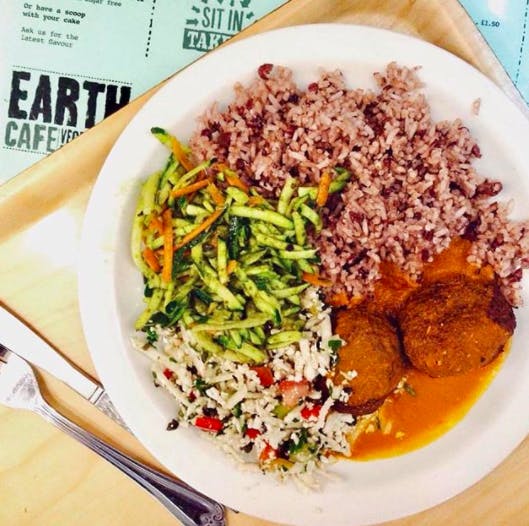 Photo credit: Earth Cafe
Where: 16-20 Turner Street, M4 1DZ
Students in Manchester – if your mum texts you to check you're eating well, send her a photo of the scran from the Earth Cafe. This vegetarian food and juice bar serves up a mix of hearty Caribbean food classics, Spanish stews, comforting curries, and more. Need to hit your five-a-day? The Purifier juice will almost get you there.
Best vegan food in Manchester for… when you're feeling fancy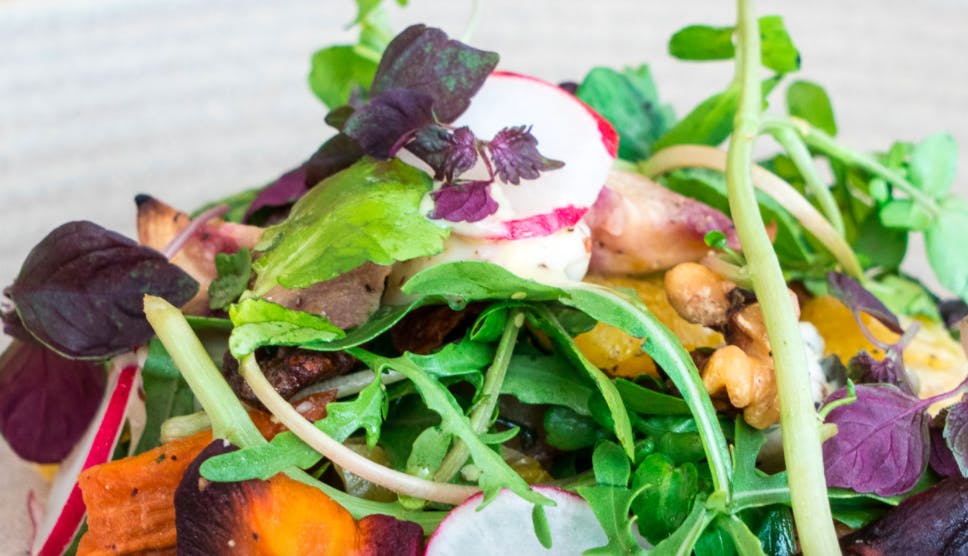 Photo credit: Greens
Where: 41-43 Lapwing Lane, M2 2NT
Arguably the most highly esteemed vegetarian restaurant in Manchester, Simon Rimmer's Greens has been steadily adding more vegan dishes to the menu over the years. Imaginative dishes bursting with flavour and colour, the diverse menu has something for all plant lovers.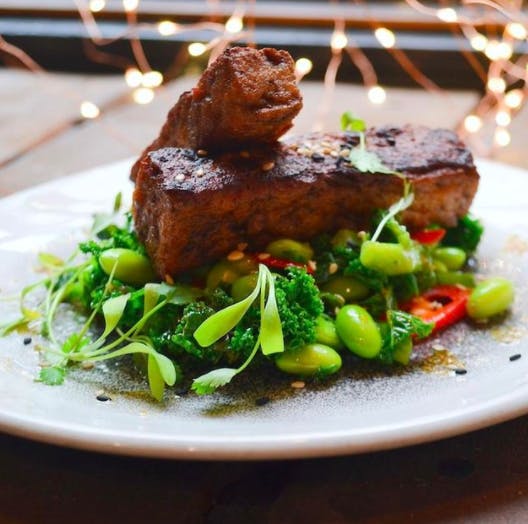 Photo credit: The Allotment
Where: 18-22 Lloyd Street, M2 5WA
Don't be fooled by the fairly humble surroundings – this is one vegan restaurant in Manchester with a refined distinction. It's won the award for best vegetarian restaurant in the UK by The Times, AND a place on this list, so it must be great, right? It's the perfect date night spot if you're looking for laid back vibes paired with elegant dishes. Opt for the grazing board for extra romance points.
Best vegan food in Manchester for... humble hipsters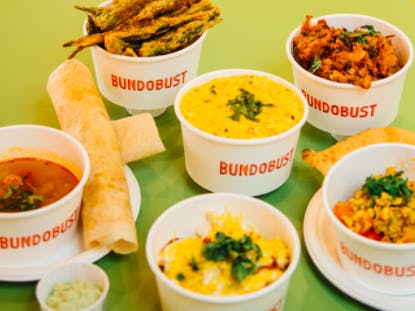 Photo credit: Bundobust
Where: 61 Piccadilly, M1 2AG
Co-founders Mayur and Marko recognised a call for a contemporary update to the British classic "beer and a curry": authentic dishes, refined beers, flavours and techniques neglected in mass-market Indian food and brewing. Served up in an informal setting, this is the perfect spot to start (or end) your night out, thanks to the group-friendly combos on offer.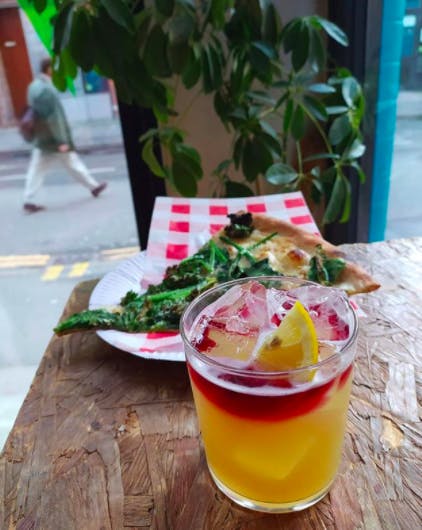 Photo credit: Common
Where: 39-41 Edge Street, M4 1HW
Common is a popular refuge for the arts community in Manchester, and after a visit, you'll see why. From their prime choice of beer to their rotating art displays, to their diverse poetry nights, musical performances and workshops, this is more than just a great eating spot. Though the food really is great, with plenty of vegan options to get the creative juices flowing. Their vegan fry-up is one of the best in the city.
---
By Laura Barns
Laura is our Copywriter, who is obsessed with the Hearty Roots Stew (and has been known to eat a double serve for lunch on more than one occasion). On her day off you'll find her walking her puppy Ralph, stopping off at bookshops and cocktail bars along the way. 
---
Let us take care of dinner
We help to make eating more plants easy and delicious. Fancy letting us take care of dinner? Check out our delicious meals here.
Shop now