Lifestyle
Vegan Takeaways to Support in London During Lockdown and Beyond
by Emily Harris
7min read
Now, more than ever, is the time to be supporting your local (or not so local, depending on how generous your delivery vicinity is) vegan restaurants. If you're bored of staring into the depths of your fridge and cupboards, wondering what meal idea to recycle for the hundredth time, then this article has you covered.
Read on to find our best picks of vegan takeaways in London to support now and beyond. So get ready to open up your Uber Eats or Deliveroo apps, and get ordering. Not seen one of your regulars? Let us know in the comments.
Central London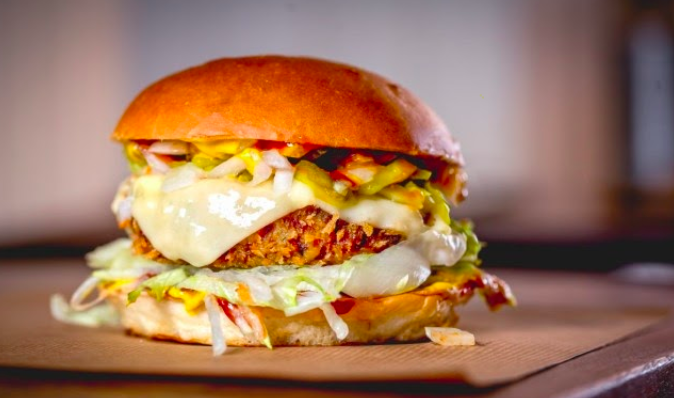 Photo credit: Patty & Bun
A vegan burger you must try is Patty & Bun's 'Whoopi Goldburger', made from tempeh. (Genius name, I know). With four vegan options (and some great veggie ones too) on their ever-growing menu, it could prove tricky to choose one. Their plant-based burgers are made from THIS Isn't Chicken and THIS Isn't Bacon to create mouth-watering alternatives for any vegan or meat-eater alike. FYI, you really should check out the plant-based products dreamed up by the team at THIS. Who needs chicken burgers when you have this? (Get it?).
Photo credit: Crazy Vegan Sushi
Based in Marylebone, Crazy Vegan Sushi makes the tastiest,100% plant-based sushi and donburi dishes. If you're after a meat alternative, they do vegan salmon and tuna, as well as chicken bites made from – you guessed it – THIS Isn't Chicken. But if you prefer, you can also get tofu, avocado or cucumber maki. They also do a range of vegan katsu curries which will drive your tastebuds wild. 
North London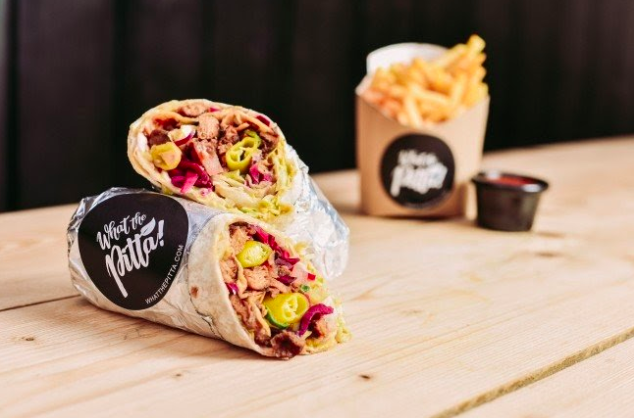 Photo credit: What the Pitta
Based mainly in London, What the Pitta has pop-ups in Camden, Shoreditch and Croydon and is redefining what it means to have a doner kebab and chips. Think spiced soya, humous, couscous, homemade falafel and more. Their recipes have traditional Turkish roots but with an East London twist, which makes their wraps unique. You don't have to feel like you're missing out (because really, who doesn't love a kebab), and you might even find you enjoy What the Pitta's spicy soya more so than meat. They also sell Quorn vegan nuggets as a side because, you know, why not?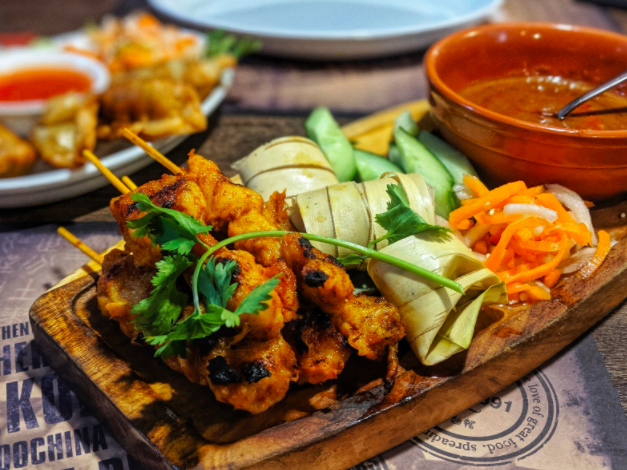 Photo credit: Banana Tree
Banana Tree is an Indochinese restaurant with an array of vegan versions of their meat dishes, as well as plenty of different plant-based menu options. Their pan-Asian vegan and veggie menu consist of dishes like tofu bites, vegan gyoza, spring rolls, 'phad' thai and every type of noodle under the sun. This is a great takeaway option if whoever you're spending dinner time with isn't vegan, as you'll both be able to benefit from tasty, flavoursome food.
East London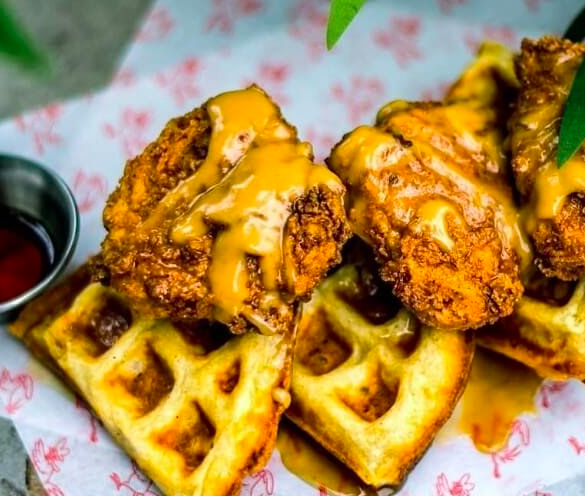 Photo credit: Absurd Vird
Absurd Bird's vegan counterpart, Absurd Vird offersinsanely good, vegan fried chicken. Everything you may typically enjoy from an American-style diner, but vegan – vegan burgers, 'vaffles', fried 'chckn', mac + cheese, onion rings and so. much. more. So, if it's Friday night and you're scrolling through Netflix, trying to find a film to watch and fancy a naughtier option for dinner instead of cooking, Absurd Vird undoubtedly has your back.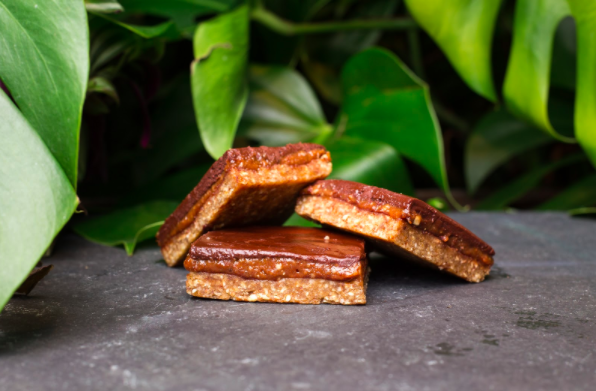 Photo credit: Mother
Fancy something a bit healthier? Then the sustainable, organic and plant-based food from Mother in East London is just for you. Based in Hackney Wick, Mother sells acai bowls, cold-pressed juices, granola bowls, and vegan grilled cheese. They also do a couple of vegan sweet treats to top it all off, including the gooey, raw caramel slice featured above. Cool plant not included.
South London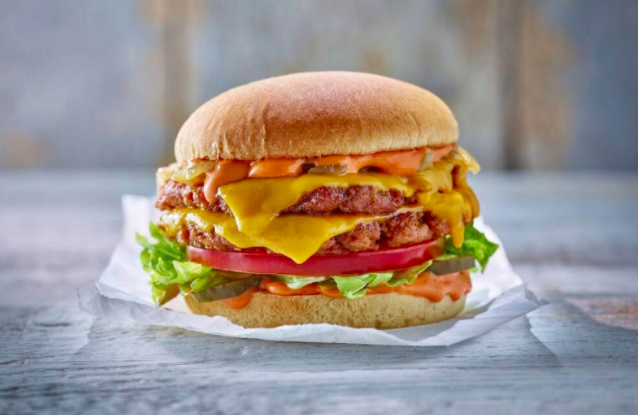 Photo credit: Halo Burger
You can almost envision a glistening halo and tiny little angel wings on this burger, just look at it! Its name alone implies that it's good and, we can confirm, it tastes as good as it looks. If you're after a cheesy meat replica, then Halo Burger is top tier. With locations in Brixton and Shoreditch, you can grab one of these angelic meals if you're based in South or East London. They also do the tastiest pink salt chips, too..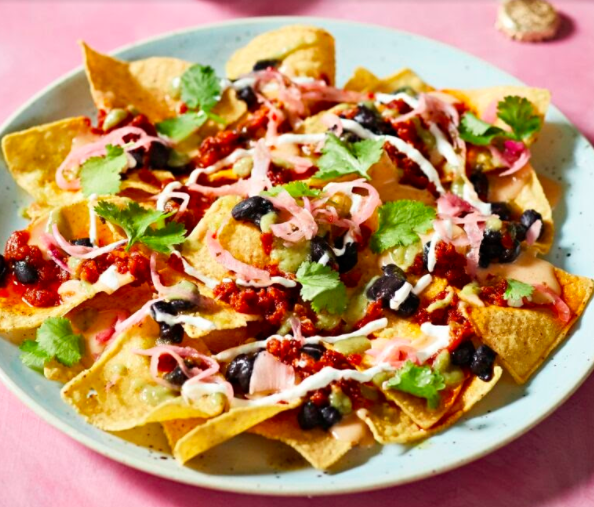 Photo credit: Wahaca
The tastiest grilled veg wraps that ooze hot sauce you'll ever have delivered to your door (probably). Wahaca is a great spot to eat in (and have a round of tequila shots), but it's also great from the comfort of your sofa. Some of the vegan options include mushroom tacos, plantain tacos and sweet potato burritos, as well as the delectable platter featured above. Score. 
West London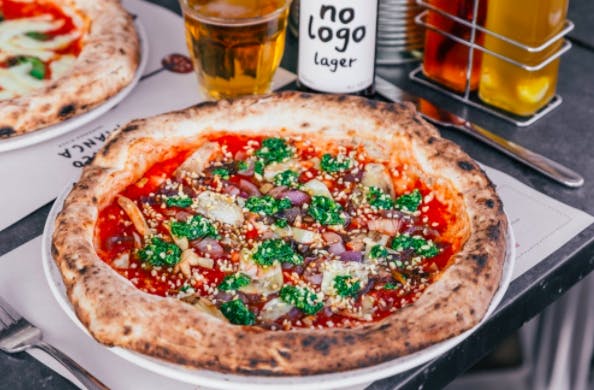 Photo credit: Franco Manca
So it's Saturday night, and you're after something a bit more sophisticated, but without breaking the bank (or your veganism). We give you – Franco Manco sourdough pizza topped with vegan cheese and deliciousness. You can pop an order through on Uber Eats or Deliveroo, and they also have a click and collect service on the go. Perhaps you'll pair this with a glass of (vegan) white wine, or you could give their No Logo Pale Ale a try (it's a great option if you're not that into beer but can occasionally enjoy a not-too-bitter pint). They do gluten-free options, too.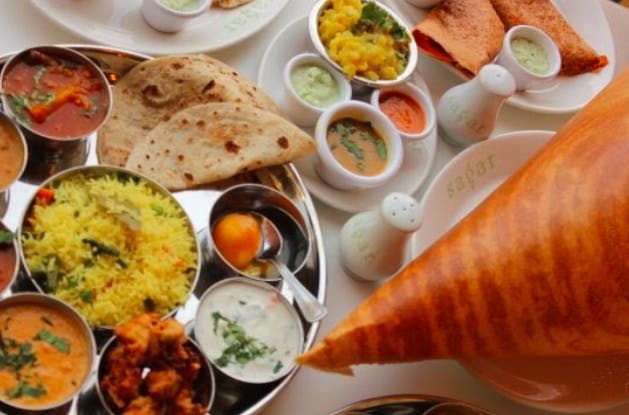 Photo credit: Sagar
Arguably one of the best vegan and vegetarian curry houses in London, Sagar's chefs are from Udupi and cook authentic South Indian dishes, some of which are relatively new to the UK. Based in Covent Garden, we were pleased to discover that Sagar also delivers. They make curries, soups and chowpati, but a really striking dish on their menu is their uthappams (lentil pizzas). Yum. Ordering from Sagar will bring a small taste of Southern India to your home in London.
---
By Emily Harris
Emily is our Social and Content Assistant who you'll find at an art gallery, snapping away on her camera, or updating her Instagram with a gin in hand (so millennial).
---
Let us take care of dinner
We help to make eating more plants easy and delicious. Fancy letting us take care of dinner? Check out our delicious meals here.
Shop now