Lifestyle
What Is Gochujang And Is It Vegan?
3min read
Gochujang has been cropping up in food blogs and vlogs everywhere recently, as it has become available to buy in local Western supermarkets. But what is gochujang? We've got the lowdown on this flavourful paste, as well as the only vegan recipe you'll need using gochujang.
What is gochujang?
Gochujang is a red chilli paste native to and popularised by Korean cooking. It is used in a variety of dishes traditionally, including bibimbap, a Korean rice dish with vegetables and meat, and also with tteokbokki, a Korean street-food and home dish consisting of rice cakes stir-fried in gochujang. 
Gochujang is made with red chilli powder, glutinous rice, fermented soybeans, and salt. Sometimes brands that sell gochujang paste add a sweetener and garlic into the paste too. Gochujang is salty, slightly smoky, and has a sweetness to it due to the Korean chilli pepper being sweet. It is also quite spicy, so if you don't like much spice in your food, go easy – you have been warned.
Is gochujang vegan?
Most gochujang mixes are vegan. If you are buying the paste, check the ingredient list to make sure, but generally speaking the paste is vegan-friendly.
Where can I buy gochujang?
Gochujang has become more popular worldwide as it has begun being sold in big global chain supermarkets. Gochujang could previously only be bought in international grocery shops or Korean supermarkets, but now is sold in major supermarkets here in the UK, including Sainsbury's, Asda and Morrisons. Find it in the world food aisle. 
Can I make vegan food with gochujang?
Yes, absolutely! Gochujang is a versatile paste, and in Korea it is often used in vegetable and plant-based dishes. Here's a recipe using gochujang for you to make at home.
Make Our Korean Kimchi Grain Bowl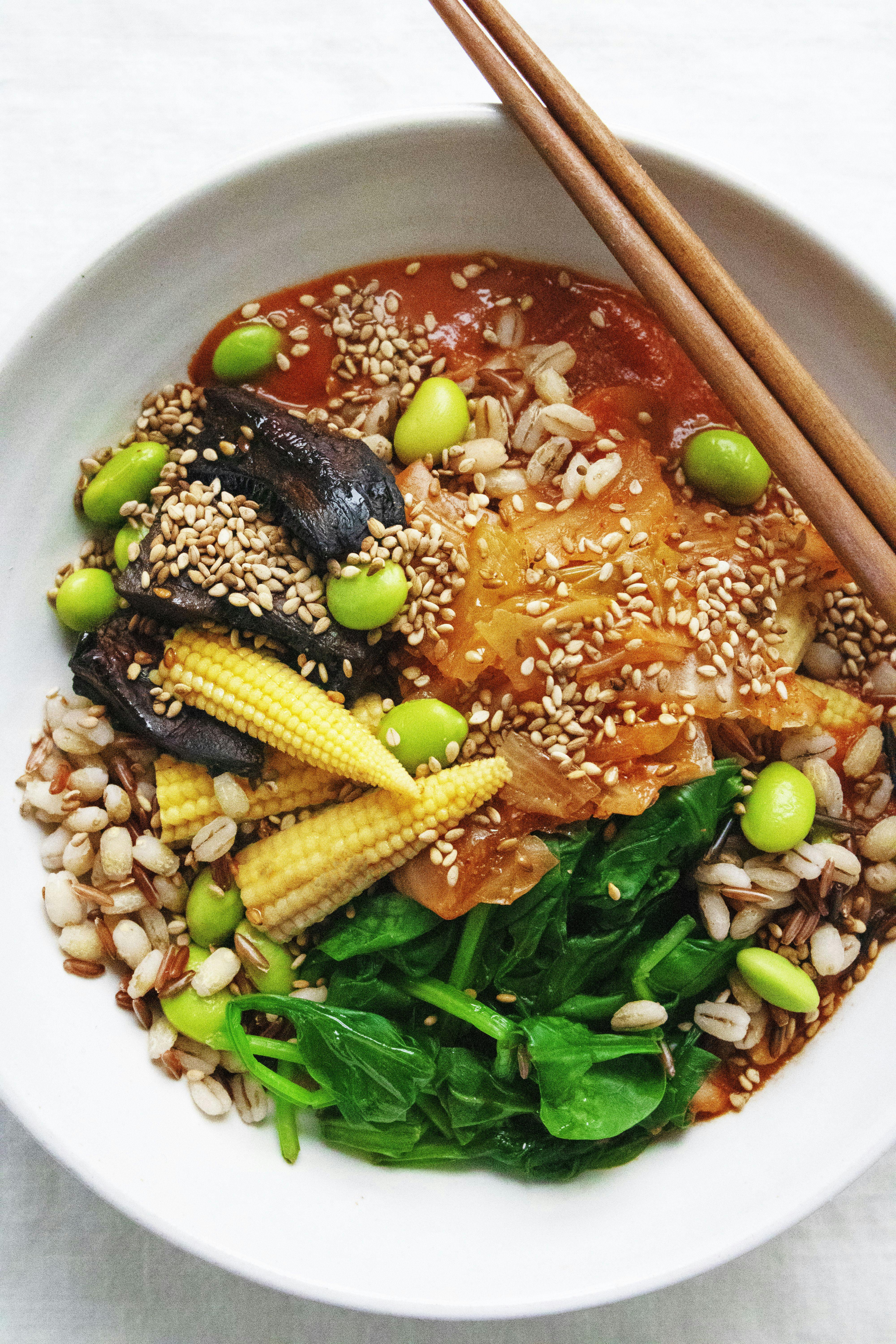 For a healthy and delicious lunch or dinner, have a go making our Korean Kimchi Grain Bowl. Fluffy barley and black rice is topped with crunchy, crisp steamed veg, roasted portobello mushrooms and kimchi. It is served with a punchy, flavoursome sauce including a spoonful of gochujang for a hint of smoky-sweetness and providing a kick. It's easy to make and really flavourful— and just one of the ways gochujang can add amazing flavour to your vegan meals. 
---
By Toni Olukiran
Toni is one of our lovely Content Marketing Assistants, and when she's not writing posts about everything from Jamaican cooking to vegan champagne, she's making a Spotify playlist (she was at 200, at her last count) or playing tennis in the park.
---
Let us take care of dinner
We help to make eating more plants easy and delicious. Fancy letting us take care of dinner? Check out our delicious meals here.