Lifestyle
Why Cast Iron Skillets Are A Home-Cook's Hero
1min read
A cast iron skillet may symbolise you know your way around a kitchen, but really it's a great tool for just about anyone that likes to cook. Here's why it's worth buying one, how to look after it, and a couple of recipes for you to try out yourself. 
What are cast iron skillets?
A cast iron skillet is a frying pan made of — you guessed it — cast iron. It is a piece of kitchenware that is loved by professional chefs and home cooks alike; it is durable and versatile, making it a staple worthy of investment for many. But what makes it special than a regular frying pan, you may be wondering. Well, there are several properties that give it the edge:
It maintains very high temperatures. If you're looking to get a nice sear or crust on anything you're cooking, a cast iron skillet is amazing for it. The skillet can endure very high temperatures, and the best skillets have a great heat distribution that means whatever you make will have a nice, even sear to it. 
It can be used on gas and electric stovetops, in the oven, and on a campfire or barbecue. One of the coolest things about a cast iron skillet is that it is adaptable to what mode of cooking you want. Want to roast your veg? Chuck it in the oven. Looking to deep-fry? Whack it on the stove. Got a nice barbecue going? Get it on the coals! It's versatile and makes for delicious textures. 
It's non-stick. Though the caveat here is that it needs to be looked after, which we'll get to. But when you do look after it, your food will slide out the pan with ease.
How do you look after your skillet?
Skillets can be slightly more temperamental than your average pan. This is because it needs to be seasoned properly in order to make it non-stick and prevent rust, which is the enemy. To season your skillet, cover it in oil (we recommend vegetable, flaxseed or grapeseed) and leave in the oven on a high heat for around an hour. Skillets don't need to be seasoned after every use, but they should still be seasoned fairly regularly to ensure the quality remains high.
When it comes to washing your cast iron, the process is, again, different to other pans you may have previously dealt with. Cast irons should be washed with warm or hot water, though you should make sure not to do this if the pan is still hot as it can warp and damage it. If trying to get any stubborn food off the pan, consider using a bristle brush or wiping it down with sea salt, but don't use any kind of scourer brush as this can damage the pan. Many people also often forgo soap completely when washing their skillet, though if you do want to use some it is advised that you use only a little bit of detergent. 
Is it worth getting a skillet if I'm vegan?
Skillets often have a reputation for being best for searing meat, fish and eggs, however this shouldn't deter you from investing in one if you're plant based. The great thing about skillets, after all, is that it's super versatile and works great for vegetables too. Stir frys can work great in skillets to replicate the searing heat of a wok, and they work amazingly for fleshy vegetables like aubergines or meaty products like tofu to get a nice crust on it. You can also use it if you like eating vegan meats, too. It is also amazing for getting vegetables crisp, so it's definitely worth it even if you're just someone that loves crispy, crispy potatoes. 
What can I make with a skillet?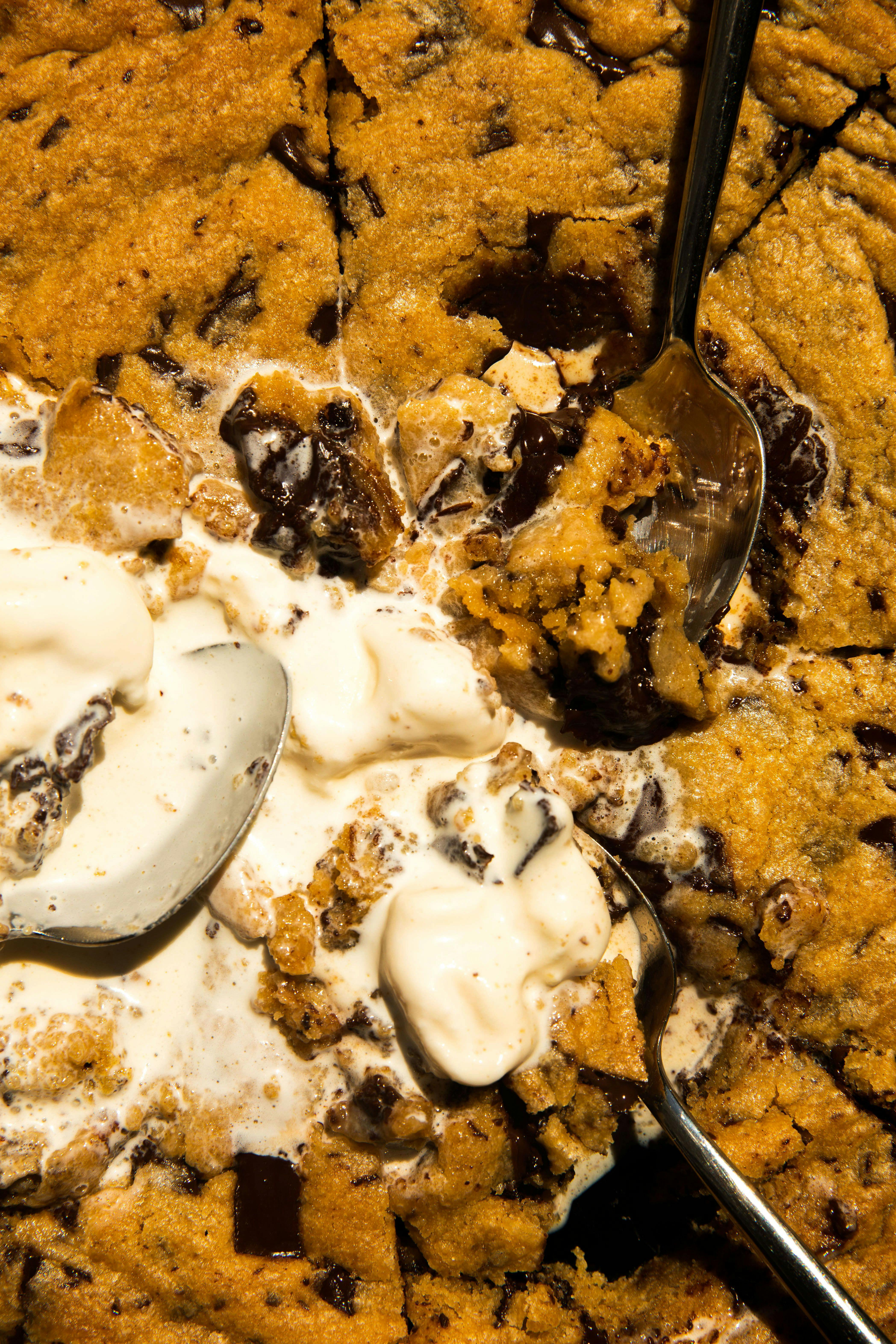 Glad you asked! For savoury dishes, try this tasty tofu and mushroom stir fry using your skillet for perfectly crispy, sticky tofu that'll completely blow your mind. And, well, if there's one reason to buy a cast iron skillet, it's the opportunity to make this giant chocolate chip cookie. Chewy, crisp, soft, and completely dreamy. If that doesn't have you frantically searching for the best skillet on the market, I don't know what will. 
---
By Toni Olukiran
Toni is one of our lovely Content Marketing Assistants, and when she's not writing posts about everything from Jamaican cooking to vegan champagne, she's making a Spotify playlist (she was at 200, at her last count) or playing tennis in the park.
---
Let us take care of dinner
We help to make eating more plants easy and delicious. Fancy letting us take care of dinner? Check out our delicious meals here.
Shop now