Recipes
Buffalo Cauliflower Bites
by Iona Berry
2min read
These quick and easy buffalo cauliflower bites are not only delicious but are very easy to prepare and only take 30 minutes in the oven. The combination of sweetness and fiery chilli heat from the hot sauce makes these incredibly moreish. I recommend doubling the recipe accordingly!
I don't know about you but I always tend to end up with a cauliflower (or two) left in the fridge at the end of the week and this recipe is a great way to turn the cauli into a delicious starter or main meal if served with a few added extras. 
These cauliflower bites are baked rather than fried, making them a lot healthier without any compromise on flavour, as the glossy sauce gives the bites plenty of richness. Although you can use any hot sauce that you have on hand for this recipe, it is really worth finding some buffalo hot sauce. Traditionally buffalo sauce is made using cayenne pepper, which gives the sauce the vibrant orange colour and unique flavour. If you go for a generic hot sauce then you will get a much redder sauce but it will still taste delicious.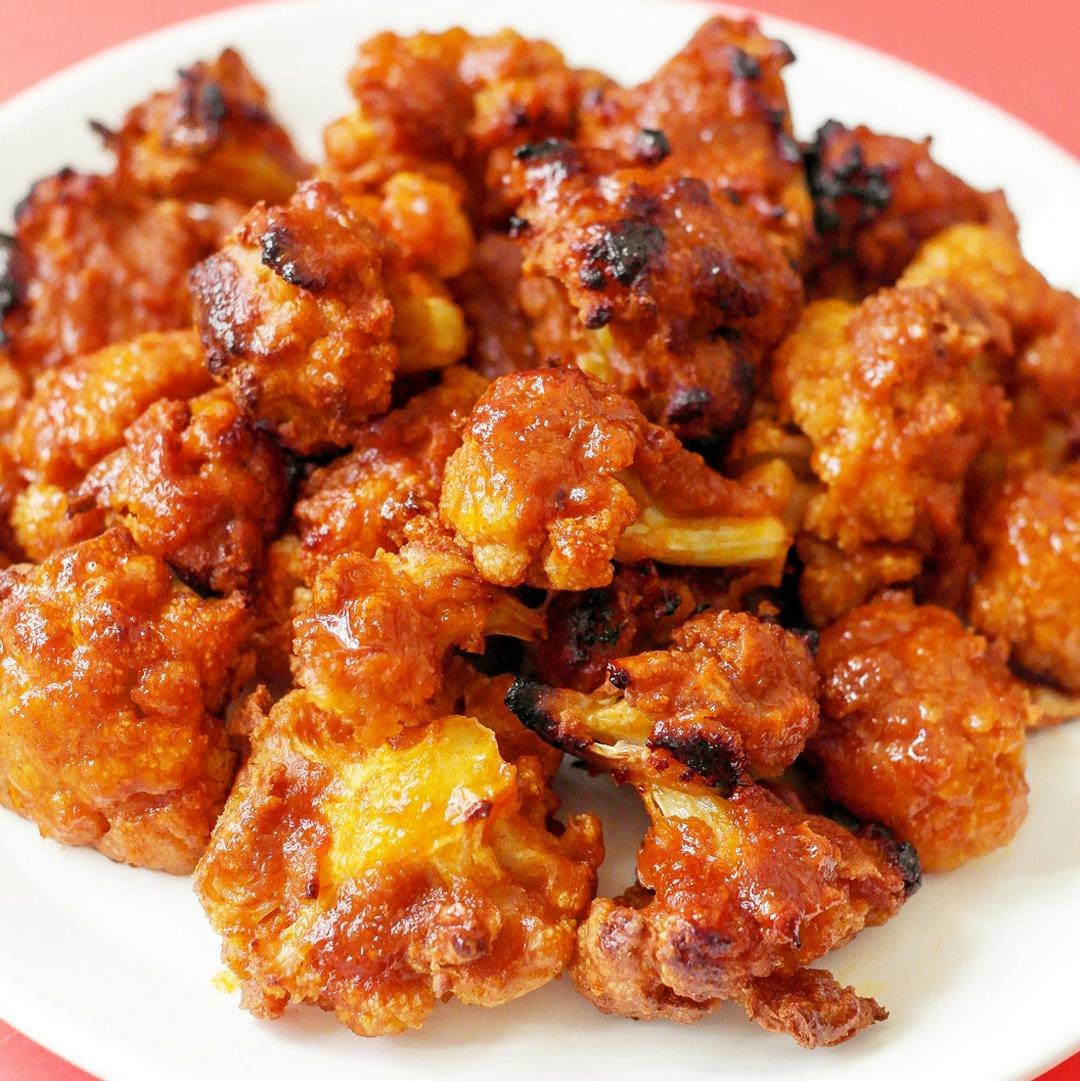 Ingredients
Vegan Buttermilk 
220ml plant based milk (I used oatly barista as it's super creamy)
1 tbsp lemon juice (or apple cider vinegar)
Dredge 
1 tbsp sweet smoked paprika
1 tsp garlic powder
1 tsp onion salt 
140g plain flour 
1 head of cauliflower broken down into small florets (around 500g)
Sauce 
75g hot sauce 
1 tbsp maple syrup
½ tbsp white wine vinegar (most vinegars will work for this)
20g vegan butter 
½ tsp garlic powder
½ tsp onion salt
Method
STEP 1
Heat oven to 220C/200C fan/gas 7, line a baking sheet with baking parchment. 
STEP 2
To make the vegan buttermilk, simply mix the milk and lemon juice together and leave to stand for 10 minutes.
STEP 3
Make the dredge by mixing the paprika, garlic powder, onion salt & plain flour until combined. Make a well in the centre of the bowl and then slowly whisk in the buttermilk until you have a smooth batter. 
STEP 4
Coat the cauliflower in the batter and make sure that each piece is covered. Bake for 20 minutes, turning halfway, until golden and crisp. Whilst the cauliflower is baking, you can make the sauce. Add the hot sauce, maple syrup, vegan butter, garlic powder, white wine vinegar and onion salt to a small pan and cook for 3 minutes, or until the sauce is bubbling and thickened slightly.
STEP 5
Once the cauliflower has cooked for 20 minutes, remove it from the oven and coat the florets with the sauce. Return to the oven for another 10 - 15 minutes until they are golden and crispy. These are best served straight away. I served mine with vegan sour cream and quick pickled red onions but these also work well in tacos!
---
by Iona Berry
Iona is our Development Kitchen Assistant, aka our go-to girl for developing, testing and tasting delicious dishes for you to all enjoy at home. When she's not in the kitchen, you'll find her either running or cycling, or trying out food markets and new restaurants around London. Continuous market research it would seem.
---
MORE GREAT READS