Recipes
Buss up shut (Trinidadian Roti)
2min read
Trinidadian buss up shut is the flaky, doughy, vessel you need for your favourite Caribbean currie and stews. Once you've mastered the art of rolling and laminating the dough to give the roti all its wonderful crispiness, you'll make it again and again.
Trinidadian buss up shut takes a little extra effort in the form of worktop space and proving time, but it's definitely worth it. It's crispy, flaky, and the ideal vessel for saucy dishes to mop up all the flavour. It's called buss up shut because it's meant to look like a wrinkled shirt (aka a 'busted up' shirt) due to the layers created in the process of making the dough. While the traditional recipe uses ghee, this recipe is veganised by replacing it with coconut oil, which pairs really nicely with stews and curries to mop up the sauces (yum). 
It's traditionally cooked on a tawa which looks like a flat pan, but a cast iron skillet is the next best thing. I love making this because it's easy to do but you learn some great techniques in the process of making the dough, plus it's a great one to make with kids. This dish reminds me of school INSET days, where my mum and I would spend the day cooking up traditional Caribbean fare like this and working with dough for dishes like this, dumplings and Jamaican festival, and browsing through a very old-school but very good cookbook about West Indian cuisine.
You're encouraged to eat it with your hands because using a knife and fork to cut roti is a messy and, to be frank, a sad job, when the joy of eating it comes from tearing each roti and really seeing all the layers in each piece.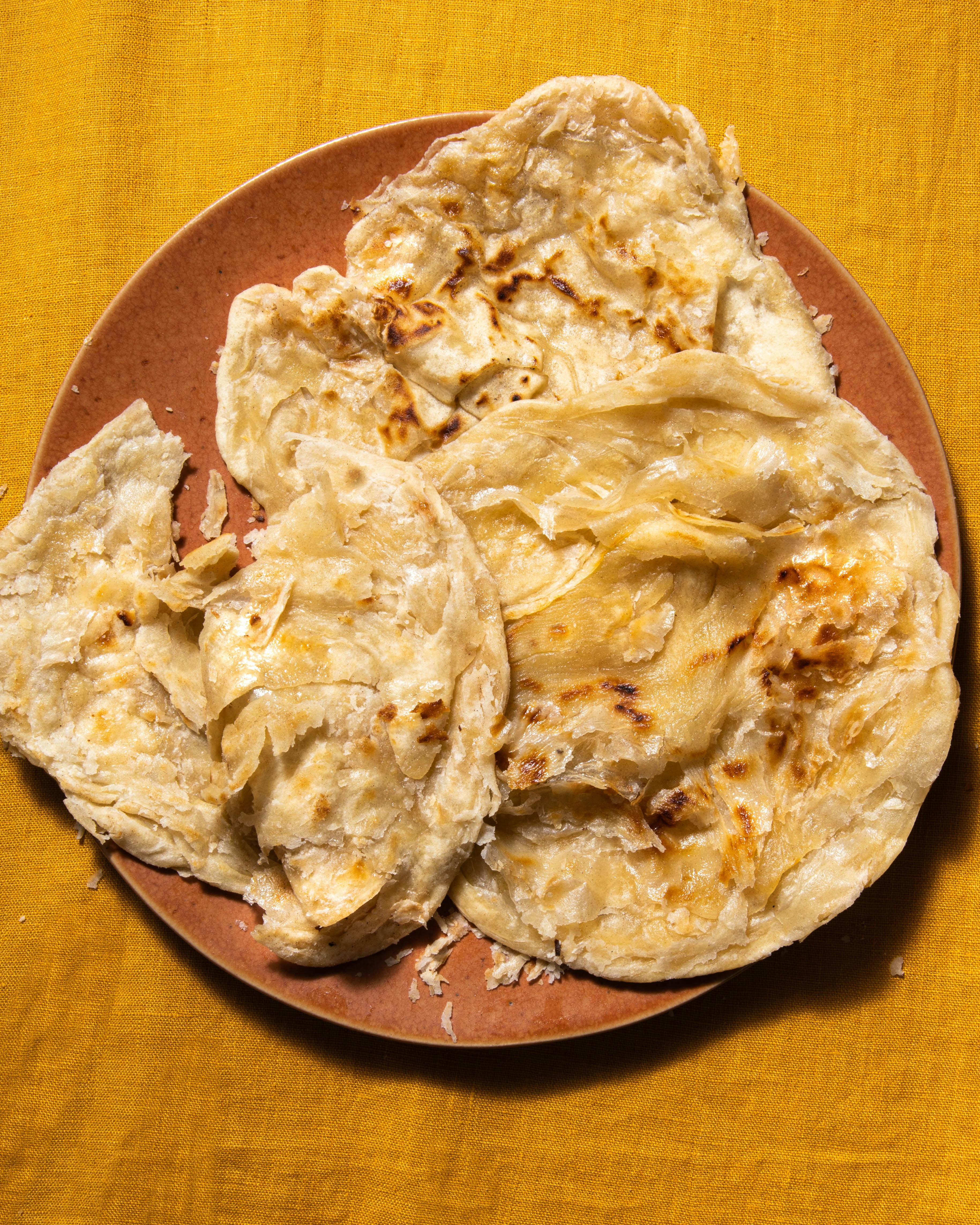 Prep time
30 mins (+ 1-2 hours proving time)
Ingredients
400g flour
200g water
2 tbsp neutral oil
¼ jar coconut oil, around 125ml
2tsp baking powder
1 tsp salt
2 tsp sugar
Method
STEP 1
Start by mixing together the dry ingredients for the roti. In a large bowl, combine the flour, baking powder, salt and sugar. 
STEP 2
Make a well in the centre of your bowl before adding your oil and water. Mix until it forms a soft dough. If it feels too tacky, add a little extra flour. Cover the bowl with a tea towel and leave to rest for 10 minutes.
STEP 3
After the proving time, return to your roti. Lightly dust your worktop with flour, and pour the dough onto it. Knead for about 2 minutes, adding more flour if needed. Split the dough into 6 evenly sized balls. 
STEP 4
Take one of the dough balls and roll it out with a pin into a circle, about 8 cm diameter. With your fingers, spread around 1 teaspoon of coconut oil around the dough, .
STEP 5
Next, make a slit from the centre of the dough round to the edge. Then, lift the edge of this slit and roll it forwards so that it forms a cone. You should be able to see the different folds at the top, like a flower, while the base should be a point.
STEP 6
With your fingers, take the outside edges of the top of the cone and fold them in on themselves. The previous folds should be hidden when you're done whilst still looking like a cone. 
STEP 7
Flip the dough to the other side so the point on the cone is now facing you. With your thumb, push it down until it no longer forms a point. It should look like a disk. Repeat this method with the other 5 dough balls. Leave them to rest in the fridge for minimum of 25 minutes, though ideally an hour or two.
STEP 8
Take your roti from the fridge and put a dough ball on a lightly floured surface. Press down on it so it forms a round disc. Roll it out again until it is around 8cm in diameter.
STEP 9
Add more coconut oil to your cast iron pan, and put your roti on, flipping it every minute or so until it starts to get brown spots and the bottom of the dough begins to get crispy. 
STEP 10
When it's ready, take it out of the pan with two wooden spoons and scrunch it up to expose the layers (aka buss it up!). Repeat for the other 5 roti dough balls. Serve up with your favourite curries and stews, and enjoy!
---
By Toni Olukiran
Toni is one of our lovely Content Marketing Assistants, and when she's not writing posts about everything from Jamaican cooking to vegan champagne, she's making a Spotify playlist (she was at 200, at her last count) or playing tennis in the park.
---
Let us take care of dinner
After getting creative in the kitchen, give yourself the weekend off by letting us take care of dinner. Check out our delicious meals here.