Recipes
Chewy Chocolate Chip Cookies
5min read
There are cookies, and then there are these chunky chewy cookies. Lucky for you, these fall in the latter category.
These chewy chocolate chip cookies recently had a makeover. These were born about two years ago, and since then there have been many many new cookie recipes on here. Although you're not supposed to choose amongst your children, these chocolate chip cookies remain my favourite. As a serious cookie enthusiast and addict, I felt it was my duty to make sure these were the best that they could be. I put them to the test, I tried this recipe in many shapes and forms. I made a batch following this recipe, and trialled different chilling times to see how they affected the cookie. For years I swore on making these with oil instead of plant based butter, but for the sake of democracy I added butter to my list of methods to try. My ego took a hit when the buttered method actually tasted better than my usual method, but they were so good that my ego didn't stopped caring.
The biggest takeaway however from this whole highly important project, is the importance of chilling your cookie dough. I've been saying this for approximately 200 years but, chilling cookie dough is the most important thing you can do to achieve a good cookie. That's because chilling cookie dough controls the spread of the cookies, whereas not chilling dough allows the cookie to spread thin as soon as the dough hits the oven. In fact, every batch I made was enormously improved with 30mins - 1 hour of chilling time. As they say (I think), the proof is in the cookie, and the bottom middle cookie is asking you to please chill your cookie dough.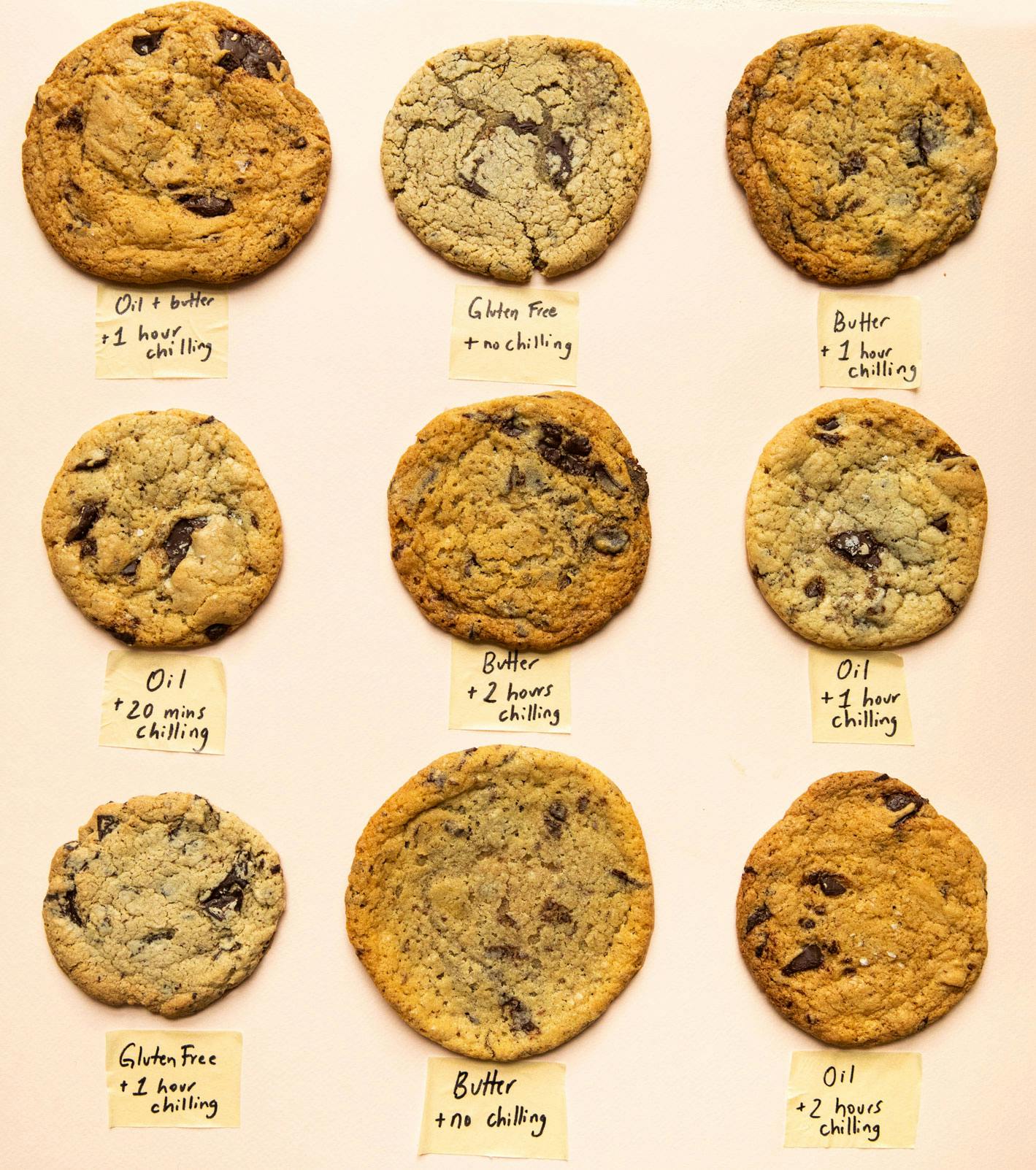 Ingredients
1 tbsp ground flax seeds
130g plant based butter block, at room temp
90g light brown sugar 
50g granulated sugar
190g plain flour
½ tsp baking soda
½ tsp baking powder
½ tsp salt 
150g dark chocolate, chopped 
Method
STEP 1
In a small bowl, combine flax seeds with 2 tbsp warm water and stir to combine. Let sit for 10 minutes to thicken.
STEP 2
In the meantime, add plant based butter, light brown sugar and granulated sugar to a large bowl. Use an electric mixer to beat the butter and sugar and light and fluffy, for around 2-3 minutes. Add the thickened flax mixture and beat until combined.
STEP 3
In a large bowl, combine flour, baking soda, baking powder and salt. Whisk to combine. Stir the dry ingredients into the wet. Fold the finely chopped chocolate. 
STEP 4
Stir the dry ingredients into the wet. Fold in the chopped chocolate. 
STEP 5
Line 2 baking trays with parchment paper. Use a large ice cream scoop or a large spoon to scoop 1 tbsp from the bowl and onto the prepared tray. Leave around 6cm of space between each ball of dough, as they spread whilst baking. 
STEP 6
Place both trays in the freezer for at least 45 minutes. Whilst the cookies chill, preheat the oven to 180˚C. 
STEP 7
Transfer the trays of cookies into the oven and bake for 14-15 minutes until golden brown and crisp at the edges. Let cool for 15-20 minutes before tucking in.
---
By Valentina Concordia
Valentina is our Food Editor, who dreams up our tasty dishes and recipes for our social channels. She has loads of experience cooking up a storm in Italian kitchens, so it's no surprise she can't live without good-quality olive oil (don't come between her and her olive oil) and fresh pasta.
---
Let us take care of dinner
After getting creative in the kitchen, give yourself the weekend off by letting us take care of dinner. Check out our delicious meals here.
Shop now