Recipes
Creamy Cauliflower Pasta
3min read
The super creamy yet cream-less pasta recipe relies on a humble head of cauliflower to make its velvety, smooth and comforting sauce. Best of all, it's quick (the whole dish can be on the table in under thirty minutes) and endlessly adaptable. If you don't have any peas, you can add sautéed kale, broccoli rabe or your favourite green. If you're not in the mood to make the breadcrumb topping, you can sub it for a sprinkle of vegan parmesan or fresh black pepper and a drizzle olive oil.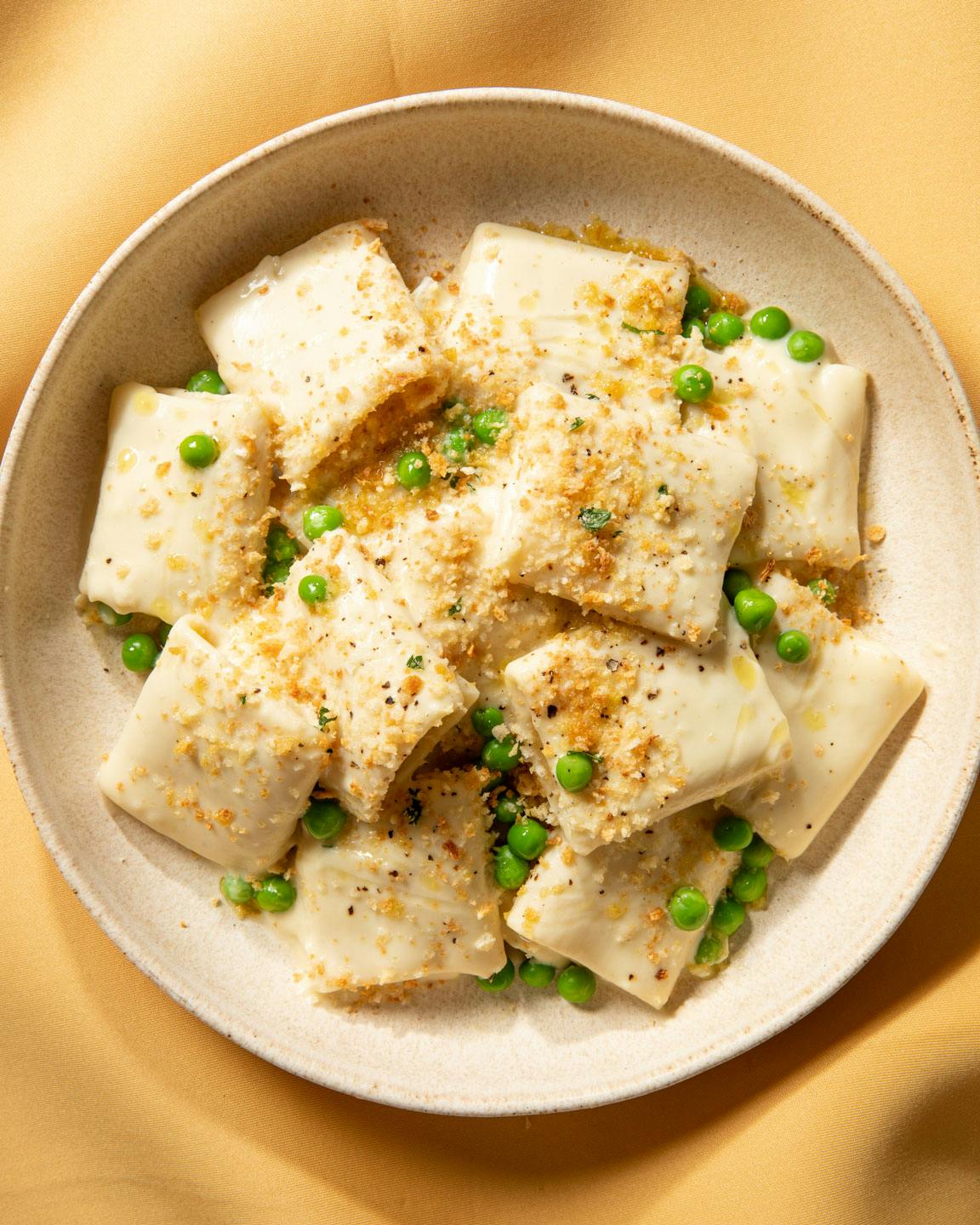 Ingredients
Pasta:
2 tbsp olive oil
1 leek, quartered and finely sliced 
1 clove garlic, smashed
½ tsp salt
500g cauliflower (1 small), chopped into small florets 
30ml white wine
200ml plant based milk 
300ml veg stock (or water)
350g short pasta (like rigatoni, paccheri or penne) 
100g peas
Ground black pepper, to taste
Topping: 
40g coarse breadcrumbs (panko or homemade)
1 lemon, zested
¼ tsp salt
1 tbsp olive oil 
20g fresh parsley, finely chopped
Method
STEP 1
Heat olive oil in a large saucepan over medium heat. Add the leeks and sauté for 8-10 minutes, until soft and translucent. Add the smashed garlic and a pinch of salt, and sauté for 3-4 more minutes, until the shallots are starting to brown. 
STEP 2
Add the cauliflower and another big pinch of salt, and stir to coat in the leeks and oil. Add the white wine and cook for 2-3 minutes, to reduce. 
STEP 3
Stir the plant based milk and veg stock into the saucepan and let it reach a simmer. Cook for about 15 minutes, until the cauliflower is tender and can be easily broken up with the back of a spoon.
STEP 4
Whilst the sauce simmers, cook the pasta according to the package instructions in salted water. Add the peas to the pot of pasta 1 minute before the end of the cooking time. Save 50 ml of pasta cooking water before draining the pasta. 
STEP 5
Once the cauliflower is tender, use an immersion blender to blend the sauce for 2-3 minutes until smooth and creamy or transfer the sauce into a blender and blend for 1-2 minutes. If in a blender, transfer it back into the pan. Set the sauce aside.
STEP 6
While the pasta cooks, prepare the breadcrumb topping. Toast the breadcrumbs in a small pan for 4-5 minutes until golden brown. Add to a small bowl along with lemon zest, salt, olive oil and chopped parsley. Mix to combine.
STEP 7
Add the drained pasta, peas and reserved cooking water to the sauce, and stir together over medium heat for 2-3 minutes, until the sauce thickens and clings onto the pasta. Add a sprinkle of freshly ground black pepper and taste for seasoning. Adjust to taste. 
STEP 8
Divide the pasta amongs bowls and top with the prepared breadcrumbs. 
---
by Valentina Concordia
Valentina is our Food Creative, who dreams up our tasty dishes and recipes for our social channels. She has loads of experience cooking up a storm in Italian kitchens, so it's no surprise she can't live without good-quality olive oil (don't come between her and her olive oil) and fresh pasta.
---
MORE GREAT READS