Recipes
Crispy Chocolate Orange Bars
4min read
Can you really go wrong with anything chocolate orange flavoured? We really don't think so. We decided to take the already magical combination a step further and make these chewy chocolatey puffed rice bars. They don't require any oven time, they come together with 7 main ingredients and are even healthy(ish). Let's go make some kitchen magic.
Recipe inspired by: tending the table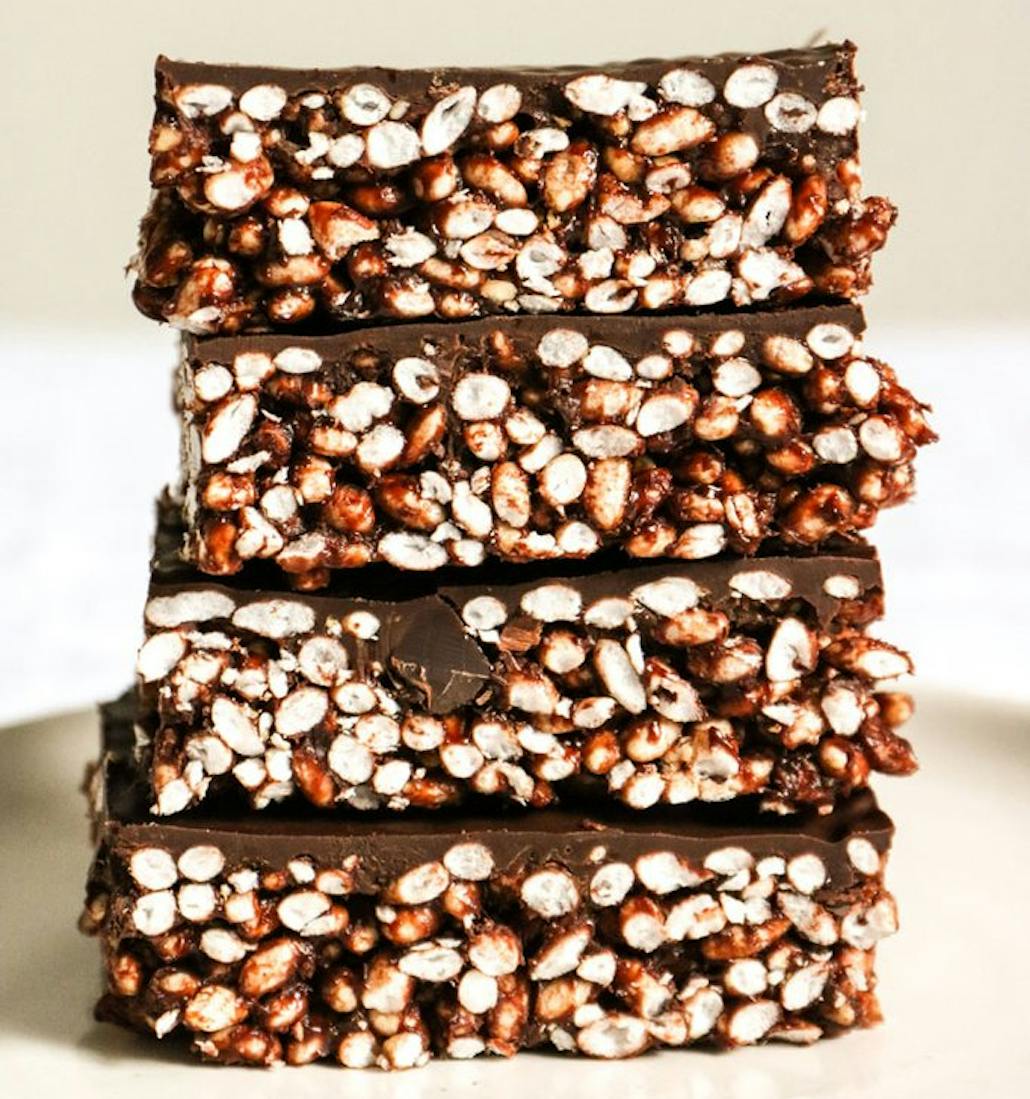 Ingredients
¾ cup almond butter
½ cup date syrup (agave, maple syrup, brown rice syrup or coconut nectar also work)
½ cup coconut oil
1 orange, zested and juiced
3 tbsp cacao powder
¼ tsp salt
½ tsp vanilla extract
6 cups puffed rice
1 cup almonds, chopped (optional)
1 cup dark chocolate, chopped (for topping)
¼ tsp salt
Method
STEP 1
In a small saucepan, combine almond butter, sweetener, coconut oil, and orange juice and mix over medium heat. Whisk until the mixture is creamy and smooth. Add in the orange zest, cacao and salt and whisk again. Remove from heat.
STEP 2
In a bowl mix puffed rice and chopped almonds. Pour the wet mixture over the rice mixture and mix well until everything is fully coated.
STEP 3
Line a 20cm tray with parchment paper. Transfer the chocolate rice mixture to the lined tray and, using your hands, press the bars down as evenly and firmly as possible.
STEP 4
Place the tray in your freezer for 20 minutes to chill.  
STEP 5
In the meantime, melt your chocolate. Once the bars have chilled, pour the melted chocolate evenly over the bars. Place in freezer for another 5 minutes, remove and cut into squares.
STEP 6
Store the bars in an airtight container in your fridge for up to 10 days or in your freezer for up to 2-3 weeks.
---
By Valentina Concordia
Valentina is our Food Editor, who dreams up our tasty dishes and recipes for our social channels. She has loads of experience cooking up a storm in Italian kitchens, so it's no surprise she can't live without good-quality olive oil (don't come between her and her olive oil) and fresh pasta.
---
Let us take care of dinner
After getting creative in the kitchen, give yourself the weekend off by letting us take care of dinner. Check out our delicious meals here.
Shop now