Recipes
Crispy Coconut Tofu Bites
2min read
Desiccated coconut in savoury food is never not good. It adds a nutty, sweet flavour to everything you add it to, and this recipe is a great way to bring out those flavours in some crispy, crunchy tofu bites with a punchy dip.
Like many people the world over, I am a big fan of crispy fried goods, and these coconutty, crispy, panko-crumb tofu bites come with a delicious kick. The aioli is made by mixing the much-loved Caribbean green seasoning with some vegan mayo. It's creamy, spicy and really fresh, thanks to the generous handfuls of coriander, thyme, celery and scotch bonnet added to the mix (okay, so maybe not handfuls of the scotch bonnet. Actually just one). This bright and zesty dip makes a great salad dressing with your crispy coconut tofu for a punchy lunch. 
Green seasoning is a staple in the fridges of many across the Caribbean — so feel free to save a few tablespoons before the mayo is added as a marinade or gremolata/chimichurri-style topping to stews and soups to add a fresh, herby kick to your meals.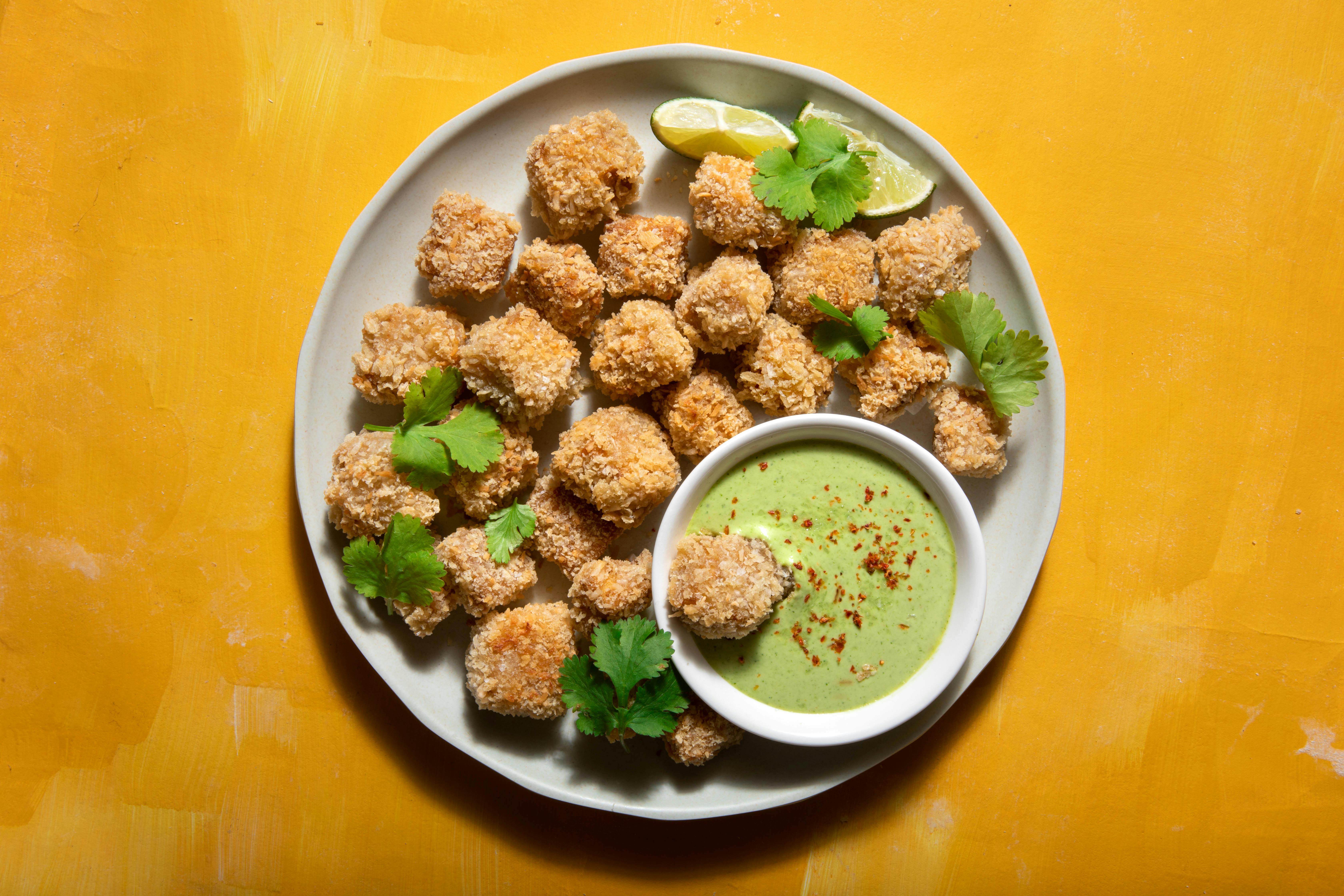 Ingredients
For the tofu 
1 block (around 225g) of firm tofu 
200g panko breadcrumbs
150g desiccated coconut
100g cornflour
2 tbsp flour
2 tbsp plant milk 
1 tbsp soy sauce
½ tsp paprika
½ tsp garlic powder
½ tsp ginger powder
½ tsp black pepper
Pinch of salt 
For the aioli
Thumb-sized piece of ginger
2 cloves of garlic
½-1 scotch bonnet (depending on preferred heat level)
1 stick of celery
3 sticks of thyme leaves
2 spring onions
Handful of coriander leaves and stems
Handful of parsley leaves and stems
150g vegan mayo
Method
STEP 1
Start by pressing your tofu with some paper towels, releasing all the moisture it may have (the enemy to getting tofu nice and crispy). 
STEP 2
In a bowl, make your marinade: add soy sauce, paprika, garlic powder, minced ginger, salt and pepper, and add the tofu. Leave to marinate in the fridge for at least 10 minutes. 
STEP 3
While your tofu is marinating, add your coriander, thyme, ginger, celery, garlic,  scotch bonnet, bell pepper, lemon juice, salt and pepper to a blender and blend until smooth. The mixture should be bright green.
STEP 4
After your seasoning is blended, spoon 150g or 2-3 big tablespoons of vegan mayo into a bowl and add your green seasoning. Mix until fully combined.
STEP 5
In a bowl, add your cornflour, coconut and panko breadcrumbs. In a separate bowl, add vegan milk and a little flour to make a batter. The wet batter should be thick enough to coat the tofu completely. 
STEP 6
Chop the tofu into around 3cm cubes and toss each one in the cornflour mix, the vegan batter and then back again into the breadcrumb mix, until the tofu pieces are fully coated.
STEP 7
Next, get ready to do a bit of deep frying. Add around 400ml of oil into a deep pot and heat on medium-high. You'll know when it's ready by putting the end of a wooden spoon in the oil. If it sizzles around the stick, you're good to start frying.
STEP 8
Put the tofu cubes into a slotted spoon and carefully submerge them in the oil. Leave them to fry for 2-3 minutes, until they become golden brown.
STEP 9
Remove them from the pot with the spoon and put on a plate or tray lined with paper towels for the excess oil. Repeat in batches until all the tofu is cooked.
STEP 10
While the tofu is still hot, generously sprinkle some flaky salt over your tray. Serve with some fresh lime, coriander and your green aioli. Enjoy!
---
By Toni Olukiran
Toni is one of our lovely Content Marketing Assistants, and when she's not writing posts about everything from Jamaican cooking to vegan champagne, she's making a Spotify playlist (she was at 200, at her last count) or playing tennis in the park.
---
Let us take care of dinner
After getting creative in the kitchen, give yourself the weekend off by letting us take care of dinner. Check out our delicious meals here.