Recipes
Crispy Hoisin Mushrooms
4min read
The secret to preparing vegetables that mimic how meat acts and tastes in a recipe is pretty straight forward: just treat it like meat. What we mean by that is to just adapt and replicate the processes typically associated with cooking meats, when cooking plants. Our new series, "How to Replace Meat in Everything" explores just how to do that in an easy, unfussy and delicious way. 
These crispy hoisin mushrooms have five spice to thank for their complexity and depth. What results from a quick rub is a combination of sweet, warm and peppery flavours which cling on to the mushrooms as they crisp, and which enhances the flavours of the hoisin sauce later on. 
When using mushrooms to mimic the texture meat, I almost always gravitate towards Oyster or King Oyster mushrooms because of their ability to be pulled apart and shredded, as well as their ability to absorb flavour whilst maintaining their structure. If you can't get your hands on them, my suggestion is to use portobello mushrooms, as opposed to button or chestnut mushrooms, and to finely slice the caps lengthwise. Although they might not have exactly the same feel and texture, all mushrooms act as sponges - absorbing the flavours around them - so you can achieve similar results with most varieties.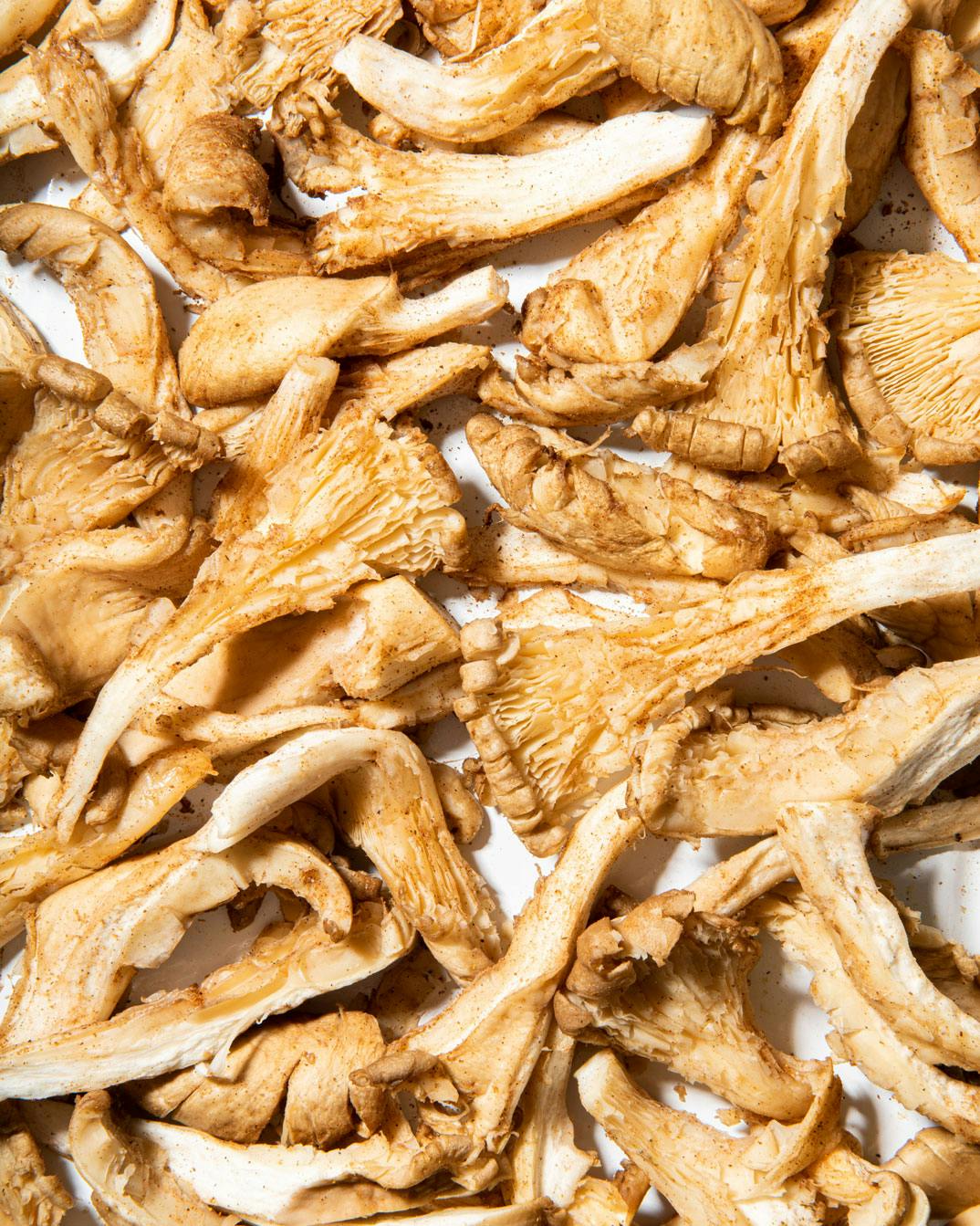 Ingredients
Mushrooms: 
500g oyster mushrooms
1 ½ tsp five spice
1 tsp salt 
2 tbsp sesame oil
4 tbsp/60ml water
Hoisin Sauce*:
40g/3 tbsp light brown sugar 
2 tbsp/30g water, boiled
2 tbsp/30g soy sauce
2 tbsp/35g black bean sauce 
1 tsp rice wine vinegar 
¼ tsp Chinese five spice
1 tsp sesame oil
*Or 80g store-bought hoisin sauce
To serve:
12 Chinese duck pancakes, steamed 
1 small cucumber (250g), finely sliced lengthwise
3 spring onions (60g), finely sliced lengthwise
5g fresh coriander
Method
STEP 1
Start by preparing the mushrooms. Use your hands to tear the mushrooms apart lengthwise into strands that are around 1 cm wide.
STEP 2
Place them in a bowl and sprinkle them with the five spice and salt. Use your hands to rub the spices and salt into the mushrooms until they're evenly coated. Let the mushrooms sit for at least 20 minutes. 
STEP 3
In the meantime, prepare the hoisin sauce. Add the light brown sugar, boiling water, soy sauce and rice wine vinegar to a bowl and stir to combine. Next, stir in the black bean sauce, five spice and sesame oil. Set the sauce aside. 
STEP 4
Heat 2 tbsp sesame oil in a large pan over medium heat. Once hot, add the mushrooms and stir to coat them in oil. Let the mushrooms cook, undisturbed, for 4-5 minutes - until golden and crispy on the heat facing side. Stir the mushrooms and let them cook, undisturbed, for 4-5 more minutes, until crisp throughout. 
STEP 5
Add the ¾ of hoisin sauce (reserving a couple tbsp for serving) to the pan along with 50ml water.
STEP 6
Stir to coat the mushrooms, then lower the heat to medium-low and let the sauce cook down for 5-6 minutes, until thick and glossy. 
STEP 7
Serve the mushrooms on top of steamed pancakes, along with the sliced cucumber, spring onions, coriander and a dollop of the reserved hoisin sauce. 
---
By Valentina Concordia
Valentina is our Food Editor, who dreams up our tasty dishes and recipes for our social channels. She has loads of experience cooking up a storm in Italian kitchens, so it's no surprise she can't live without good-quality olive oil (don't come between her and her olive oil) and fresh pasta.
---
Let us take care of dinner
After getting creative in the kitchen, give yourself the weekend off by letting us take care of dinner. Check out our delicious meals here.