Recipes
Crispy Potato and Wild Garlic Salad
4min read
This vegan potato salad, topped with a creamy vegan wild garlic mayonnaise and crispy breadcrumbs is basically just an excuse to eat carbs on carbs. It can be made ahead of time, and is just as delicious as soon as it's been made as it is when it's been sitting out for a while, making it our picnic "salad" of choice.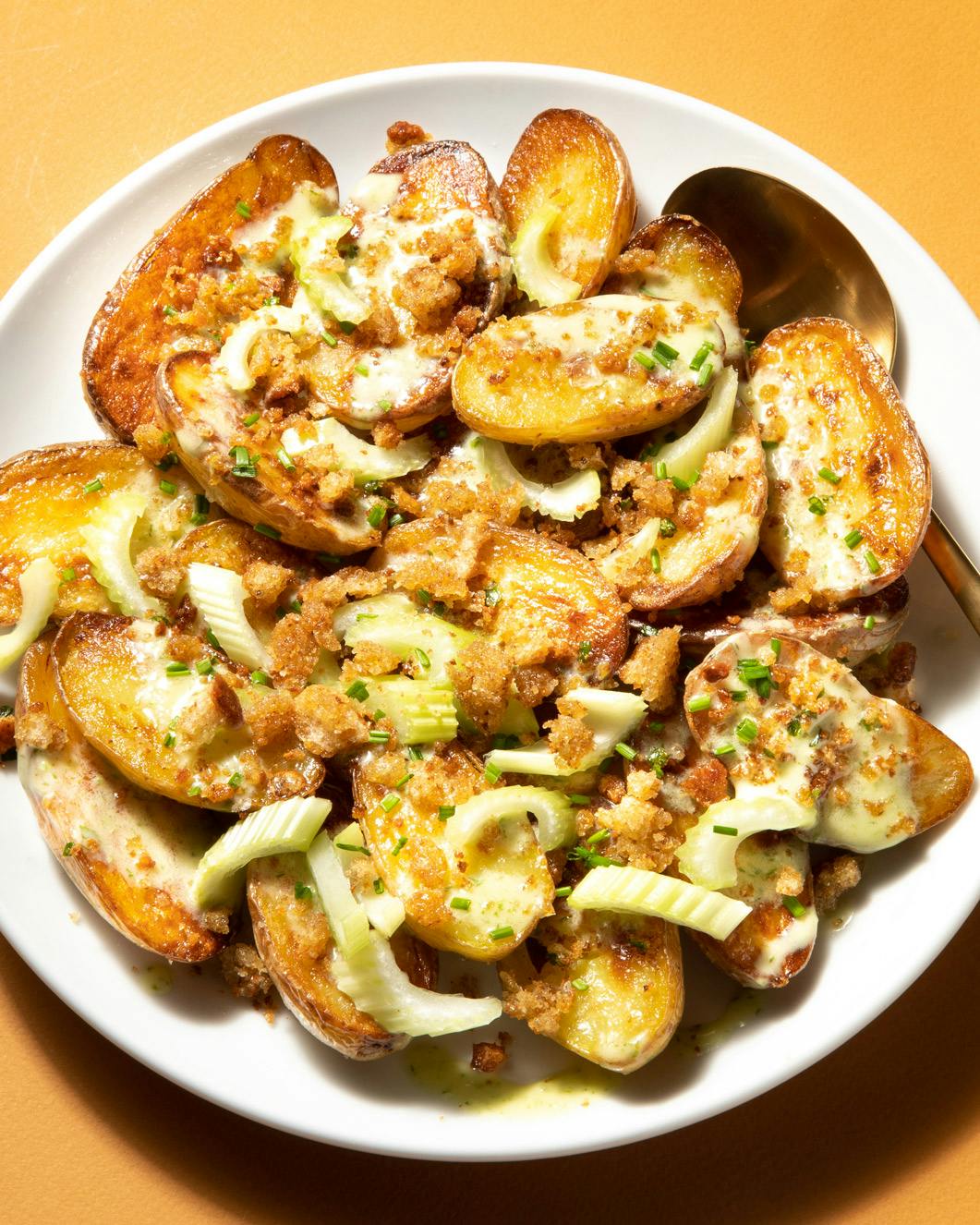 Ingredients
Salad:
600g new potatoes or Jersey royals, halved
150g day old bread, cubed
4 tbsp (60ml) olive oil, divided
½ tsp salt
5g chives, finely chopped
2 stalks celery, finely sliced
Wild Garlic Mayo:
100g plant based mayonnaise 
1 clove garlic, finely grated
5g chives, finely chopped
5g wild garlic (sub for chives), finely chopped
½ tsp salt
Method
STEP 1
Preheat the oven to 200˚C fan/220˚C conventional. 
STEP 2
Start by cooking the potatoes. Add the halved potatoes to a saucepan, cover them with cold water and a big pinch of salt. Bring the water to a boil, and simmer the potatoes for 10-12 minutes, until tender but still holding their shape.
STEP 3
Drain the potatoes and let them cool for 10 minutes. 
STEP 4
While the potatoes cook and cool, prepare the breadcrumbs. Add the cubed bread to a baking tray. Drizzle the bread with 2 tbsp olive oil and ½ tsp salt. Use your hands to toss the bread, oil and salt together. 
STEP 5
Bake the croutons for 8-10 minutes, until golden brown throughout. Let the croutons cool, then add them to a food processor. Pulse the croutons for 2-3 minutes to turn them into coarse breadcrumbs. Transfer them to a bowl and toss them together with the chopped chives.
STEP 6
Next, prepare the wild garlic mayo. Add the plant based mayonnaise, finely grated garlic, chopped chives, wild garlic and salt to a blender or food processor and blend for 3-4 minutes, until the herbs have mostly broken down and the mayo is a vibrant green colour. 
STEP 7
Last, heat 2 tbsp of oil in a large cast iron skillet or frying pan. Add the potatoes to the oil, sliced side-down, and fry them for 6-8 minutes, until crispy on the head facing side. Turn them over, and continue to cook them for 2-3 minutes, until crispy throughout. 
STEP 8
Transfer the crispy potatoes onto a serving dish, then drizzle the wild garlic mayo over them, followed by the sliced celery, breadcrumbs and chives. If you're making this ahead of time, save the breadcrumbs and add them right before serving, so they maintain their crunch. 
---
By Valentina Concordia
Valentina is our Food Editor, who dreams up our tasty dishes and recipes for our social channels. She has loads of experience cooking up a storm in Italian kitchens, so it's no surprise she can't live without good-quality olive oil (don't come between her and her olive oil) and fresh pasta.
---
Let us take care of dinner
After getting creative in the kitchen, give yourself the weekend off by letting us take care of dinner. Check out our delicious meals here.
Shop now