Recipes
Crispy Tofu & Rainbow Slaw
by Iona Berry
3min read
This colourful, fresh and zingy slaw and crispy baked tofu makes the perfect weeknight dinner. It's healthy, light and full of crunchy vegetables that contrast with the chewy texture of the baked tofu.
This slaw can be adapted to suit your tastes, if you aren't a fan of cabbage you can absolutely use different vegetables like sliced red onion, radishes, savoy cabbage, celeriac or if you want a pop of sweetness I love to use sliced green or red apples. You can prepare all of your vegetables in a food processor if you want to save on time but in order to save on washing up I often hand chop mine. I also love to add a handful of herbs to the slaw and I think dill, parsley, coriander and tarragon work the best but feel free to mix it up.
Ingredients
Tofu:
350g tofu
2 tbsp tamari
1 tsp sesame oil
1 tbsp maple syrup 
2 tbsp cornflour 
1 tbsp neutral oil
Rainbow slaw:
100g red cabbage, finely sliced
100g white cabbage, finely sliced 
50g carrot, grated 
1 small red pepper, finely sliced 
1 small green pepper, finely sliced
1 small yellow pepper, finely sliced 
100g vegan greek yogurt 
1 tbsp olive oil 
1 tbsp apple cider vinegar 
¼ tsp salt
To serve:
Handful of coriander (optional)
Sesame seeds (optional)
Chilli flakes/red pepper flakes (optional)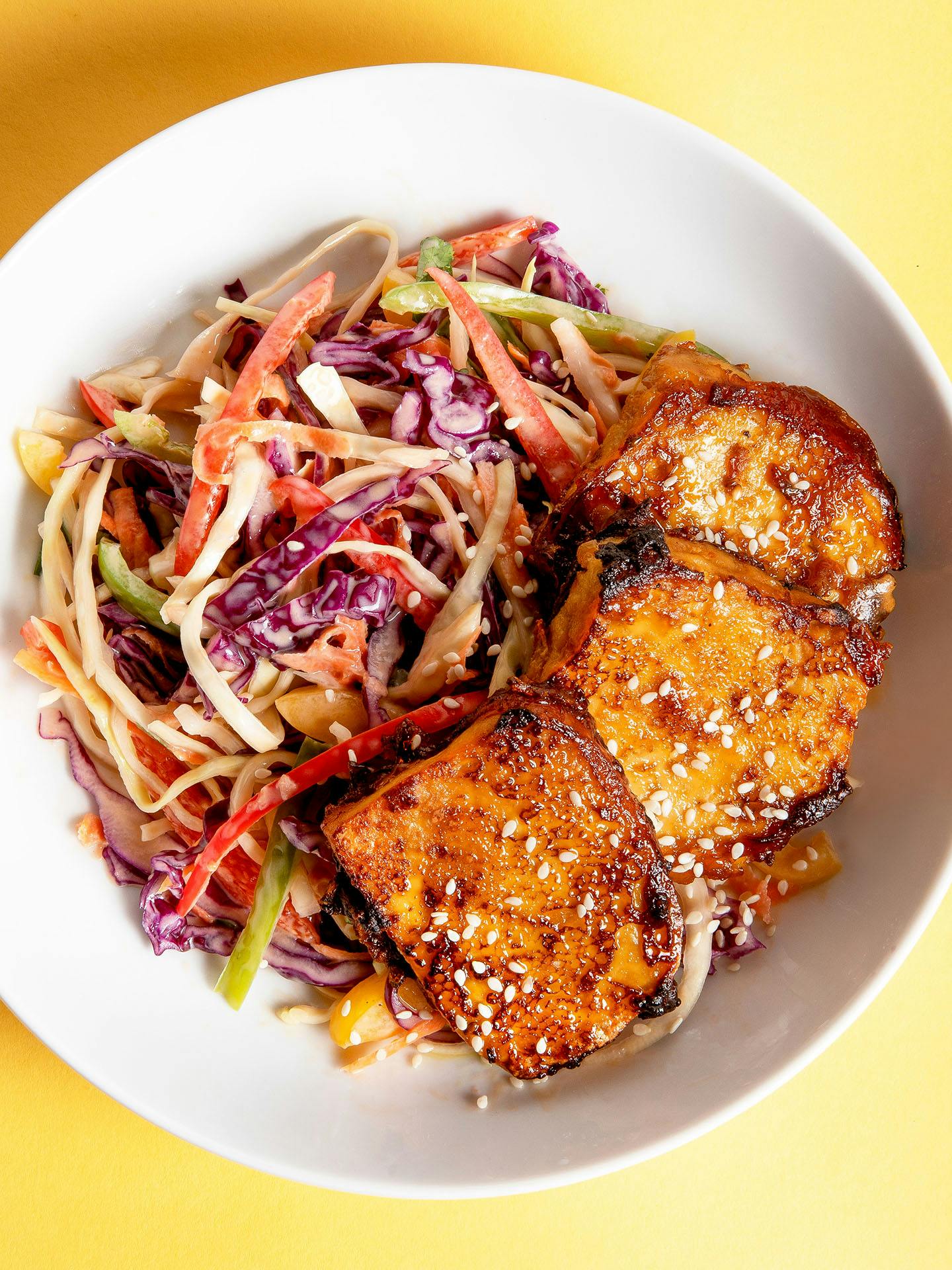 Method
STEP 1
Cut tofu into thick slices and then using a muslin cloth, clean tea towel or kitchen paper, press out the excess moisture from the tofu.
STEP 2
Whisk together the tamari, sesame oil, maple syrup and corn flour and pour over the tofu. Leave to absorb for 20 minutes.
STEP 3
Preheat the oven to 180C/200C fan/conventional and line a baking sheet with parchment or reusable baking parchment.
STEP 4
Heat a frying pan with the neutral oil on a medium/high heat. Add each piece of tofu to the pan and fry on both sides until crisp and golden. 
STEP 5
Place the tofu onto the prepared baking and sheet and cook for 25-30 minutes.
STEP 6
Whilst the tofu is cooking, prepare the rainbow slaw. Mix together the greek yogurt, apple cider vinegar, salt and olive oil together until well combined.
STEP 7
Add in the red cabbage, white cabbage, peppers and carrot to a large bowl and toss with the dressing.
STEP 8
Taste and check if the seasoning is to your liking and feel free to add more salt/apple cider vinegar or a tiny bit of maple syrup if you would like it sweeter.
STEP 9
Serve the slaw with coriander leaves and tofu slices on top and sprinkle with chilli flakes and sesame seeds.
---
By Iona Berry
Iona is our Development Chef, aka our go-to girl for developing, testing and tasting delicious dishes for you to all enjoy at home. When she's not in the kitchen, you'll find her either running or cycling, or trying out food markets and new restaurants around London. Continuous market research it would seem.
---
Let us take care of dinner
After getting creative in the kitchen, give yourself the weekend off by letting us take care of dinner. Check out our delicious meals here.