Recipes
Crispy Vegan Mushroom Burgers
4min read
Crispy panko-coated mushrooms, a punchy salsa verde and a garlic mayo make for the juiciest and most flavourful vegan burgers you can make in under 30 minutes.
Whilst the portobello mushrooms bring a meaty quality to these burgers, the crispy coating acts as a vessel to absorb the flavours of the salsa verde - which is responsible for all of the freshness, zing and brightness between the buns. A combination of herbs, alliums (such as shallots and spring onions), chilli and citrus are important to help achieve punchiness and a balance of flavours in a salsa verde, but you can use whatever herbs you have on hand, and make it as paired back as you'd like - using only herbs, oil and salt if that's what you have on hand.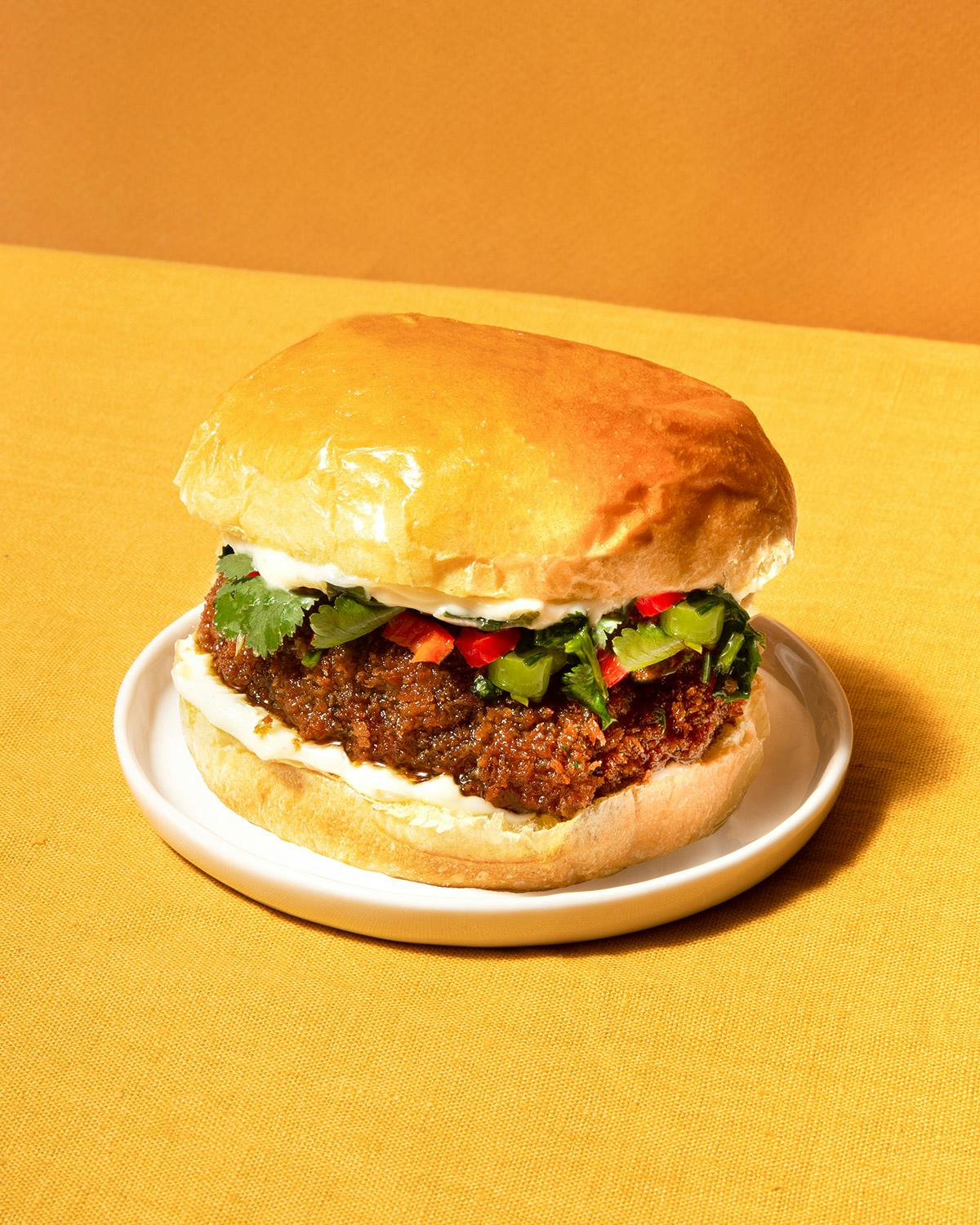 Ingredients
Salsa Verde:
10g coriander, finely chopped 
10g chives, finely chopped
1 spring onion, finely sliced
1 chilli, finely chopped
1 lime, juiced
4 tbsp (60g) olive oil
1 tsp salt 
Mushrooms: 
4 portobello mushrooms (around 200g)
80g plain flour 
1 tsp salt
100ml plant based cream
80g panko breadcrumbs 
Vegetable oil, for frying 
To serve:
6 tbsp plant based mayonnaise
1 clove garlic
4 burger buns
Method
STEP 1
Start by making the salsa verde. In a bowl, combine the chopped herbs, spring onion and chilli. Add the lime juice, olive oil and salt and stir to combine. Set the salsa verde aside while you prepare the mushrooms. 
STEP 2
Fill a tall frying pan or wide saucepan with around 6cm of vegetable oil. Heat the oil over medium heat until it reaches 170˚C. If you don't have a thermometer, you can dip the tip of a chopstick into the oil to check if it's ready - if a lot of bubbles immediately form around the chopstick, the oil is ready. 
STEP 3
Remove the stems from the portobello mushrooms, and use a damp cloth to wipe the mushrooms clean. The moisture from the cloth also helps the flour bind onto them, so try not to skip this step. 
STEP 4
Add the flour, plant based cream and panko breadcrumbs to separate bowls. Coat the mushrooms by tossing them first in the flour, then in the plant based cream until fully coated, and finally in the panko breadcrumbs. 
STEP 5
Carefully transfer the mushrooms into the oil, and fry them for 3-4 minutes on each side - until they're deeply golden brown. Use a slotted spoon to transfer them onto a plate lined with a few sheets of kitchen roll to remove any excess oil, and sprinkle them with salt. 
STEP 6
While the mushrooms are cooking, prepare the rest of the components. Toast the buns for 2-3 minutes until slightly charred. Next, add the mayonnaise to a bowl and use a microplane or grater to grate the garlic. Stir to combine. 
STEP 7
Spread the garlic mayonnaise on both sides of a bun, then top the bottom bun with a fried mushroom and a big spoonful of salsa verde. Repeat with the rest of the buns. 
---
By Valentina Concordia
Valentina is our Food Editor, who dreams up our tasty dishes and recipes for our social channels. She has loads of experience cooking up a storm in Italian kitchens, so it's no surprise she can't live without good-quality olive oil (don't come between her and her olive oil) and fresh pasta.
---
Let us take care of dinner
After getting creative in the kitchen, give yourself the weekend off by letting us take care of dinner. Check out our delicious meals here.