Recipes
Vegan Grain-Free Granola
2min read
Taking the oats out of granola might feel counterintuitive, but it makes room for extra clusters of nuts, seeds and coconut flakes. Use this recipe as a base and adjust spices and add-ins based on what you have on hand and are in the mood for - cardamom, orange zest, tahini and cacao nibs are all on the usual add-in rotation.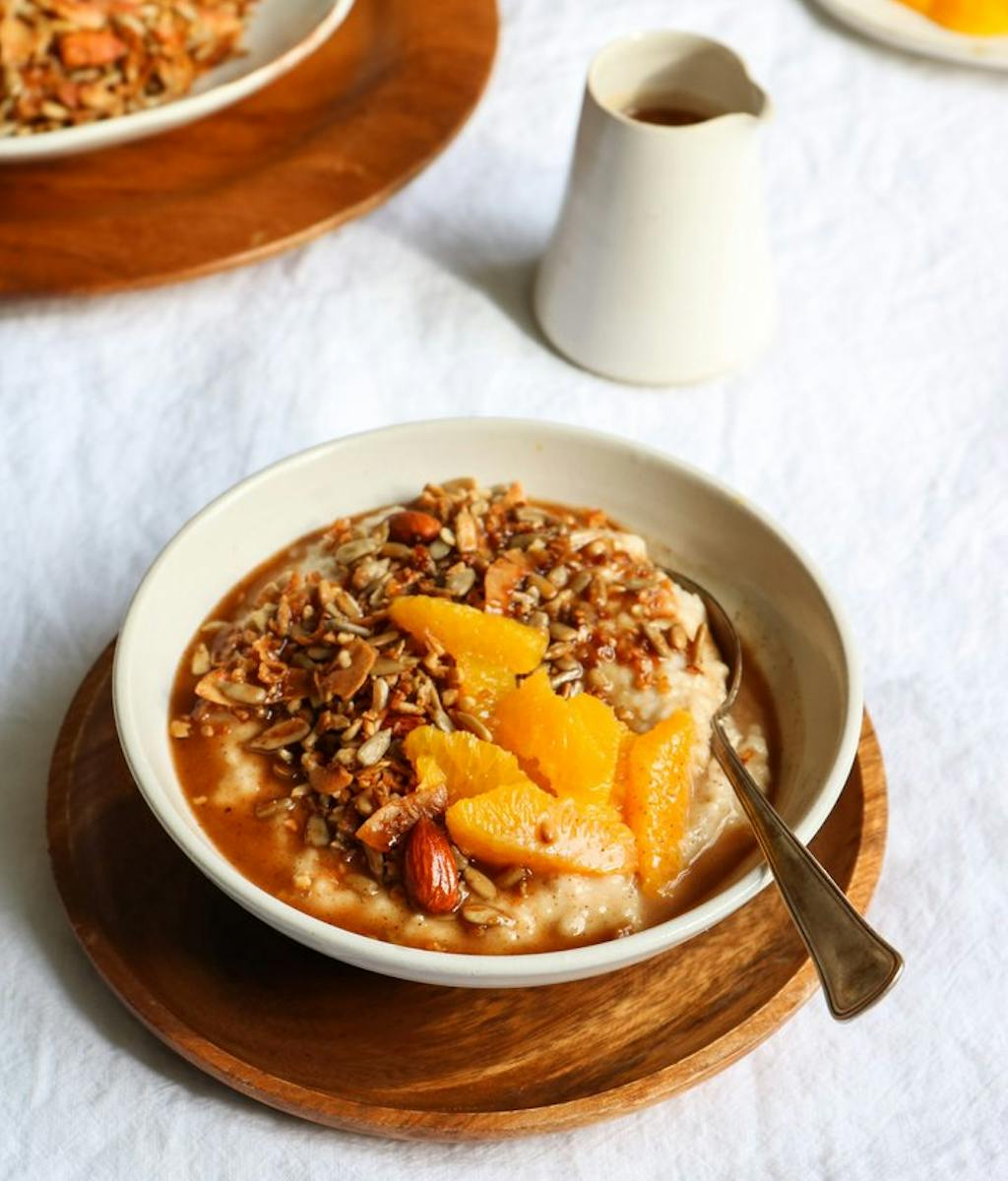 Ingredients
Granola:
250g sunflower seeds
140g cashews, chopped
140g almonds, chopped
60g pumpkin seeds, chopped
70g coconut flakes
70g maple syrup
70g coconut oil, melted
¼ tsp salt
Add-ins:
2 tsp cinnamon
¼ tsp ground cardamom 
1 orange, zested
1 tsp vanilla extract 
Method
STEP 1
Preheat your oven to 160˚C fan/180˚C conventional and line a large baking tray with parchment paper.
STEP 2
Combine the sunflower seeds, chopped cashews, almonds, pumpkin seeds and coconut flakes in a large bowl.
STEP 3
Stir in the melted coconut oil, maple syrup and salt as well as the add-ins (if using) and mix to combine.
STEP 4
Spread the granola evenly onto the prepared baking tray. Bake the granola for 35-40 minutes, stirring it around every 10 minutes, until it's deeply golden.
STEP 5
Let the granola cool completely, where it will harden and crisp up. Store the granola in an airtight container for up to two weeks.
---
By Valentina Concordia
Valentina is our Food Editor, who dreams up our tasty dishes and recipes for our social channels. She has loads of experience cooking up a storm in Italian kitchens, so it's no surprise she can't live without good-quality olive oil (don't come between her and her olive oil) and fresh pasta.
---
Let us take care of dinner
After getting creative in the kitchen, give yourself the weekend off by letting us take care of dinner. Check out our delicious meals here.
Shop now