Recipes
Crunchy Grain-Free Granola
8min read
Why take oats out of granola? Well for one, it opens up a lot of room for delicious clusters of nuts, seeds and coconut flakes. Second, it's grain-free, and a lot of you have asked us to develop some gluten-free recipes, so here we are! This crunchy and moreish cereal will have you grabbing handful after handful, but lucky for you (and us) it's packed with good fats and protein, so grab away! Use this recipe as a base, and adjust the spices and sweeteners to taste. Our go-to is maple syrup and cinnamon, but we love adding in cardamom and orange zest for a twist, or a spoonful of tahini and cacao nibs. Get testing and find your sweet spot.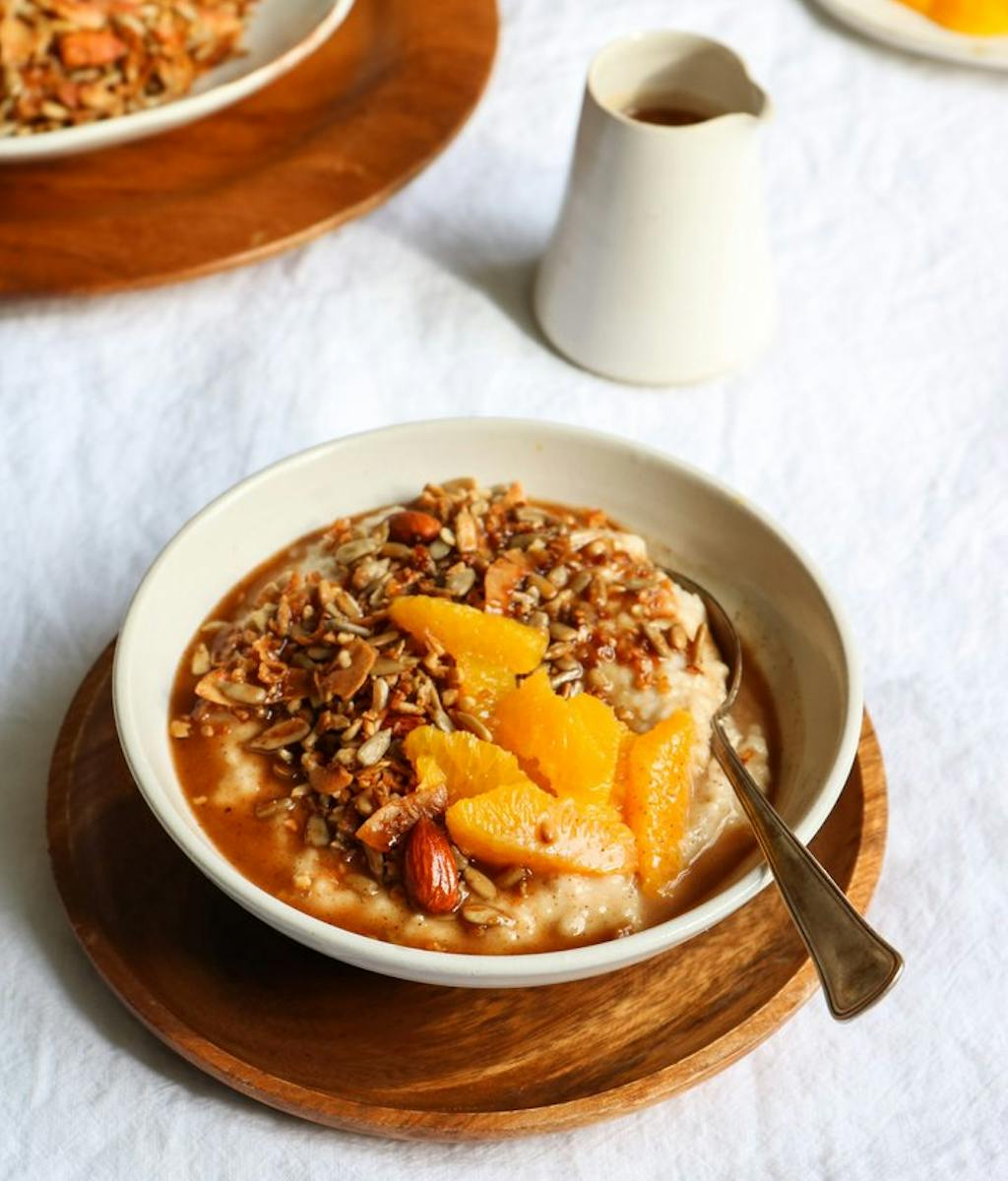 Ingredients
Granola:
2 cups sunflower seeds
1 cup cashews, chopped
1 cup almonds, chopped
1/2 cup pumpkin seeds, chopped
1 cup coconut flakes (large flakes, not shredded)
¼ cup maple syrup
⅓ cup coconut oil 
¼ tsp salt
Optional (recommended) add-ins:
½ tbsp cinnamon
¼ tsp ground cardamom 
Zest 1 orange
1 tsp vanilla extract 
Method
STEP 1
Preheat your oven to 160˙C.
STEP 2
Add the sunflower seeds, chopped cashews, almonds, pumpkin seeds and coconut flakes to a bowl.
STEP 3
Add in the coconut oil, maple syrup and salt and mix to combine. If you're using any add-ins, toss them into the bowl and mix to coat.
STEP 4
Spread the granola mixture evenly onto a parchment-lined baking tray and bake for 25-30 minutes, stirring the granola every 15 minutes or so.
STEP 5
Store your granola in a tupperware/airtight container for up to 3-4 weeks.
STEP 6
This granola tastes delicious with milk, on top of porridge, on top of ice cream and, our favourite, straight out of the jar.
---
by Valentina Concordia
Valentina is our Food Creative, who dreams up our tasty dishes and recipes for our social channels. She has loads of experience cooking up a storm in Italian kitchens, so it's no surprise she can't live without good-quality olive oil (don't come between her and her olive oil) and fresh pasta.
---
MORE GREAT READS