Recipes
Vegan Baking Basics: Buttercream
by Flo Cornish
6min read
This vegan buttercream recipe is the only one you will ever need. Fluffy, light and smooth, it comes together with just a handful of easy to find ingredients. Designed by a pastry chef, it's perfect for layer cakes, cupcakes and tray bakes...or just spooning straight into your mouth from the bowl.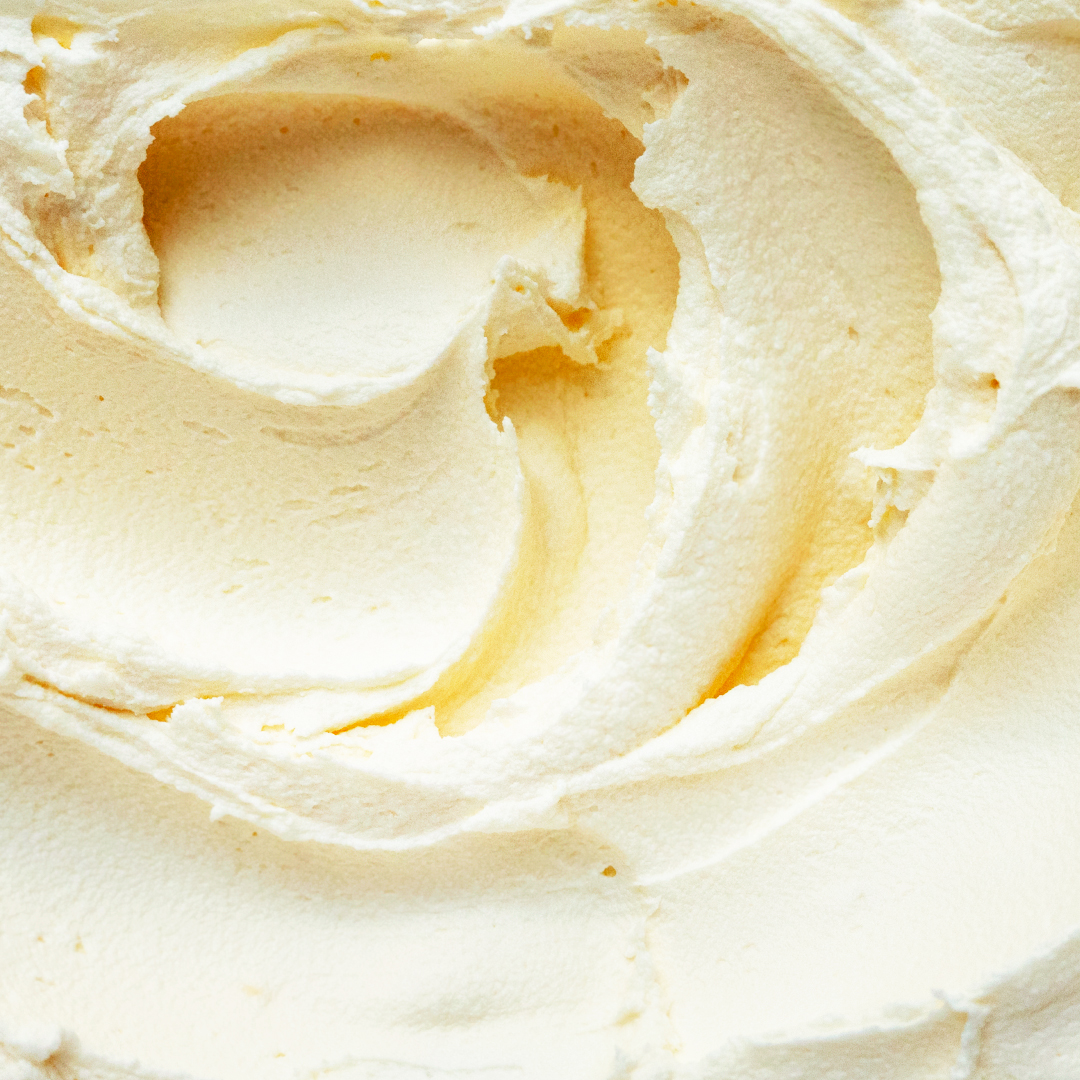 Hi, I'm Flo, a trained pastry chef and lover of all things baked. If you're new to vegan baking, or just looking to find easy and delicious bakes, you've come to the right place. I'll be taking you through a baking course, from building blocks to basics, and beyond. Starting with the most searched: vegan buttercream.
If you have ever tried to make a vegan cake in the past and watched dismally while the top layer slides off due to the sloppy buttercream icing, this recipe is for you. It's fluffy, light, and most importantly stiff enough to pipe and layer to your heart's content. It also has a rich creamy texture, free from any oiliness you might have experienced with other buttercream recipes; in short, you won't be able to tell it's not vegan.
Before we get started, here are my top tips for the perfect vegan buttercream...
Keeping vegan buttercream solid
The trick is in the fats. Unlike dairy butter, which needs to be soft to whip well, dairy-free plant-based fats struggle to set as firmly, so use them straight from the fridge and avoid substituting for spreadable margarines if you want good structure. This vegan buttercream recipe uses a combination of Trex and baking block which keeps it stiff and stops it from splitting easily. 
If you can't get Trex, or a baking block, you can make a vegan buttercream with plant-based spread and the other ingredients in this recipe. Just be aware that it won't be stiff enough to frost a layer cake. It will still be lovely on cupcakes or on a traybake, though!
Getting your buttercream fluffy
I usually use the phrase 'whip it till it's white' when making buttercream. What I mean here, is to keep beating until the colour gradually changes from yellow-ish to white. This will make your buttercream super fluffy, delicious and smooth. If you want to cheat...you can use a whitening paste or powder which will make the buttercream a brilliant white, just make sure you still beat it well. 
I use a stand mixer with a paddle attachment, which is the best way to make sure you whip your buttercream long enough, however an electric whisk is a good substitute, and if you fancy a work out, it's doable with a wooden spoon; just increase the time by a few minutes and set a timer to make sure you beat your buttercream long enough.
How to stop it splitting
If your buttercream starts looking soft and floppy, just stick it in the fridge (or freezer if it will fit) for 15 minutes. You'll see it stiffen up and be able to work with it again. If it starts to split (when the fats start to separate and look grainy) you can add a little more icing sugar to bind it back together, but I have never had that problem with this recipe which is why I love it so much.
Last but not least
My final tip is taste, taste, TASTE! You may not need all of the icing sugar. Taste as you go to see if it's sweet enough for you.
Makes
Enough for 1 x 8 inch cake or 12-18 cupcakes
Ingredients
Vegan Buttercream: 
165g plant-based baking block (Stork or Naturli work well)
165g Trex 
¼ tsp salt 
1 tsp vanilla extract 
600g icing sugar
Method
STEP 1
In the bowl of a stand mixer, put the baking block and Trex straight from the fridge. Add in the salt and vanilla extract and beat on high speed, using a paddle attachment, until noticeably paler in colour (this takes about 3 minutes, use a timer if unsure).
STEP 2
Sift the icing sugar into a separate bowl. Add this in in three parts, beating well after each addition.
STEP 3
Once the last of the icing sugar has gone in, beat the buttercream frosting on a high speed for 2 minutes to bring everything together. 
STEP 4
Use right away or keep in the fridge for up to a week (to use after refrigerating, you may need to beat with a wooden spoon or a spatula to loosen slightly)
---
by Flo Cornish
Flo is our tea-obsessed (Yorkshire, to be precise) Development Chef. You'll find her dreaming up tasty menu additions, working her way through a serving (or three) of our Tempeh Rendang Curry, or daydreaming about a holiday. Or baking – she's a trained pastry chef… no wonder she's so popular...
---
MORE GREAT READS