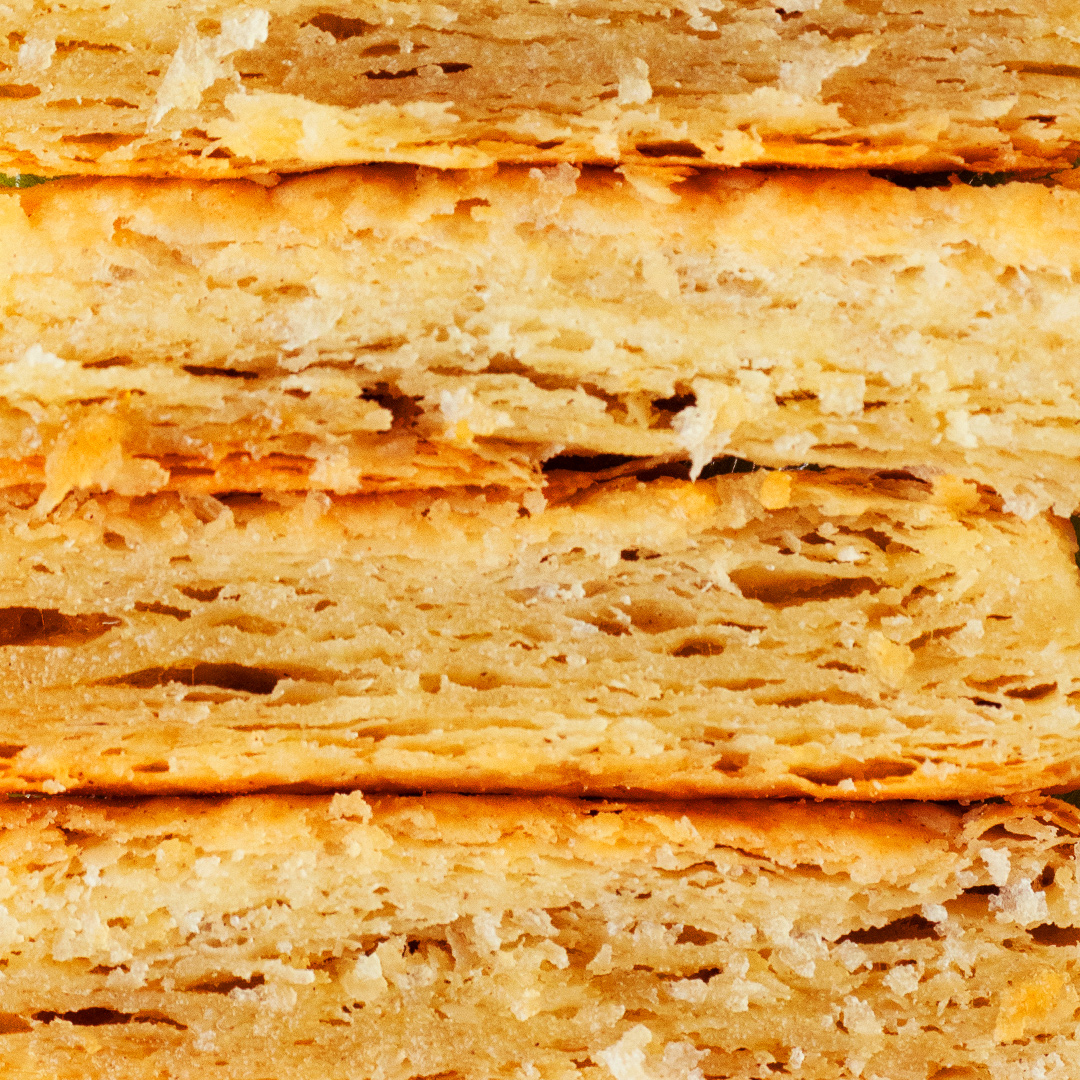 Hi, I'm Flo, a trained pastry chef and lover of all things baked. If you're new to vegan baking, or just looking to find easy and delicious bakes, you've come to the right place. I'll be taking you through a baking course, from building blocks to basics, and beyond. It's pastry week in the bake off tent, vegan puff pastry week to be exact.
While baking puff pastry from scratch might seem like a chore, when it comes to getting the rich buttery flakey texture there's really no beating it. This recipe is dairy free with simple, recognisable ingredients.
Before we start, here are my tips for the best vegan puff pastry…
How to stop your vegan puff pastry from melting
A common issue with both dairy and dairy free puff pastry is the butter melting out the sides, and losing the lamination (the thin layers that help the pastry stay flakey and puffed up). The biggest culprit for this is heat. It's important to keep puff pastry chilled until it's time to cook. Then it should go straight into a hot oven. This will allow the layers in the pastry to puff up. If they are too warm, the butter will melt too quickly and seep out of the pastry, preventing it from puffing up into layers.
What butter to use for dairy free puff pastry
Most of the time I will be able to give you a couple of substitutions, however, it's really important to the rise of your puff pastry to use a stable fat. This recipe really does require a vegan butter. It won't work with a spread or margarine block, so make sure you avoid that. My favourite is Naturli Vegan Block. It's stocked at Sainsbury's and a number of online retailers.
Freezing vegan puff pastry
Just like dairy puff, this vegan pastry freezes beautifully. You can make it in advance, and then freeze it at the last roll and fold. It will last well in the freezer for up to 3 months. Just thaw it well before rolling out and baking. 
Keeping track of puff pastry layers
Label your cling film with how many rolls and folds you've done as you go so that you don't lose track. You don't want to do anymore than 6 rolls and folds or it may all start to smoosh together (yes, smoosh is the technical term)
Let's make some pastry!
Vegan Puff Pastry: 
225g plain flour 
¼ tsp salt 
30g + 200g vegan butter (I used Naturli Vegan Block)
100ml cold water