Recipes
Vegan Baking Basics: Sponge
(1)
by Flo Cornish
6min read
This vegan sponge recipe is the only one you will ever need. Fluffy, pillowy and versatile, it's the perfect base for anything from cupcakes to tray bakes. Designed by a pastry chef, it comes together with just a handful of easy to find ingredients.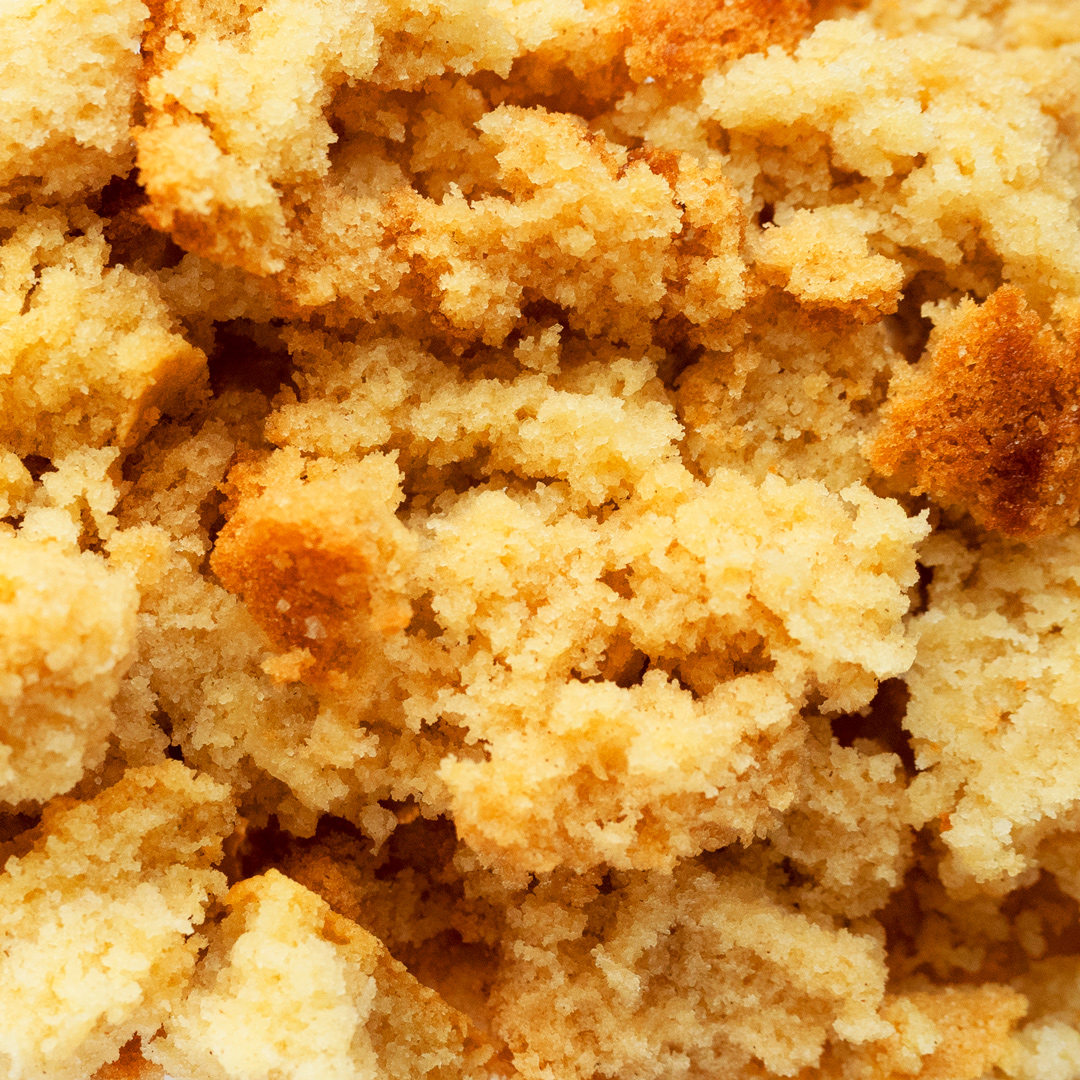 Hi, I'm Flo, a trained pastry chef and lover of all things baked. If you're new to vegan baking, or just looking to find easy and delicious bakes, you've come to the right place. I'll be taking you through a baking course, from building blocks to basics, and beyond. Next up: sponge.
Is there any better foundation to start baking with than a sponge? No? Correct. A vanilla sponge cake can cover you for so many types of baked good – sheet cakes, cupcakes, round layer cakes, traybakes. Think of all the weeks of Bake Off (except bread week...we're not magicians) and you're covered with a sponge of some sort. 
With just a few simple substitutions to your normal sponge, this vegan cake recipe is fluffy, light  and you've probably already got the ingredients. It's also super reliable, and will put an end to your googling of "how to stop vegan cake from sinking". Once you've mastered this one (which you'll do in about 10 minutes) you can mix up the flavours, no problem. Lemon, lime, chocolate, nuts...the world is your cake tin. 
Before we get started, here are my top tips for the perfect vegan sponge cake...
Keeping vegan sponge risen
One thing I hear a lot is that vegan sponge cakes sink when taken out of the oven, or are just a bit dense and heavy. There's a few possible reasons why. 
The first is a baking classic, in common with its dairy friends: don't open the oven too soon or too much during baking, wait until at least the minimum range on the timer before checking your cake (it should be slightly domed on top and golden brown). When you do, open the oven as little as possible to stop the heat escaping, in case your sponge needs longer to bake. 
The second trick to a well risen vegan sponge is the raising agent; make sure it's in date, and here I combine it with cider vinegar, (white wine vinegar works here too) for extra lightness. 
Thirdly, in the method below I recommend alternating the milk and flour mixtures as you're combining your cake mix. This helps to avoid the mixture splitting and leaving you with a dense cake at the end. 
And finally make sure you beat your sponge batter long enough so it's fluffy and full of air. Without eggs this takes a tiny bit longer, but is an essential step to ensuring your vegan cake is pillowy soft.
Getting your vegan sponge cake fluffy
As I mentioned above, a key to a fluffy vegan sponge is making sure you beat air into it. A stand mixer with paddle attachment is the easiest option here. If you don't have a stand mixer, an electric whisk in a bowl will work just as well and if you don't have either, then a wooden spoon and bowl will do! Fair warning; you will need to beat it for a lot longer when you're mixing the spread and sugar together.
Using vegan butter substitutes in sponge
For this cake recipe I suggest using a plant-based spread (my favourite is Flora Buttery for the rich...well, buttery...flavour). I find it loosens up well and takes no time at all to take on the pale beaten colour of any dairy butter. You can also use a baking block such as Stork or Naturli, both of which are vegan and you won't notice the difference.
Adapting vanilla sponge to different flavours
Chocolate
To make this a chocolate sponge, just replace 50g of flour with cocoa powder and add in ½  tsp of espresso powder. The coffee really boosts the chocolate flavour. Mmmmmmm
Citrus
For an orange / lemon / lime cake, just add in the zest of 2 fruits right at the beginning stage when you are whipping the spread and sugar. This releases the oils in the zest, improving the flavour even more. 
Tray bakes
This sponge is super versatile and also works great as a tray bake. Just make a double batch of the sponge as specified in the recipe, pour into a greased and lined rectangular tin (27cm x 20cm), top with...well...anything (I like to dot in fresh raspberries and flaked almonds) and bake for 30 minutes at 180C (160C Fan)
Makes
Enough for 1 x 8 inch cake or 12-18 cupcakes
Ingredients
Vegan Sponge: 
300ml plant-based milk (unsweetened)
1 tbsp cider vinegar 
150g plant-based spread (such as Flora or Pure)
200g caster sugar 
½ tsp vanilla extract
½ tsp salt 
300g self raising flour
1 tsp bicarbonate of soda
Method
STEP 1
Preheat oven to 160C fan / 180C conventional oven. Grease and line your cake tin (or two if using sandwich tins) and put to one side. 
STEP 2
In a jug, measure out the plant-based milk and mix with the vinegar. Leave this to stand whilst you mix the spread and sugar mix. You want the milk to curdle slightly and thicken here. 
STEP 3
In the bowl of a stand mixer, put the spread, caster sugar, salt and vanilla. Beat on a high speed with the paddle attachment, until the mixture is fluffy and noticeable paler (this takes about 5 minutes).
STEP 4
Mix the flour and bicarb together in a bowl. With the mixer running, add in the flour and plant-based milk mixture alternately. Don't forget to scrape down the sides!
STEP 5
Pour the mixture into the cases and bake for 25-30 minutes (you may need a little less time with two separate sandwich tins). Check they are cooked through by inserting a skewer into the middle of the cakes. If it comes out clean, with no wet batter on it, you're good to go.
STEP 6
Leave to cool then decorate. 
---
by Flo Cornish
Flo is our tea-obsessed (Yorkshire, to be precise) Development Chef. You'll find her dreaming up tasty menu additions, working her way through a serving (or three) of our Tempeh Rendang Curry, or daydreaming about a holiday. Or baking – she's a trained pastry chef… no wonder she's so popular...
---
MORE GREAT READS