Recipes
Grilled Romaine Caesar
4min read
The secret to preparing vegetables that mimic how meat acts and tastes in a recipe is pretty straight forward: just treat it like meat. What we mean by that is to just adapt and replicate the processes typically associated with cooking meats, when cooking plants. Our new series, "How to Replace Meat in Everything" explores just how to do that in an easy, unfussy and delicious way. 
Did you read the title and think we've taken it too far in this series? Grilled lettuce? It sounds wrong, I know, but it tastes very right. Romaine lettuce has a robust structure, which doesn't just tolerate heat, but actually takes on a new lease of life with it, developing a smoky quality and becoming tender and juicy, whilst maintaining its crisp nature. Here, it's then drizzled (read: drenched) in an addicting caesar dressing and served with crunchy croutons. Take our word for it, you won't ever go back to regular caesar.
There are two secrets to perfectly grilled romaine. The first is to make sure we're charring rather than cooking the lettuce through, because charred and grilled romaine is crispy and juicy, whereas cooked romaine is soft and wet. Nobody wants soft and wet romaine. That's why the recipe instructs you to grill the lettuce for 2-3 minutes cut side down on high heat, and to only grill it for 30 seconds or so once flipped. The result is all the flavour and texture, none of the sogginess. The second secret is not really a secret, and that's to serve it right away. Grilled romaine reaches its peak the second it's cooked and tastes best straight off the grill, so try to prepare everything by the time you're starting to grill, rather than letting it sit while you blend the dressing.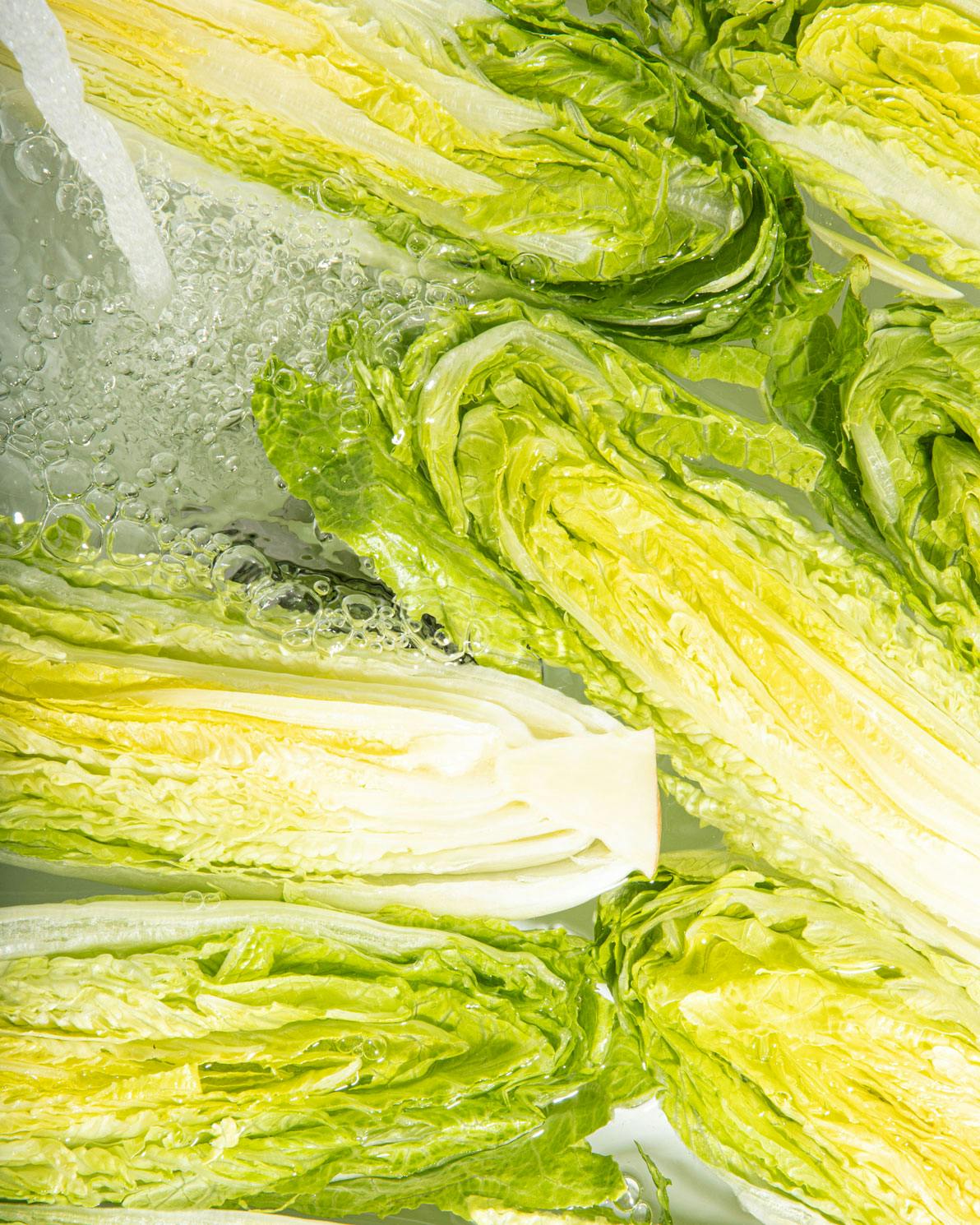 Ingredients
Grilled Romaine:
1kg romaine (around 4 heads) 
2 tbsp olive oil
½ tsp salt
Dressing + Croutons 
300g bread, cubed
2 + 1 tbsp olive oil, divided 
1 tsp salt
60ml plant based milk
150g silken tofu 
5g nutritional yeast
3 tsp Dijon mustard 
½ lemon, juiced and zested 
To serve:
Plant based parmesan, optional 
1 tbsp chopped fresh chives
Method
STEP 1
Preheat the oven to 190˚C fan/210˚C conventional.
STEP 2
Add the cubed bread to a baking tray and drizzle it with 2 tbsp olive oil and a pinch of salt. Toss the bread with your hands, until the pieces are fully coated in olive oil. Bake the croutons for 10-12 minutes until crispy and golden around the edges. 
STEP 3
Next, slice the heads of romaine in half lengthwise. Wash them thoroughly, then place them onto a clean kitchen towel cut-side down and pat them dry. Let them sit for 10 minutes to dry fully. 
STEP 4
In the meantime, make the dressing. Add the milk, silken tofu, nutritional yeast, dijon mustard, lemon juice, lemon zest, ¼ tsp salt and 1 tbsp of olive oil to a blender.
STEP 5
Blend on high speed for 2-3 minutes, until the dressing is smooth and creamy. Taste for seasoning and adjust to taste - adding extra salt or lemon juice to taste. 
STEP 6
Heat a griddle pan over high heat. Brush the romaine halves with two tbsp olive oil, and sprinkle them with salt.
STEP 7
Place 3-4 romaine halves onto the hot griddle pan, cut side down. Grill them for 2-3 minutes until browned and charred throughout the heat-facing side. Flip the romaine halves over, and grill them for around 30 seconds. Remove them from the pan, and repeat the process with the remaining halves. 
STEP 8
Serve the grilled romaine topped with the caesar dressing, croutons, chives and plant based parmesan, if using. 
---
By Valentina Concordia
Valentina is our Food Editor, who dreams up our tasty dishes and recipes for our social channels. She has loads of experience cooking up a storm in Italian kitchens, so it's no surprise she can't live without good-quality olive oil (don't come between her and her olive oil) and fresh pasta.
---
Let us take care of dinner
After getting creative in the kitchen, give yourself the weekend off by letting us take care of dinner. Check out our delicious meals here.