Recipes
Jackfruit Sliders
by Iona Berry
3min read
This pulled jackfruit burger recipe is sweet, smokey and has a chewy and meaty texture that no one will believe is canned jackfruit. The pulled jackfruit contrasts with the creamy and fresh tzatziki and I love the addition of the chipotle mayonnaise which adds a background smoky flavour.
It is really important to drain and strain the excess liquid from the jackfruit. This process makes the jackfruit texture a lot meatier and it means that every flavour you add to the jackfruit really absorbs during the cooking process making the flavours strong and intense. The jackfruit filling is also delicious in tacos, burritos or on top of a crisp jacket potato with vegan sour cream. If you can get your hands on the Alpro Greek yogurt then this will really take the tzatziki to the next level as it's thicker and creamier than any other yogurt I have found. Instead of raw red onion you could also do some quick pickled cucumbers or shallots which would also work incredibly well. These burgers do get quite messy to eat but that is part of the joy and I have a feeling you will be finding an excuse to make these again and again.
Ingredients
Jackfruit:
2 400g cans of jackfruit (plain or in salted water) 
2 tbsp neutral oil
2 medium sized white onions, finely sliced 
½ tsp salt
1 tbsp brown sugar 
3 cloves of garlic, finely sliced or minced 
2 tsp paprika
1 tsp smoked paprika 
2 tsp mustard powder 
1 tsp dried oregano 
2 tbsp apple cider vinegar 
100g ketchup
1 tbsp sriracha (optional) 
Tzatziki:
½ cucumber grated (roughly 180g)
250g vegan greek yogurt 
½ tsp salt
1 small clove of garlic, minced
1 tbsp lemon juice
Chipotle mayonnaise:
25g chipotle paste 
100g vegan mayonnaise 
1 tsp maple syrup 
To serve:
4 burger buns
50g pickled gherkins
10g coriander (or your favourite herb of choice) 
½ red onion, finely sliced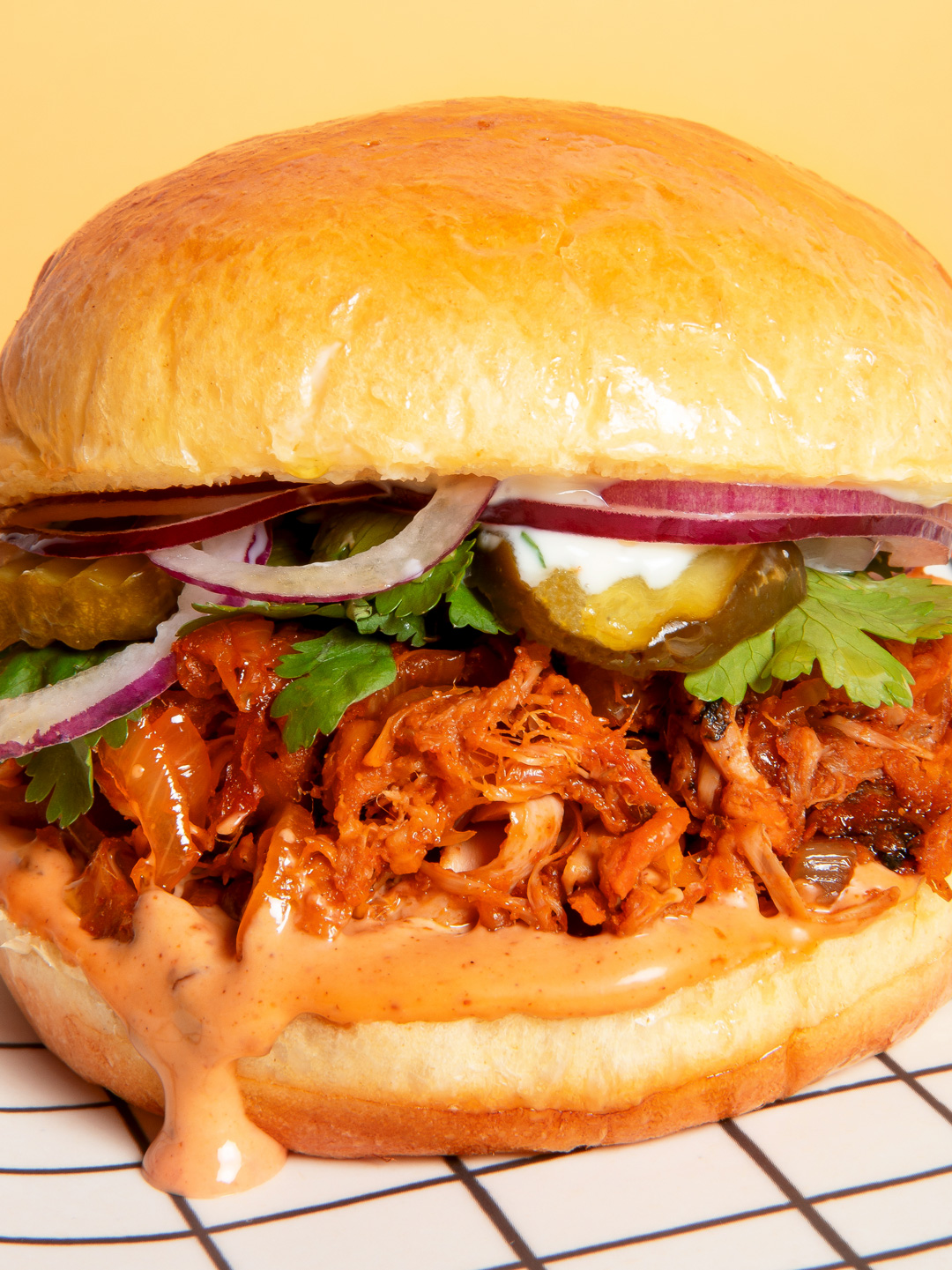 Method
STEP 1
Drain the jackfruit in a colander. Then using a muslin cloth or tea towel, place all of the jackfruit into the centre and wrap it up around the edges. Squeeze out as much liquid from the jackfruit as you can (it should weigh roughly 350g afterwards).
STEP 2
Using your hands of your two forks, pull the jackfruit apart so it becomes stringy.
STEP 3
In a large saucepan, heat the oil on a medium heat. Add the sliced onions and salt and cook for 6 minutes. Add the sugar to the pan, stir and continue to cook for another 15 minutes until very soft and a deep golden brown.
STEP 4
Add the jackfruit, garlic, paprika, smoked paprika, mustard powder, dried oregano, apple cider vinegar, ketchup and sriracha (if using) and stir to combine.
STEP 5
Cook for 10 minutes with a lid on and then a further 10 minutes with the lid off.
STEP 6
Whilst the jackfruit is cooking, make the tzakti. Grate the cucumber on the coarse blade and then using a muslin cloth or tea towel (you can use the same one that you used for the jackfruit) and strain out the excess liquid from the cucumber.
STEP 7
Mix together the greek yogurt, salt, minced garlic, lemon juice and grated cucumber until well combined.
STEP 8
To make the chipotle mayo, simply mix the chipotle paste, maple syrup and mayonnaise together until well combined.
STEP 9
To assemble the burgers, toast the buns and then spread the chipotle mayonnaise on one side of the bun and the tzatziki on the other. Layer the jackfruit thickly in the middle and top with the sliced red onion, gherkins and coriander.
---
By Iona Berry
Iona is our Development Chef, aka our go-to girl for developing, testing and tasting delicious dishes for you to all enjoy at home. When she's not in the kitchen, you'll find her either running or cycling, or trying out food markets and new restaurants around London. Continuous market research it would seem.
---
Let us take care of dinner
After getting creative in the kitchen, give yourself the weekend off by letting us take care of dinner. Check out our delicious meals here.