Recipes
Kale & Leek Gratin
by Iona Berry
5min read
This hearty and comforting kale and leek bake is the perfect weeknight vegan dinner. It's packed with veg and topped with a crispy breadcrumb layer for added heartiness.
This hearty and comforting kale and leek bake is the perfect weeknight vegan dinner. It's packed with veg and topped with a crispy breadcrumb layer for added heartiness. The leeks bring sweetness to the dish, while kale adds a great earthy flavour and texture. This meal is super quick to make and can be on the table within 30 minutes. Home cooked meal with minimal effort. Win win.
I first made this dish when I had a lot of stale bread leftover and wasn't sure what to do with it. I wanted to showcase a dish where you can use bread which you might not fancy for a sandwich, but is still fine to eat. I was shocked to learn that in the UK alone, we waste 900,000 tonnes of bread every year. So I've done the (unofficial...) maths and if everyone made this dish every week, then we'd basically be saving the world (well, sort of). You're welcome.
Breadcrumbs will last in the freezer for up to six months, so there really is no excuse for throwing out that prized sourdough. You can mix up the greens that you use in this dish, I've used spring greens before which work particularly well but I'd also suggest savoy cabbage. Great served with a simple green salad.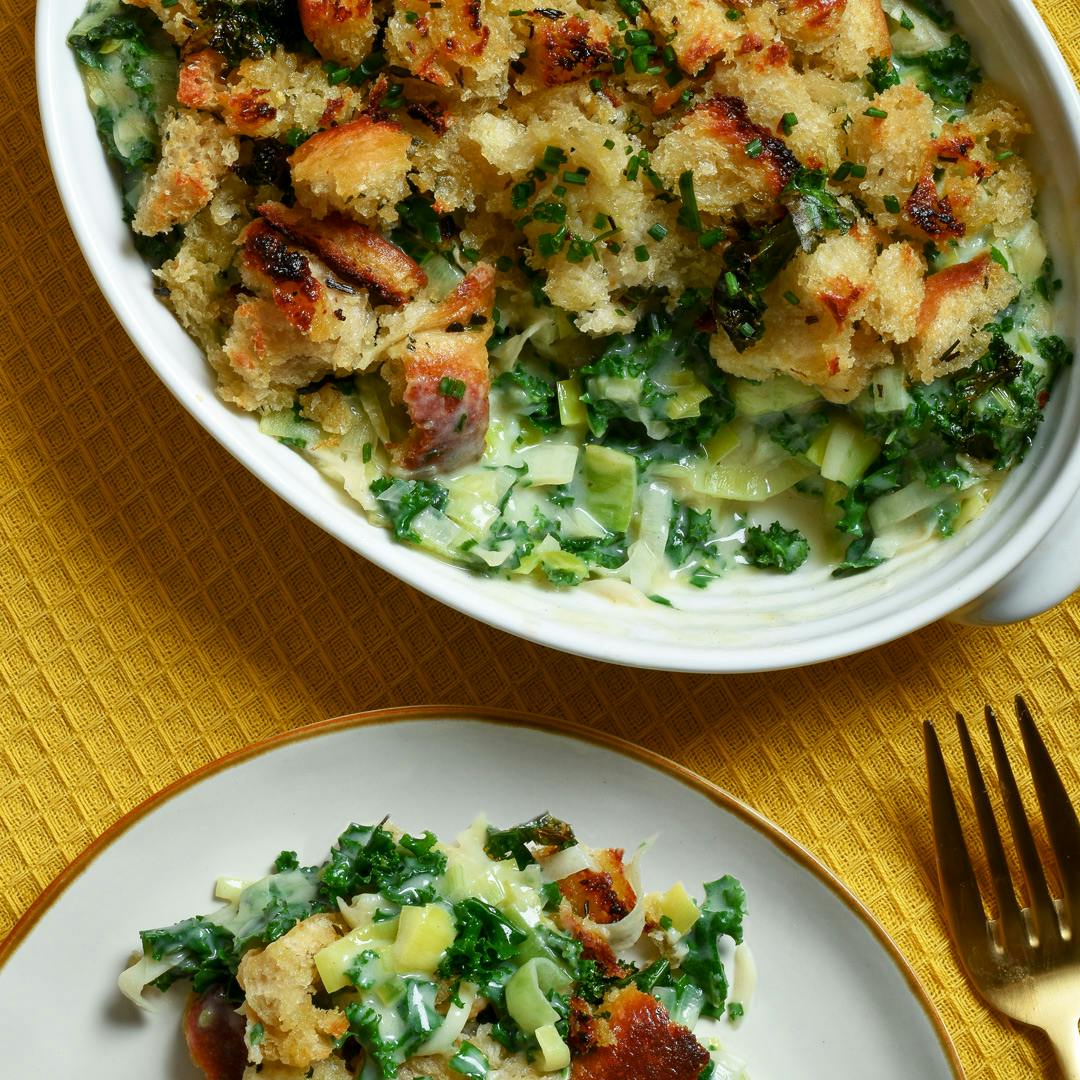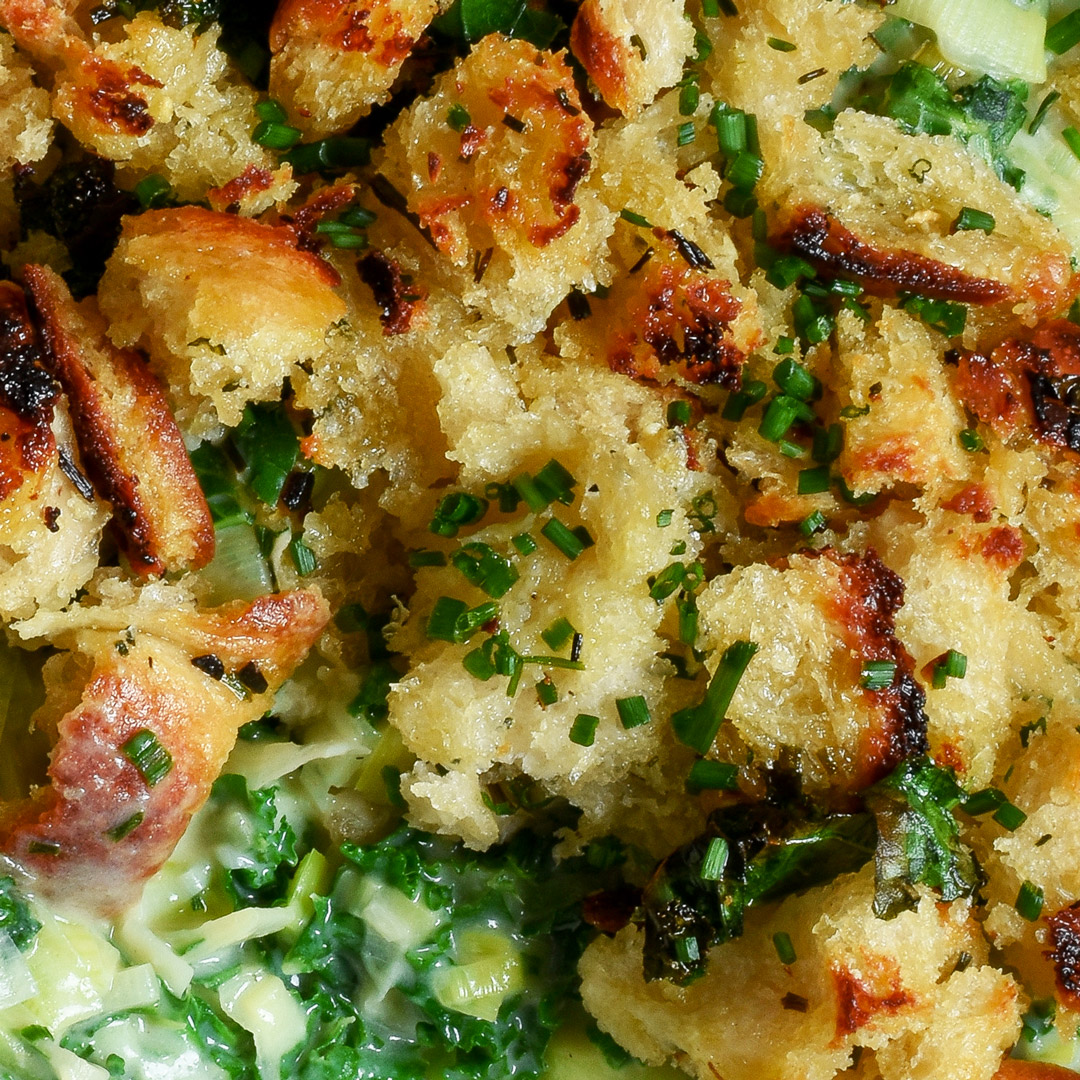 Ingredients
500ml plant based milk
300ml veg stock 
3 bay leaves
4 whole black peppercorns 
½ white onion 
A pinch of fennel seeds 
1 or cloves (you can put them into the onion)
350g sliced leeks
3 cloves of garlic 
200g kale, washed and stalks removed  
2 tbsp vegan butter
3 ½  tbsp flour 
1 tbsp dijon mustard 
1 tbsp lemon juice 
2 tbsp yeast flakes (optional)
A pinch of turmeric (optional but gives the sauce a golden colour) 
Salt
Black pepper 
A pinch of ground nutmeg 
2 tbsp extra virgin olive oil 
30g chives, finely chopped
Around 250g bread, any stale bread works here (I even used sesame seed bagels once when I needed to use them up)
Method
STEP 1
Preheat the oven to 180f/200c.
STEP 2
Place your onion, clove, fennel seeds, bay leaves, black peppercorns into a saucepan, with the soya milk and vegetable stock. Bring to the boil and then immediately take off the heat. Set aside for 10 or so minutes to infuse (if you prefer a stronger flavour you could leave this much longer or even overnight). 
STEP 3
While your milk is infusing, heat up a frying pan with the vegan butter. Add your sliced leeks and garlic and fry for 5 - 10 minutes.
STEP 4
Once the leeks have began to caramelise and soften, add in the kale. Cook for two minutes only. Take off the heat and set aside. 
STEP 5
To make your white sauce, heat the vegan butter in a saucepan. Add your flour and cook out for two minutes. Begin slowly adding your infused soya milk, stirring (or whisking) as you go. Continue this until you have used up all of your milk. Bring to the boil and then cook out for two minutes longer. Season to taste, add lemon juice, yeast flakes, grated nutmeg and dijon mustard.
STEP 6
Make your breadcrumbs by tearing the bread up into large crouton sized pieces. Preheat a frying pan with some olive oil then add your garlic and chives and cook for a couple of minutes while they infuse the oil (take care not to burn the garlic). Add your torn up pieces of bread into the pan with a pinch of salt. Cook them until they are starting to go crisp and golden. Set aside.
STEP 7
Now it's time to assemble - mix your veg with your white sauce and layer into your dish of choice. Then scatter the toasted breadcrumbs over the top. Bake for 15 minutes until the breadcrumbs are golden brown and the sauce is bubbling up around the edges. 
---
by Iona Berry
Iona is our Development Kitchen Assistant, aka our go-to girl for developing, testing and tasting delicious dishes for you to all enjoy at home. When she's not in the kitchen, you'll find her either running or cycling, or trying out food markets and new restaurants around London. Continuous market research it would seem.
---
MORE GREAT READS