Recipes
Korean Fried Cauliflower
4min read
The secret to preparing vegetables that mimic how meat acts and tastes in a recipe is pretty straight forward: just treat it like meat. What we mean by that is to just adapt and replicate the processes typically associated with cooking meats, when cooking plants. Our new series, "How to Replace Meat in Everything" explores just how to do that in an easy, unfussy and delicious way. 
Today we're talking about frying, because there's a place for baking and then there's a place for frying, and this Korean fried cauliflower is the place for it. It's crispy, it's spicy, it's saucy and some (me) might even say it's perfect. Am I exaggerating? I'm not and it's all down to a well executed fry and a delicious and addicting sauce. I'm trying to resist the urge to say finger-licking-good, but it is what it is, and these florets are just that.
Frying can be intimidating, and this recipe is here to get you over your fear (or resistance) it. Yes, you can make delicious crispy cauliflower florets in the oven, but what I've come to learn is that frying does more than create crispiness. It creates a magical light and airy surface that absorbs sauce like no other. I don't deep fry often, but when I do it's for great reason (like this recipe) and I make sure to follow a few key steps. For one, I always use a thermometer to make sure the oil is at the right temperature. I used to wing it, thinking there was nothing a thermometer could do that I couldn't tell from sight, but the reality is that a thermometer is life changing and makes all the difference between greasiness and crispiness.
The reason for that, is that if the oil isn't hot enough when the food hits it, it takes a lot longer to create a crisp exterior, resulting in too much oil being absorbed by the batter. If the oil is too hot, then the the batter crisps and burns before the centre has the chance to cook through and in this recipe, would result in uncooked tough cauliflower. It also takes a surprisingly long time for the oil to reach the right temperature, and as impatient person, not having a thermometer means I usually cut the heating time by nearly half. If you don't have a thermometer and want to make this recipe like, now, that's also ok - but buy yourself a thermometer for next time. If that's the case, my biggest tip would be to wait for the oil to heat up for around 15-20 minutes and then to drop a small piece of batter into the oil. If it bubbles rapidly and floats as soon as it hits the oil, it's ready to go.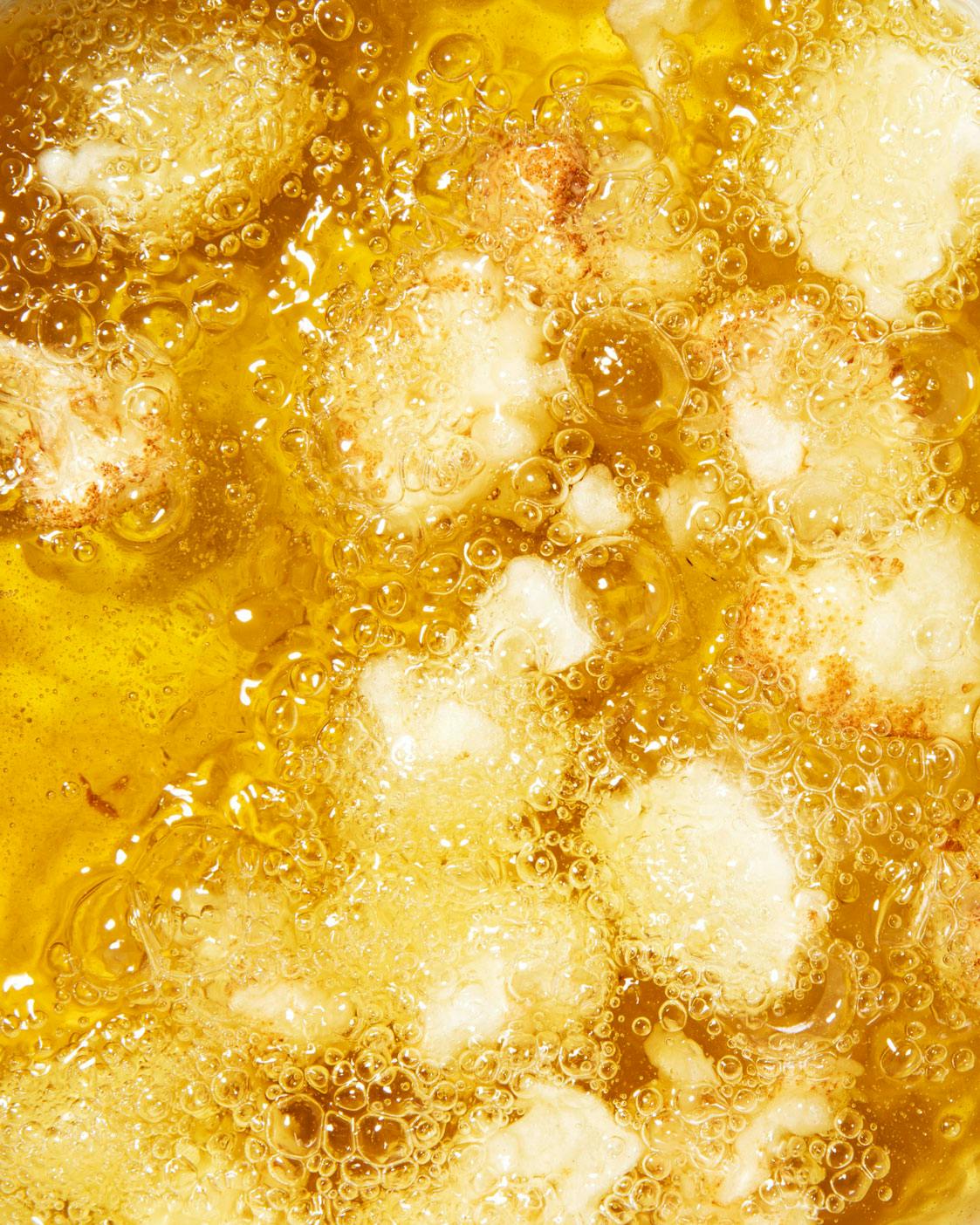 Now for the sauce - the spicy, salty, tangy, sweet sauce that makes this the most addicting food I've laid my hands on this year. The recipe calls for Gochujang, the Korean fermented red chilli paste which gives this sauce so much body and depth. When shopping for the this recipe, however, I did notice that I couldn't find it in some supermarkets, and in order to make this recipe as readily accessible as possible, I also tried this recipe with hot sauces like sriracha. The good news is that hot sauce creates an equally delicious sauce - but it needs thickening and adjusting. When making the hot sauce version, I thickened the sauce over the stove with 2 tbsp of cornstarch diluted in 3 tbsp of water. I let it reach a simmer, and then whisked it until it thickened. I also added a little extra rice wine vinegar for acidity and a tbsp more soy sauce. So, if you can go to an Asian supermarket to buy Gochujang, definitely do it, but if you can't hot sauce is the way to go.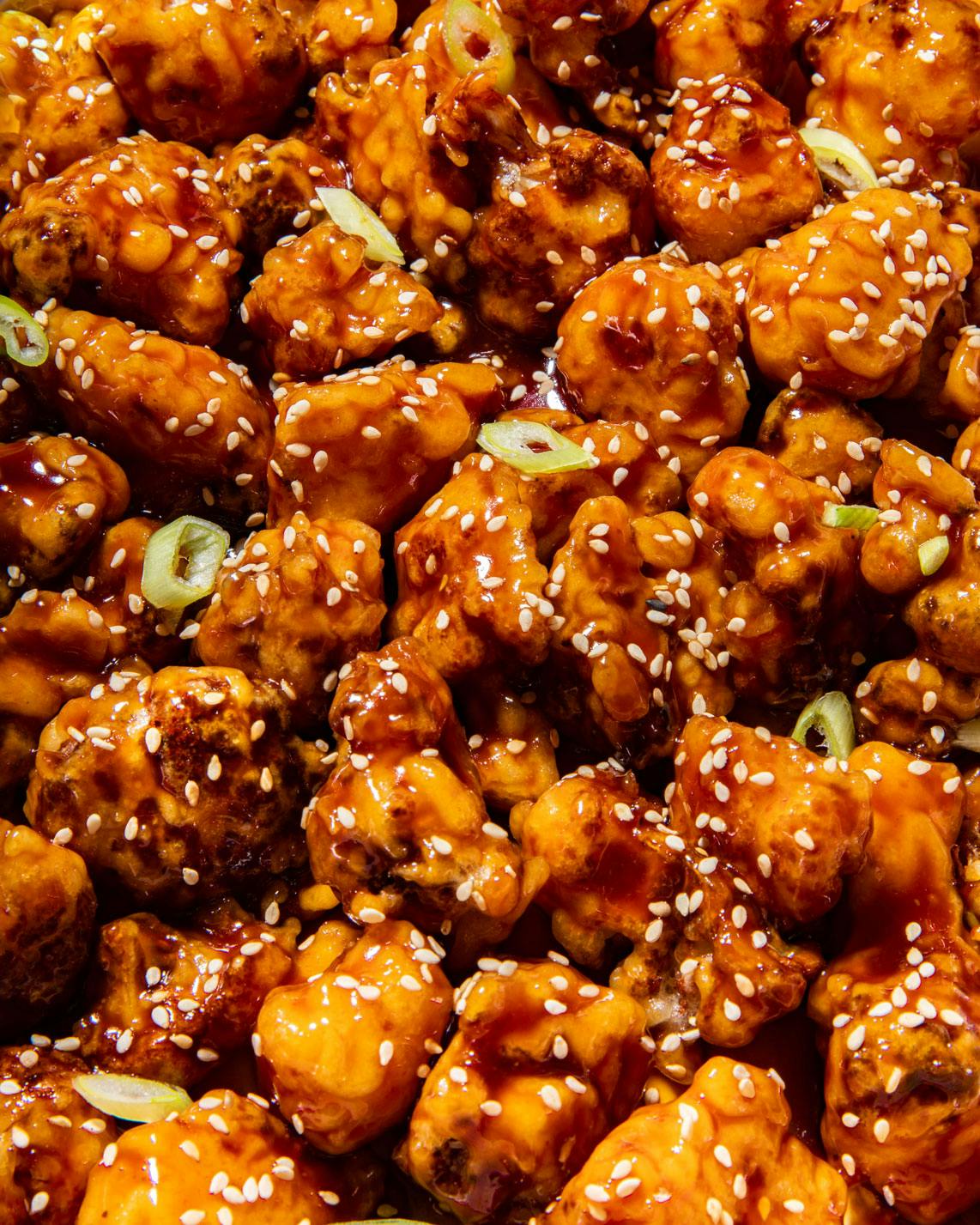 Ingredients
Cauliflower: 
500g cauliflower (one small) 
70g plain flour
90g cornstarch 
½ tsp salt 
1/2 tsp baking powder 
170ml ice water
Vegetable oil, for frying 
Sauce:
2 tbsp/45g gochujang
4 tbsp/60g soy sauce 
2 tbsp/30g rice wine vinegar
2 tbsp/26g sesame oil
20g ginger, finely grated
60g light brown sugar 
2 spring onions, finely sliced 
1 tsp cornstarch
To serve:
1 tbsp sesame seeds
1 spring onion, finely sliced 
5g fresh coriander
Method
STEP 1
Start by heating the oil. Fill a dutch oven or heavy bottomed pot with at least 7cm of vegetable oil. Over medium heat, heat the oil until it reaches 175˚C - this takes around 15-20 minutes. Next, line a large dish or tray with a few sheets of kitchen roll. 
STEP 2
In the meantime, prepare the cauliflower. Break the cauliflower apart into bite sized florets that are around 2x2cm large and set it aside.
STEP 3
Into a large bowl, add the flour, cornstarch, salt and baking powder and mix until combined. Pour in the water and whisk the mixture, until it's smooth and creamy. The batter should be thick but pourable - similar to cake batter. 
STEP 4
Transfer half of the cauliflower florets into the batter, and toss them around until they're all evenly coated. 
STEP 5
Once the oil has reached 175˚C, use a pair of tongs to transfer around 15 pieces of battered cauliflower into the oil - one at a time, shaking off any excess batter as you go. 
STEP 6
Use a slotted spoon to gently stir the frying florets of cauliflower so they don't stick to the bottom of the pot. 
STEP 7
Fry the cauliflower florets for 8-10 minutes, stirring occasionally, until they're golden. Use a slotted spoon to transfer the fried cauliflower florets onto the prepared dish or tray. Sprinkle them with salt.
STEP 8
Transfer 15 more cauliflower florets into the oil, one at a time. Repeat the frying process and transfer them to the prepared dish once golden. 
STEP 9
Add the remaining raw cauliflower to the batter, and stir to coat them. Fry the remaining cauliflower as you did the first batches, sprinkling them with salt as they come out of the oil.
STEP 10
While the cauliflower fries, prepare the sauce. In a small saucepan whisk together the gochujang, soy sauce, rice wine vinegar and sesame oil. Next, stir in the ginger and light brown sugar and whisk until combined. Last, stir in the finely sliced spring onions. Bring the sauce to a boil over medium heat, and let it simmer for 3-4 minutes.
STEP 11
In a small bowl, whisk the cornstarch and 1 tbsp of water together. Pour this into the sauce, whilst whisking constantly. Continue to whisk it for 2-3 minutes as the sauce thickens, then remove it from the heat.
STEP 12
Transfer the fried cauliflower to a bowl. Pour the sauce over, and toss it cauliflower for 1-2 minutes to evenly coat it in the sauce. Only add the sauce when you're ready to serve and eat the cauliflower, as it becomes less crispy as it sits. 
STEP 13
Serve the cauliflower topped with sesame seeds, sliced spring onions and coriander.  
---
By Valentina Concordia
Valentina is our Food Editor, who dreams up our tasty dishes and recipes for our social channels. She has loads of experience cooking up a storm in Italian kitchens, so it's no surprise she can't live without good-quality olive oil (don't come between her and her olive oil) and fresh pasta.
---
Let us take care of dinner
After getting creative in the kitchen, give yourself the weekend off by letting us take care of dinner. Check out our delicious meals here.