Recipes
Marinated Grilled Tofu
4min read
The secret to preparing vegetables that mimic how meat acts and tastes in a recipe is pretty straight forward: just treat it like meat. What we mean by that is to just adapt and replicate the processes typically associated with cooking meats, when cooking plants. Our new series, "How to Replace Meat in Everything" explores just how to do that in an easy, unfussy and delicious way. 
How to make tofu that's fresh, vibrant, and bursting with flavour? Marinate it, but not before cooking it, afterwards! The result is crispy yet juicy, reminiscent of Escabeche - the cooking process which preserves cooked proteins in acids such as red wine vinegar or lemon. 
The marinated tofu here is then tossed with tomatoes, which give this dish added layers of brightness, sweetness, and freshness. Because the tomatoes are eaten raw and dressed simply, look for a variety of good quality tomatoes and don't be afraid to mix and match, they give the dish extra vibrance. Here I went for red and orange cherry tomatoes as well as yellow beef tomatoes, but appearances can sometimes be deceiving with tomatoes - so if you're at a green grocers or farmers market, it's always a good idea to ask someone who works there what's best and sweetest.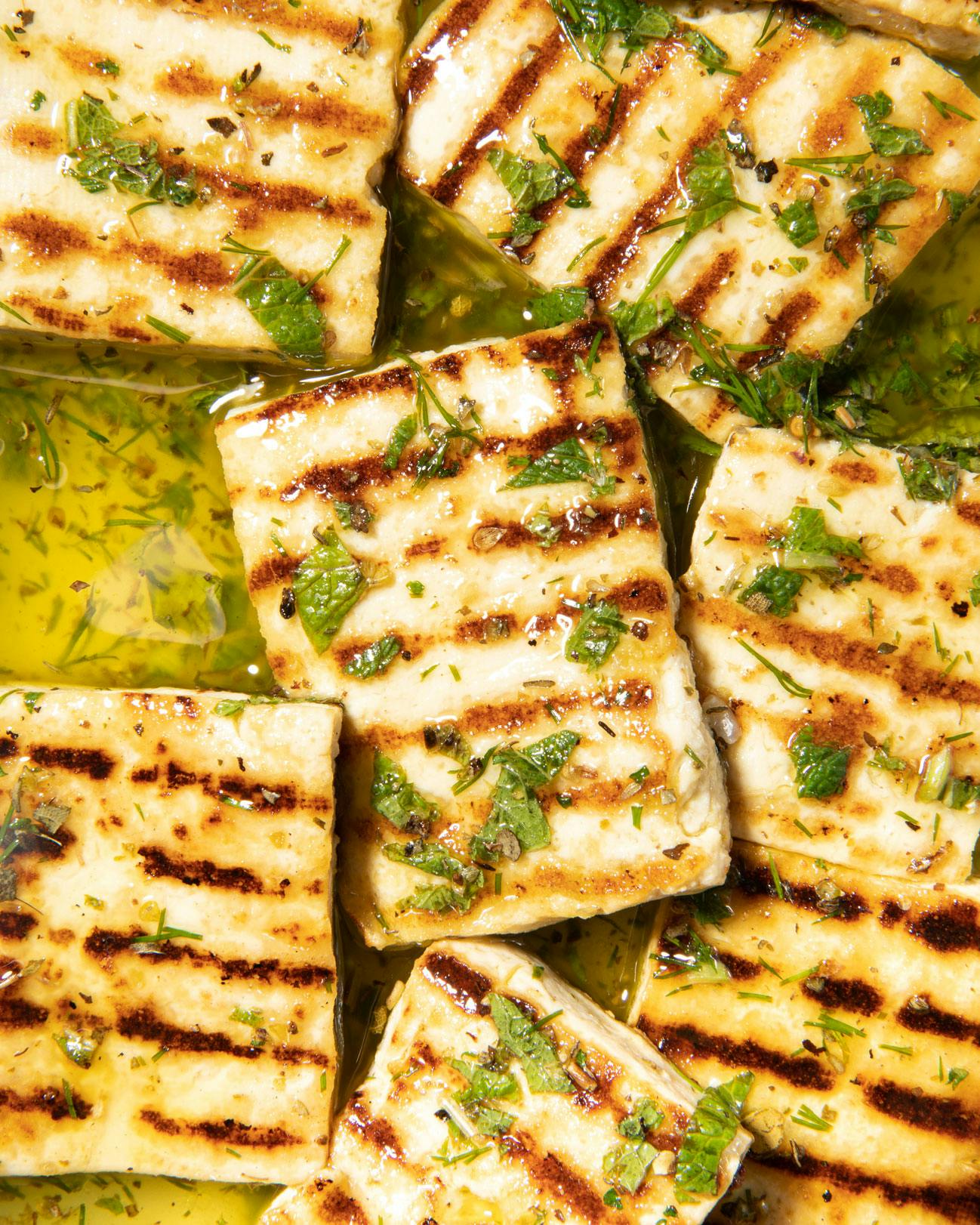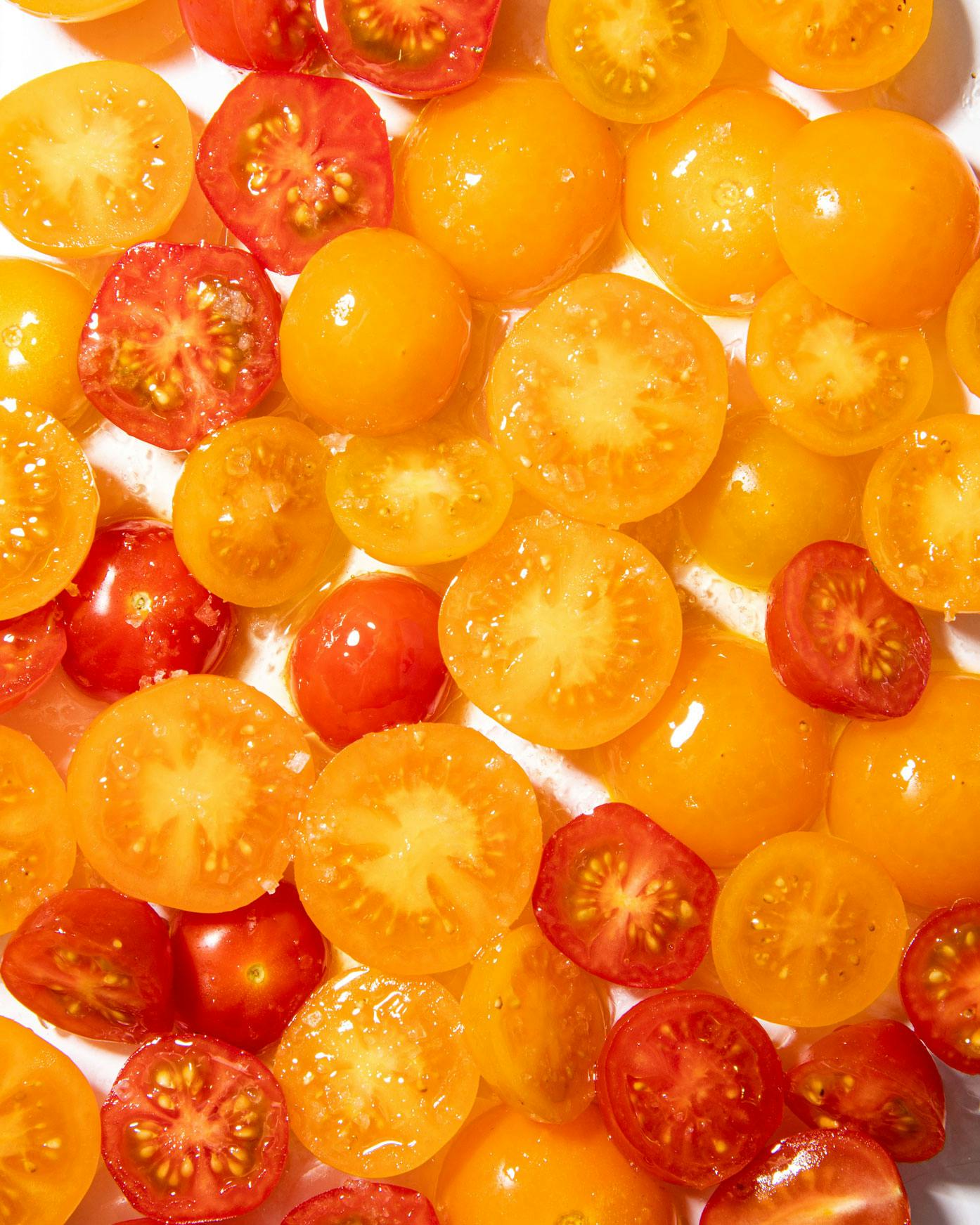 Ingredients
500g firm tofu 
60ml olive oil 
1 lemon, juiced
1 tsp sugar 
½ tsp salt 
10g parsley, finely chopped 
10g chives, finely chopped
6 leaves basil, torn apart
2 tbsp capers, finely chopped 
300g mixed tomatoes
1 lemon, to serve 
Method
STEP 1
Pat the tofu dry. Slice the tofu into roughly 6x4cm pieces which are around 1cm thick. Place the slices on a chopping board, and gently pat them dry again with a kitchen towel for 2-3 minutes. The drier the tofu is, the better it will grill and the crisper it will become. 
STEP 2
Heat a griddle pan over medium high heat and drizzle it with olive oil. Once the pan is hot, add as many slices of tofu that can fit in the pan whilst leaving a few cm between each piece. 
STEP 3
Grill the tofu, undisturbed, for 5-6 minutes. Flip the tofu and grill it on the other side for 5-6 more minutes. Transfer the tofu onto a small baking dish and repeat the grilling process with the remaining tofu. 
STEP 4
While the tofu grills, prepare the marinade. In a bowl, combine the olive oil, lemon juice, sugar and salt and whisk together. Stir in the chopped herbs, basil and capers. 
STEP 5
Once all of the tofu is grilled and in the baking dish, pour the marinade over it. Stir the slices around so they're all coated in the marinade. Let the tofu sit in the marinade for at least 20 minutes.
STEP 6
After 20 minutes, slice the tomatoes. Stir them into the marinated tofu. 
STEP 7
Serve the tofu and tomatoes with extra lemon and flaky salt. 
---
By Valentina Concordia
Valentina is our Food Editor, who dreams up our tasty dishes and recipes for our social channels. She has loads of experience cooking up a storm in Italian kitchens, so it's no surprise she can't live without good-quality olive oil (don't come between her and her olive oil) and fresh pasta.
---
Let us take care of dinner
After getting creative in the kitchen, give yourself the weekend off by letting us take care of dinner. Check out our delicious meals here.