Recipes
Mini Hasselback Potatoes
by Iona Berry
2min read
Crisp-tender, mini hasselback potatoes are the ultimate party food. These mini vegan hasselback potatoes make for easy serving and are perfect when tipped into the creamy chive dip.
Don't be put off by the way these look, they are actually incredibly easy to make and are delicious served hot or cold (for the late arrivals to the party). I also love to make hasselback potatoes for a roast dinner as they make a nice change from the classic roast potato and are sure to impress your friends and family. Feel free to add some minced garlic or fresh herbs to the oil before rubbing on the potatoes, this will give lots of flavour but I think the creamy chive dip adds plenty of flavour already. You can also make hasselback sweet potatoes which would be really delicious but not the best for finger food, but would be great served with homemade hummus and a green salad. Once you have made these and seen how easy and delicious they are, you won't look back!
Ingredients
Potatoes:
1kg baby potatoes 
30ml olive oil 
½ tsp salt
Creamy chive dip:
100ml vegan mayonnaise  
150ml vegan creme fraiche or greek style yogurt (Oatly do a great creme fraiche and Alpro do the best vegan yogurt)
¼ tsp onion salt
¼ tsp garlic granules 
10g chives, finely chopped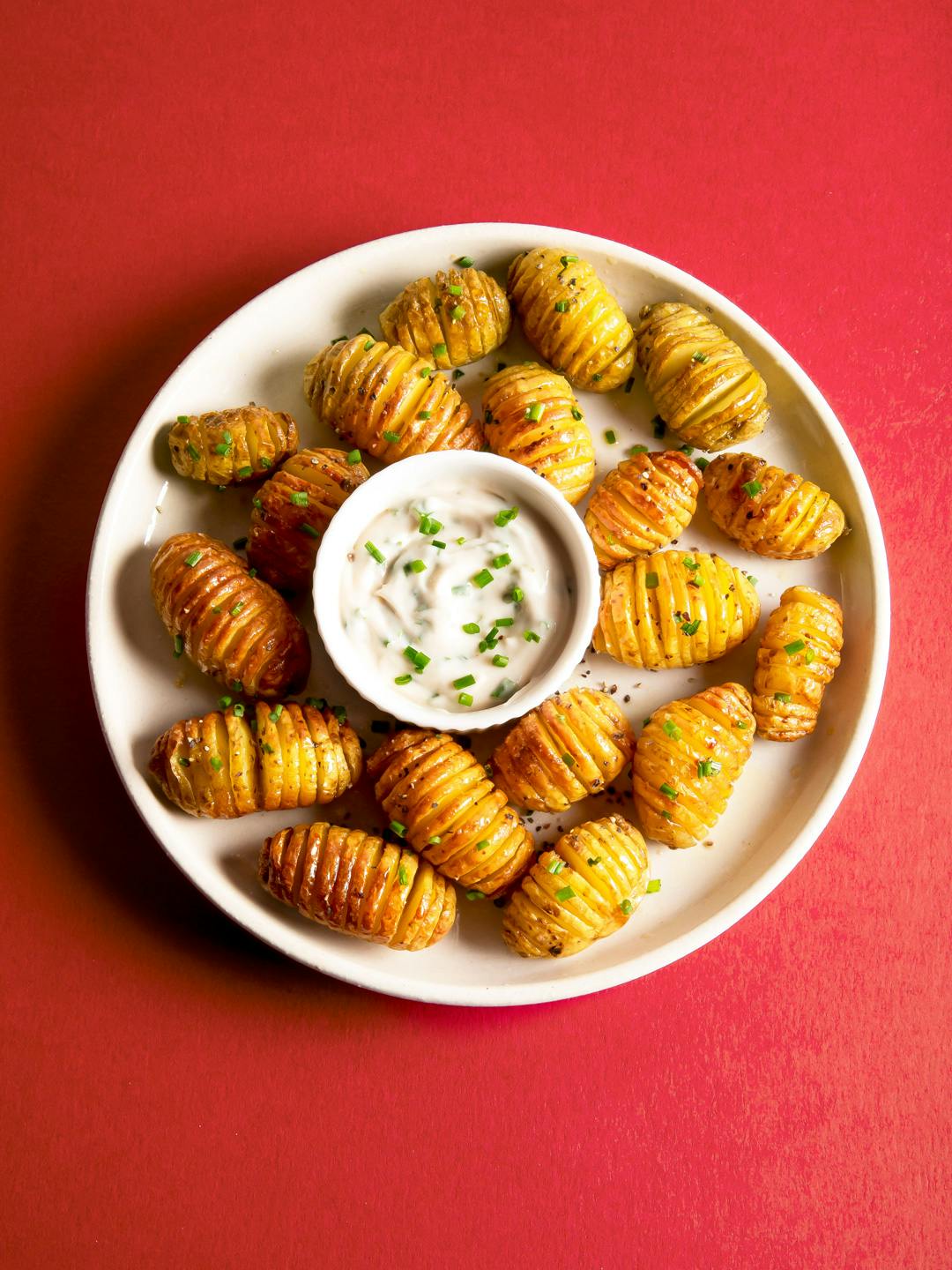 Method
STEP 1
Preheat the oven to 220C/200C fan.
STEP 2
Begin by cutting the potatoes into the hasselback shape. Using a sharp knife, take each baby potato and place it into the top part (spoon end) of a wooden spoon and being very careful, starting at the edge, cut thin slices all across the potato. You can also use two chopsticks at either end of the potatoes but I found the wooden spoon method a lot simpler.
STEP 3
Toss the prepared potatoes in a large bowl with the oil and salt. Tip out onto a baking tray and make sure all of the potatoes are cut side up (this will ensure they get crispy).
STEP 4
Cook for 40-45 minutes until they are a deep golden brown.
STEP 5
Meanwhile make the dip by simply mixing all of the ingredients together in a bowl and check for seasoning. Dish up the potatoes on a large serving platter with the dip and extra chopped chives and some freshly ground black pepper if you like.
---
By Iona Berry
Iona is our Development Chef, aka our go-to girl for developing, testing and tasting delicious dishes for you to all enjoy at home. When she's not in the kitchen, you'll find her either running or cycling, or trying out food markets and new restaurants around London. Continuous market research it would seem.
---
Let us take care of dinner
After getting creative in the kitchen, give yourself the weekend off by letting us take care of dinner. Check out our delicious meals here.