Recipes
Mushroom and Ginger Stir Fry
2min read
This gingery, citrusy and flavour packed vegan stir fry takes just one pan and under thirty minutes to pull together. It relies on (what may seem like far too much) ginger and spring onion to create a deep, flavourful, addicting pan sauce that thickens and coats every noodle as it cooks. Resist the urge to skimp on these two ingredients and you'll never look back.
When making stir fries, I like to use a combination of heartier and crisp vegetables. This one calls for mushrooms (which provide a lot of body and flavour) and bok choy (which adds lightness and texture), but you can use any left over veg or green you have on hand. Green beans, sugar snap peas, carrots, peppers, red onions are all great add-ins and have similar cooking times as the mushrooms, so you're welcome to swap them in step 2 of the recipe. If you can't get your hands on bok choy, Chinese or Savoy cabbages are great subs, as well as thick spring greens and chard.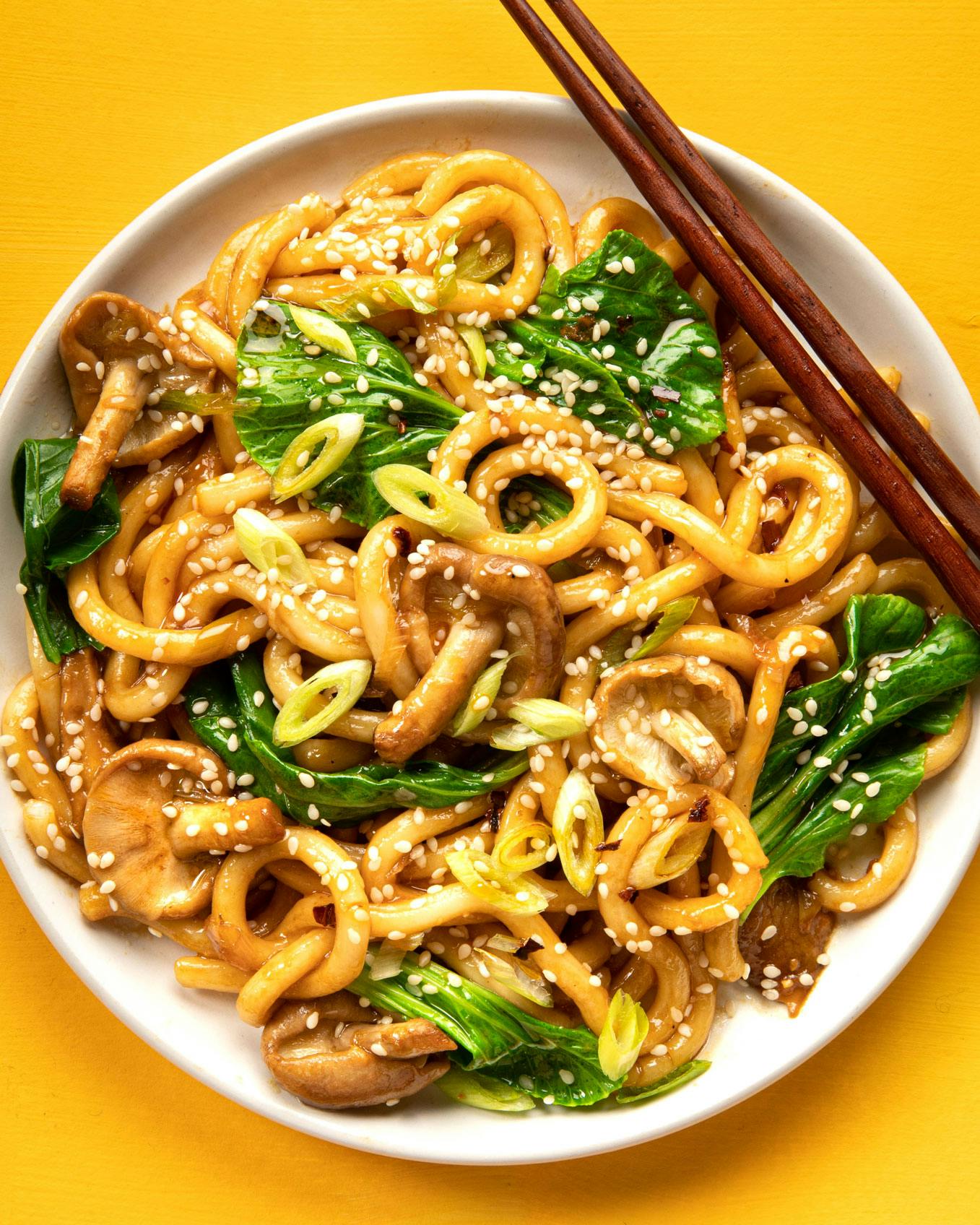 Ingredients
1 tbsp neutral oil
50g ginger, finely minced (a 7-8cm thumb of ginger)
100g spring onions, finely sliced (around one bunch)
2 cloves garlic, finely minced
200g shiitake mushrooms (or mushrooms of choice)
4 tbsp soy sauce (or tamari)
2 tbsp maple syrup 
2 limes, juiced
2 heads bok choy, sliced
300g udon noodles 
1 tbsp sesame oil
To serve: 
1 tbsp sesame seeds
1 spring onion, finely sliced
1 lime
Method
STEP 1
Heat oil in a large pan or wok over medium heat. Add the ginger and spring onions and sauté for 5-6 minutes, until starting to soften. Add the garlic and cook for 3-4 more minutes.
STEP 2
Add the mushrooms to the pan and stir to coat in oil. Let the mushrooms cook untouched for 4-5 minutes, then stir and cook for 2-3 more minutes, until crisp throughout. 
STEP 3
In a small bowl whisk together the soy sauce, maple syrup and lime juice. Add it to the pan and let it simmer for 2-3 minutes, until slightly thickened. Add the bok choy and cook down for 2-3 minutes.
STEP 4
Add the udon noodles to the pan along with 40ml warm water and stir over heat for 2-3 minutes, until the sauce is thick and glossy and coats the noodles. Stir in the sesame oil.
STEP 5
Serve the noodles topped with sesame seeds, sliced spring onion and extra lime juice. 
---
By Valentina Concordia
Valentina is our Food Editor, who dreams up our tasty dishes and recipes for our social channels. She has loads of experience cooking up a storm in Italian kitchens, so it's no surprise she can't live without good-quality olive oil (don't come between her and her olive oil) and fresh pasta.
---
Let us take care of dinner
After getting creative in the kitchen, give yourself the weekend off by letting us take care of dinner. Check out our delicious meals here.