Recipes
Potato and Sugar Snap Pea Curry
5min read
This one-pot, empty-the-fridge curry ticks all the boxes. As well as being deeply rich and warming, it's extremely versatile. By following a few simple steps and guidelines you can use this method to make a delicious curry with whatever you have on hand. 
We start out with a base of onion, garlic and ginger. We then sauté in a mix of turmeric, fenugreek, mustard seeds and curry powder. We find this is the perfect spice balance for a sweet and punchy curry, but feel free to add or sub a couple of your favourite spices for an extra kick (such as chilli). We then add our starchier veg like potatoes, winter squashes or root veg and let those simmer with coconut milk until soft. Right at the end, we add softer, quick-cooking/fresh veg like leafy greens and sugar snap peas. In the curry pictured above, we used potatoes, mushrooms, sugar snap peas and baby corn. We like to use a balance of starchier and fresher veg for heartiness and texture, but you can use whatever you have on hand.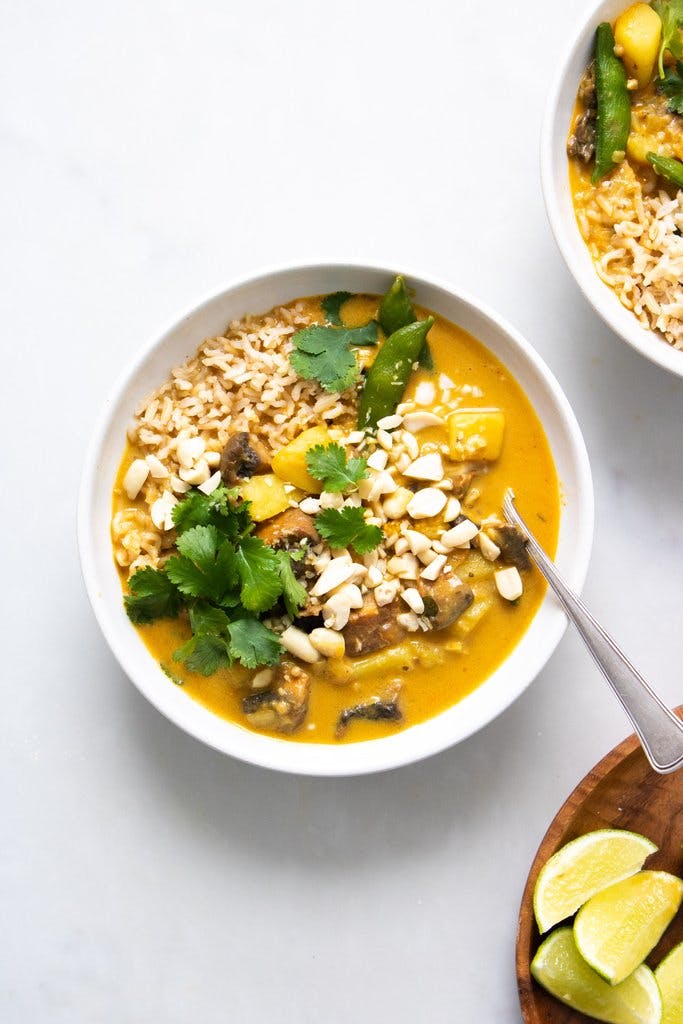 Ingredients
Curry base:
1 tbsp coconut oil
1 onion, finely chopped
2 cloves garlic, finely chopped
1 tsp ginger puree
1 tsp turmeric
1 tsp fenugreek
½ tsp mustard seeds
½ tbsp curry powder
1 tbsp tomato paste
1 tin coconut milk
1 tsp salt
Veg
We tend to use a mix of:
Starchy + long cooking veg: like potatoes, sweet potatoes, butternut squash, root veg, aubergine, courgettes etc.  Fresh + softer veg: like greens, sugar snap peas, baby corn etc.
Method
STEP 1
Heat oil in over medium heat. Add your finely chopped onion, garlic and ginger puree. Sauté for 3-4 minutes.
STEP 2
Add your spices, stir well and sauté for another 2-3 minutes. Add the tomato paste and, you guessed it, sauté for another 2-3 minutes until darker in colour.
STEP 3
Add 3 cups of starchy/longer cooking veg, along with coconut milk and salt. Add enough water to cover your veg (around 2 cups). Simmer for 25-30 minutes, until the veg is soft.
STEP 4
Add your fresh veg and simmer for a couple last minutes. Serve with rice, coriander and fresh lime.
---
By Valentina Concordia
Valentina is our Food Editor, who dreams up our tasty dishes and recipes for our social channels. She has loads of experience cooking up a storm in Italian kitchens, so it's no surprise she can't live without good-quality olive oil (don't come between her and her olive oil) and fresh pasta.
---
Let us take care of dinner
After getting creative in the kitchen, give yourself the weekend off by letting us take care of dinner. Check out our delicious meals here.