Recipes
Peanut Butter Banana Pancakes
2min read
Can't wait for a breakfast treat at home in the middle of the week? Pretend it's the weekend now and make some delicious, fluffy banana pancakes (yes, I might have been inspired by Jack Johnson). Flavoured with creamy peanut butter, dark chocolate chips and a hint of cinnamon, this plateful of cloud-like treats is served with a drizzle (or a lot) of peanut butter caramel, topped with more bananas and chocolate chips. There's definitely no need to go outside now. Enjoy!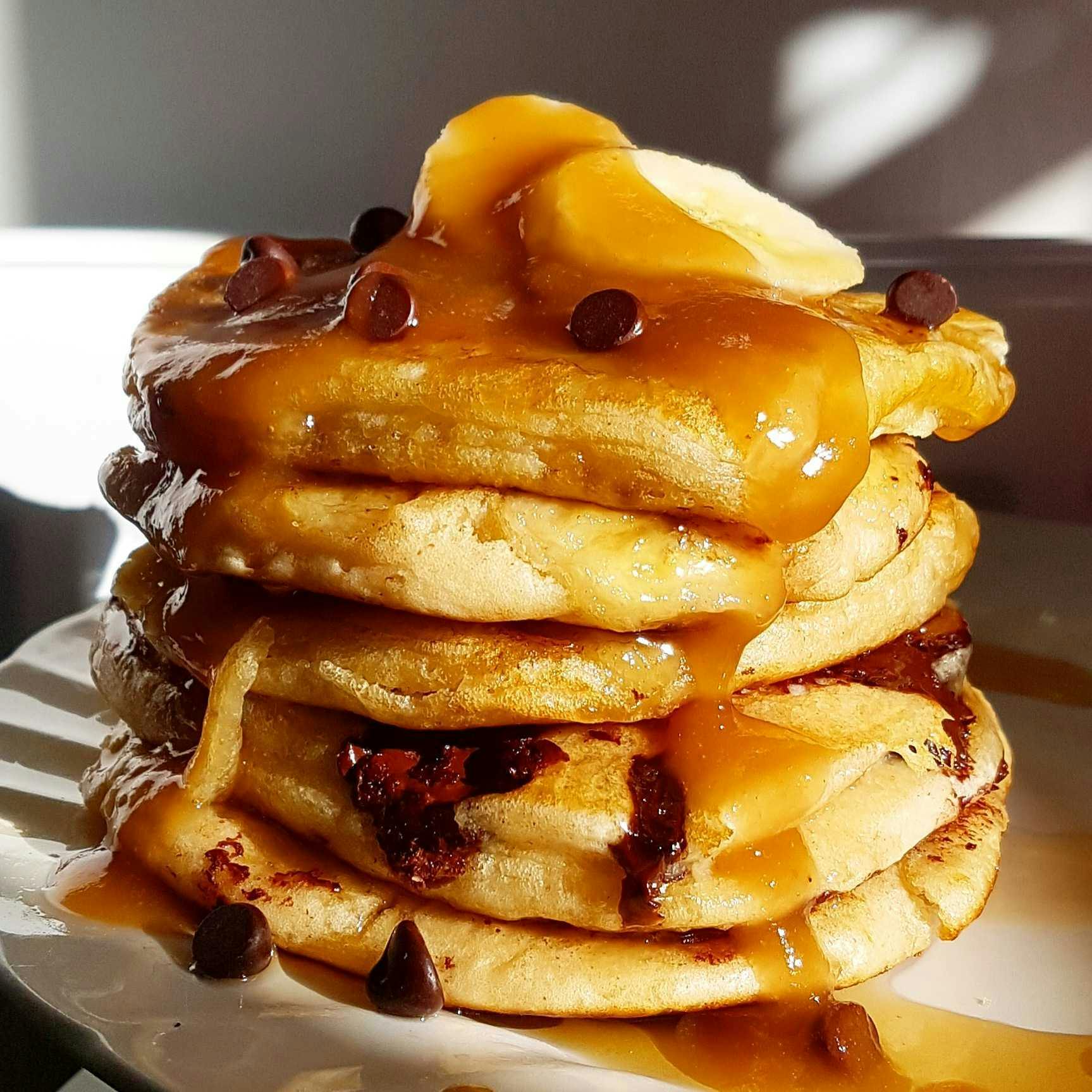 Ingredients
1 cup all purpose flour
1 cup oat milk
2 tsp baking powder
2 1/2 tbsp peanut butter
1 tbsp sugar
1 tsp sweet cinnamon powder
1tsp vanilla
butter (for cooking pancakes)
To make the Peanut Butter Caramel:
3 tbsp peanut butter
3tbsp maple syrup
5 tbsp coconut oil/ butter
pinch of salt
To Serve:
1 banana, slices
dark chocolate chips




Method
STEP 1
Make the peanut butter caramel. In a small pan, melt coconut oil (or butter) and maple syrup over low-medium heat. Once melted, take off heat and mix in peanut butter and pinch of salt. Set aside for serving.
STEP 2
To make the pancake batter, mix flour, baking powder, milk, cinnamon, vanilla, peanut butter and sugar in a large bowl. The mixture should feel thick but light and fluffy.
STEP 3
Heat some butter in a flat pan over medium heat. Using a small ladle, scoop some pancake batter onto the pan, and once it has slightly spread, add banana slices (and chocolate chips if you want them melted) onto the batter. Wait for a couple of minutes before flipping to cook the other side (you can normally tell it's done once air bubbles pop at the top surface of pancakes). Repeat steps for remaining pancake batter.
STEP 4
Serve as a stack or flat on plate, then add more banana slices and chocolate chips with a drizzle of your homemade peanut butter caramel. Enjoy!
---
By Aliza de Lima
Aliza is our Junior Creative, in between running out for copious amounts of coffee and snacks (give her a biscuit and she's your best friend). On her day off you'll find her exploring an exhibition, and having a chat over our Mac & Greens.
---
Let us take care of dinner
After getting creative in the kitchen, give yourself the weekend off by letting us take care of dinner. Check out our delicious meals here.