Recipes
Peanut Butter Chocolate Blondies
4min read
What's oozing with chunks of chocolate and peanuts, and will make your house smell like the inside of a peanut butter jar? These blondies. Snatch the recipe below.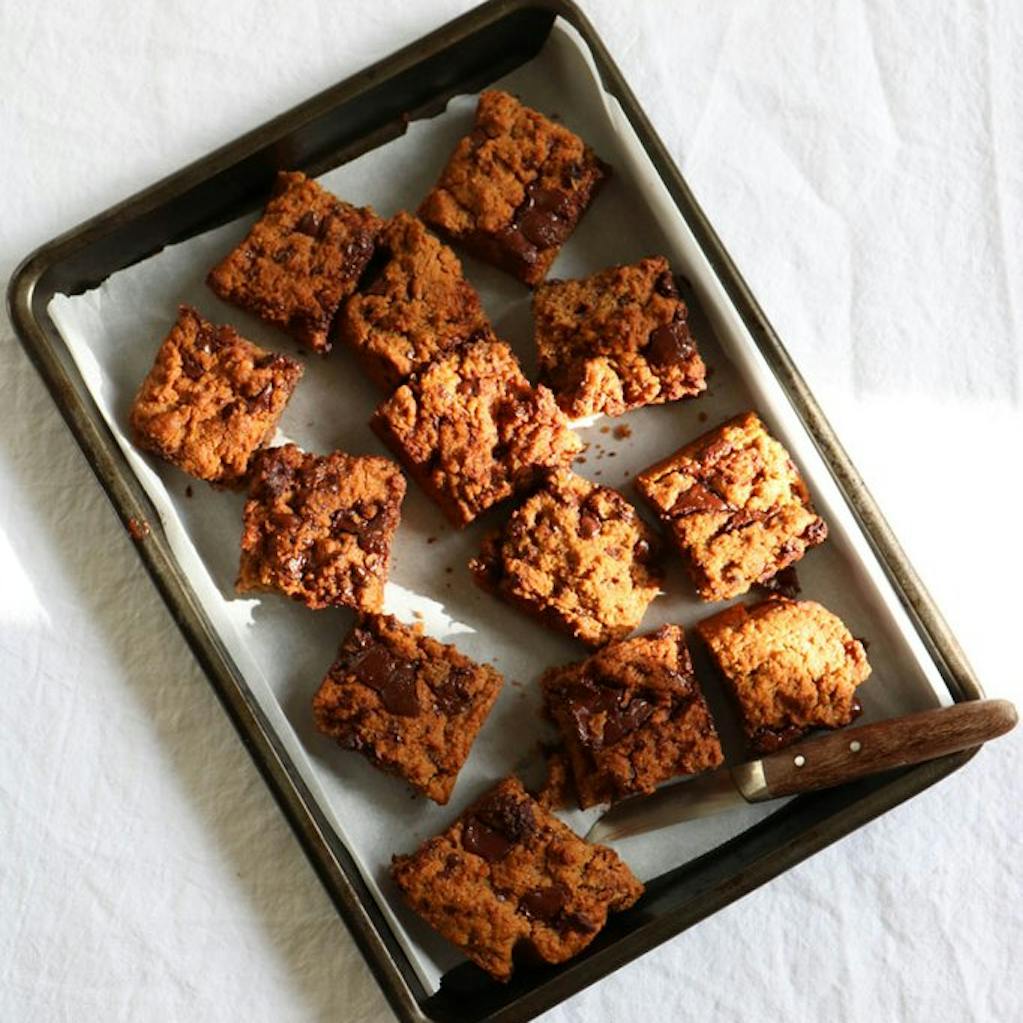 Ingredients
1 cup peanut butter
½ cup + 2 tbsp coconut sugar
1 ½  cups non-dairy milk
3 tsp vanilla extract
1 ½ cup flour (we used spelt)
½ tsp baking soda
¼ tsp salt 
¼ cinnamon
1 cup chocolate chunks
½ cup chopped peanuts (optional but recommended) 
Pinch of salt
Method
STEP 1
Preheat your oven to 175˙C and line a baking dish with parchment paper
STEP 2
Add peanut butter and coconut sugar to a bowl and mix until combined.  Add in 1 cup milk and vanilla extract. Mix until combined.
STEP 3
Add the flour, baking soda, salt and cinnamon to the wet mixture and stir to combine. Note: Depending on the type of peanut butter you're using, your mixture might require the extra ½ cup milk.  Here's what you're looking for: a thick batter which is mixable. If you're struggling to mix yours, add a couple extra tbsp of milk (up to ½ cup) until you're able to easily stir. 
STEP 4
Add the chocolate chunk and peanuts to the bowl, and stir to combine.
STEP 5
Pour the mixture into your lined baking dish and sprinkle with a pinch of salt.
STEP 6
Bake for 30-35 minutes, until a toothpick inserted into the centre of the blondies, comes out clean (but glossy).  Let the blondies cool in the baking tray for 15 minutes before cutting into them.
---
by Valentina Concordia
Valentina is our Food Creative, who dreams up our tasty dishes and recipes for our social channels. She has loads of experience cooking up a storm in Italian kitchens, so it's no surprise she can't live without good-quality olive oil (don't come between her and her olive oil) and fresh pasta.
---
MORE GREAT READS