Recipes
Peanut Butter Chocolate Chip Cookies
3min read
For the vegans out there that consider themselves 50% peanut butter already, these won't disappoint. Make it and then freeze it for the gift that keeps on giving.
I wholeheartedly believe there are fewer combos in the world better than salty and sweet treats. For this reason, peanut butter and chocolate has my heart and so do these cookies. They're nutty, sweet, a little bitter, a little salty and very much delicious. Peanut butter cookies recipes are often less chewy and more crumbly (and these are also delightfully more-ish) but chewy, soft cookies are definitely my go-to and figured adding my favourite flavours to the mix would only make it better. Enjoy with a coffee for the ultimate mid-afternoon work snack.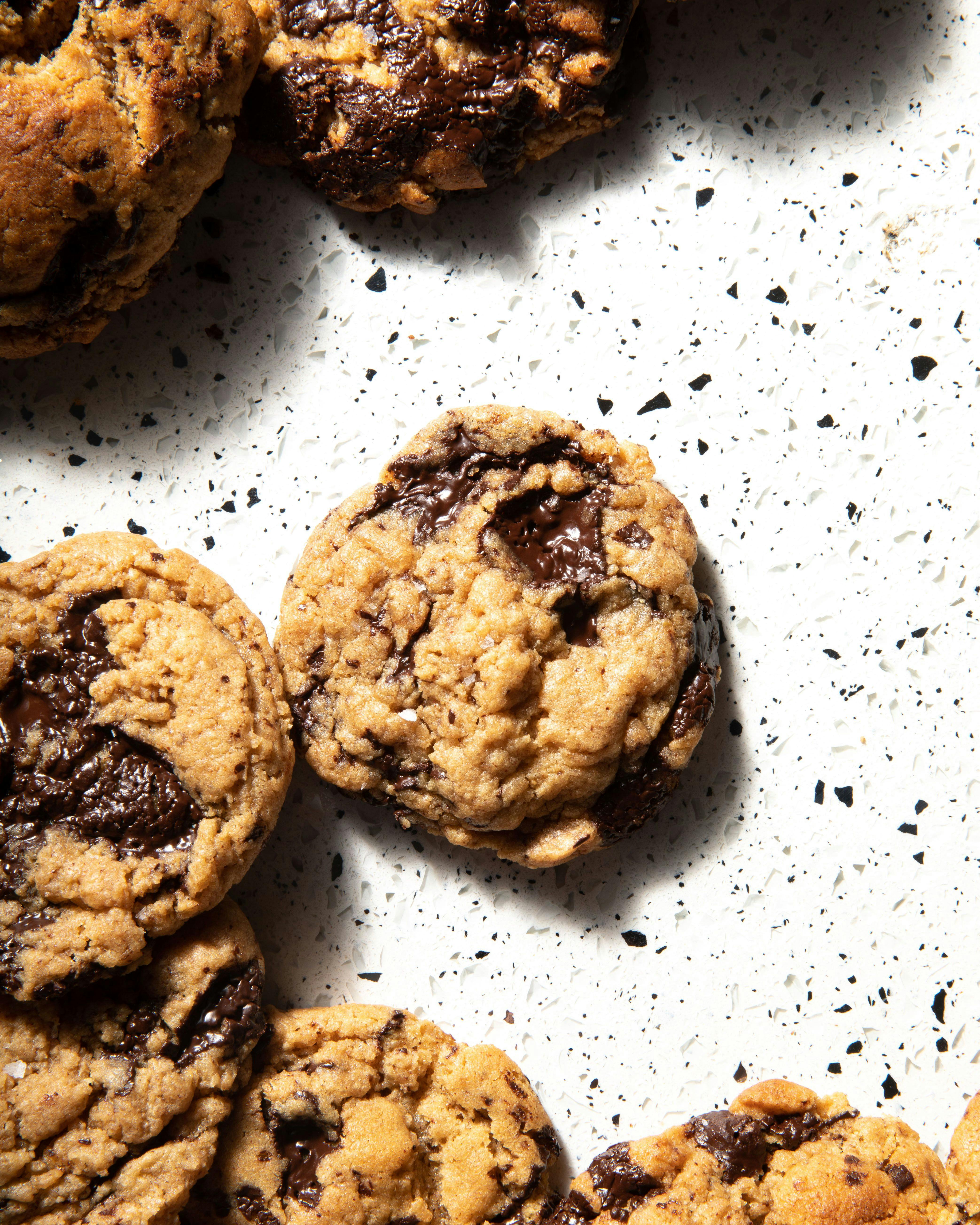 Prep Time
15 minutes + chilling time
Ingredients
200g plain flour
100g vegan butter (I used Vitalite)
200g peanut butter
125g light brown sugar
75g caster sugar
1/2 tsp salt
1 tbsp ground flax
Big splash of high-fat plant milk (I used Oatly Whole)
1 1/2 tsps vanilla extract
1 tsp baking powder
125g dark chocolate
Method
STEP 1
Start by making your flax egg. Add 1 tablespoon of ground flax seeds to a bowl with 2 tablespoons of water and leave to set in the fridge for 10 minutes until thick.
STEP 2
Meanwhile, add your room-temperature butter with the peanut butter, vanilla essence, vegan milk, caster sugar and brown sugar into a mixing bowl and mix with an electric mixer until fluffy. You should beat the mixture for around 5 minutes so it's nice and light.
STEP 3
When the flax has thickened, add it to the butter mixture and stir until well combined.
STEP 4
In another bowl, combine the flour, baking powder and salt and mix. Add this to the wet mixture, taking care not to over-mix by gently folding it together.
STEP 5
Chop up your dark chocolate and add to the mixture, again taking care to make sure the chunks are evenly dispersed without over-mixing. Use a spoon to form balls of the cookie dough and add to a tray. Leave these to chill either in the fridge or freezer for at least 2 hours.
STEP 6
Pre-heat your oven to 180˚C and place the cookies on a baking tray lined with parchment paper. Bake for 12-15 minutes until golden brown and leave to cool so the cookies can harden. Top with some flaky salt and enjoy!
---
By Toni Olukiran
Toni is one of our lovely Content Marketing Assistants, and when she's not writing posts about everything from Jamaican cooking to vegan champagne, she's making a Spotify playlist (she was at 200, at her last count) or playing tennis in the park.
---
Let us take care of dinner
After getting creative in the kitchen, give yourself the weekend off by letting us take care of dinner. Check out our delicious meals here.