Recipes
Raspberry & Tahini "Ombré" Pancakes
4min read
Tart, fresh raspberries, sweet maple syrup, and savoury liquid gold (aka tahini) marry together perfectly in this pretty-in-pink stack of pancakes. If you haven't yet tried tahini in a sweet recipe then this recipe is your sign to discover how wonderful it is. Being liberal with pancake toppings: recommended. Being a fancy pants and making an ombré effect: optional.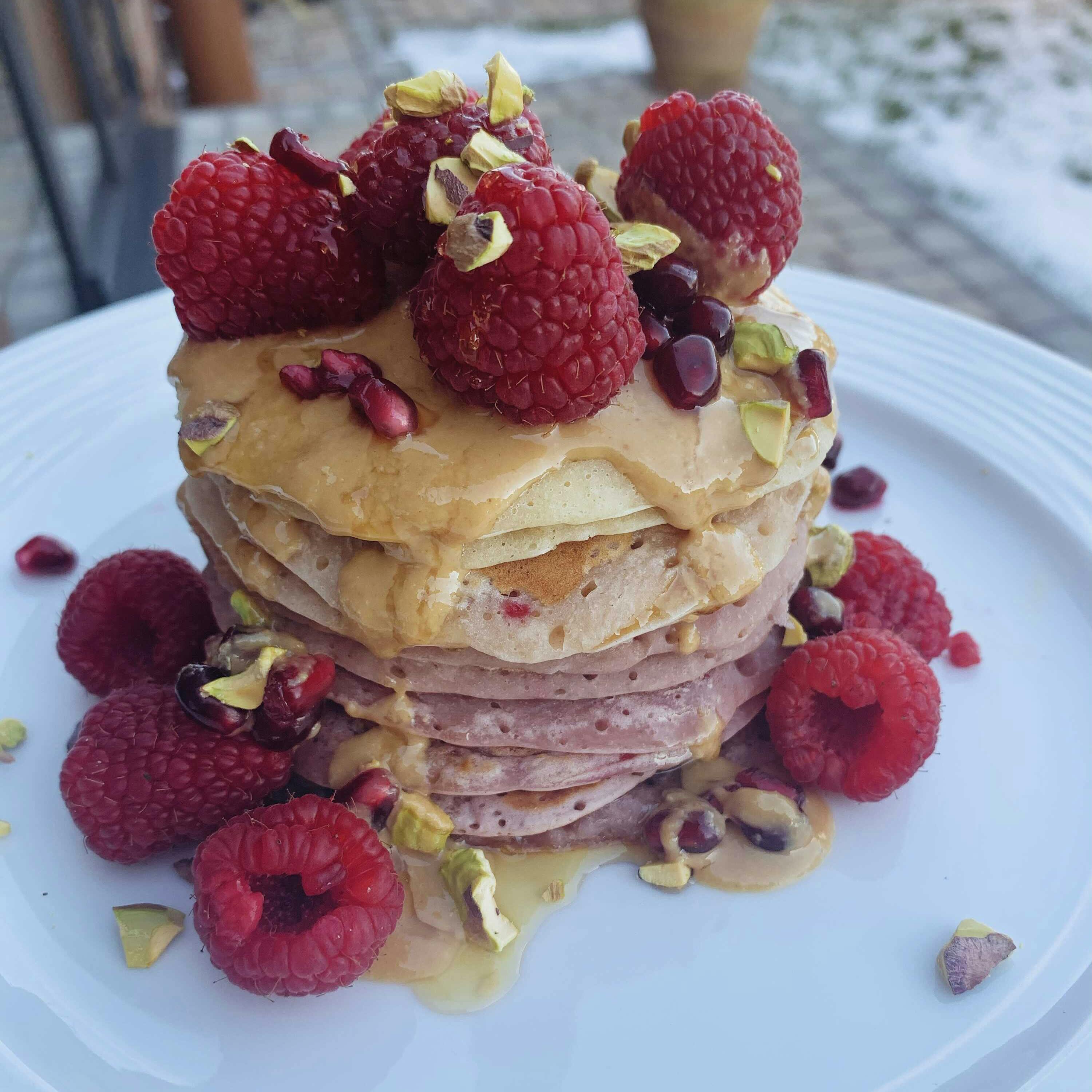 A close-up shot.
Ingredients
Pancakes:
125g plain flour
2 tbsp caster sugar
1/2 tbsp baking powder
250ml plant based milk (soy is best!)
1 tbsp apple cider vinegar
1 tsp vanilla extract
80g frozen raspberries (optional - for ombre effect)
butter to grease the pan (optional)
To serve: 
30g tahini
100g fresh raspberries
30g maple syrup (or other liquid sweetener)
Pomegranate seeds (optional)
Crushed pistachios (optional)

Method
STEP 1
In a bowl combine the flour, sugar, and baking powder and whisk together. In a large jug whisk together the plant-based milk, apple cider vinegar, and vanilla - leave to rest for two minutes.
STEP 2
In the meantime, if you are wanting to ombre your pancakes, microwave the frozen raspberries in a small bowl at medium heat for 30 second intervals (stirring in between) until they are completely melted. You should end up with a sauce-like consistency.
STEP 3
Returning to the batter, pour the dry mixture into the jug of wet ingredients and whisk until just combined. Leave to rest for 5 minutes.
STEP 4
Heat up your non-stick pan on medium heat. Then grease lightly with some plant-based butter. On one side of the pan pour a small amount of batter (approx 4tbsp) and repeat on the other side. Use the back of a spoon to lightly spread the batter out until it's 0.5cm thick.
STEP 5
Once bubbles start to form on the top of your pancakes, and they look dry at the edges, flip them over to cook on the other side.
You want to flip them as early as possible so they are not too cooked through that they can't rise sufficiently.
STEP 6
If you want to ombre your pancakes. Whilst your pancakes are cooking, take your microwaved frozen raspberries and pour 1/3 into the jug of batter. Stir until just combined.
STEP 7
Once your pancakes are cooked on the second side, place them on a non-stick baking tray and into the oven at super low heat (50˚c or 40˚c with fan) to stay warm.
STEP 8
Repeat steps 4 to 7 until you run out of batter. For those of you ombré-ing your pancakes, add 1/3 of your frozen raspberries between each two pancakes to gradually increase the intensity of the pink colour.
STEP 9
Remove your pancakes from the oven and stack them between two plates. Drizzle generously with tahini and maple syrup, and top with fresh raspberries, pomegranate, and crushed pistachios.
Enjoy!
---
By Valentina Concordia
Valentina is our Food Editor, who dreams up our tasty dishes and recipes for our social channels. She has loads of experience cooking up a storm in Italian kitchens, so it's no surprise she can't live without good-quality olive oil (don't come between her and her olive oil) and fresh pasta.
---
Let us take care of dinner
After getting creative in the kitchen, give yourself the weekend off by letting us take care of dinner. Check out our delicious meals here.