Recipes
Red Wine Braised Mushrooms
4min read
The secret to preparing vegetables that mimic how meat acts and tastes in a recipe is pretty straight forward: just treat it like meat. What we mean by that is to just adapt and replicate the processes typically associated with cooking meats, when cooking plants. Our new series, "How to Replace Meat in Everything" explores just how to do that in an easy, unfussy and delicious way. 
This recipe for red wine braised mushrooms is here for you when you're in desperate need of warmth, heartiness and flavour. It's reminiscent of a deeply-flavoured ragout and takes less than an hour to pull together thanks to braising - which helps develops layers of flavour in no time.
You might remember my love for braising from our Sweet and Sour Pumpkin recipe, which is basically a braising-apprecation letter. If you missed it, here's a recap. It's an easy, quick and approachable way of creating layers of flavour and texture - by searing (and therefore slightly caramelising) the exterior of a vegetable, before cooking it through in a flavourful liquid. The easy process results in tender and deeply savoury vegetables that become buttery and silky in texture, in under an hour. This recipe uses mushrooms which, once crisped and cooked in tomato, red wine and vegetable stock, mimic the richness and depth of meat-based ragout. I like to use a combination of portobello and oyster mushrooms, as I find they add texture and complexity to the dish, but you can also use shiitake or king oyster - just make sure you shred (if using kind oyster) or slice them (if using shiitake) thinly.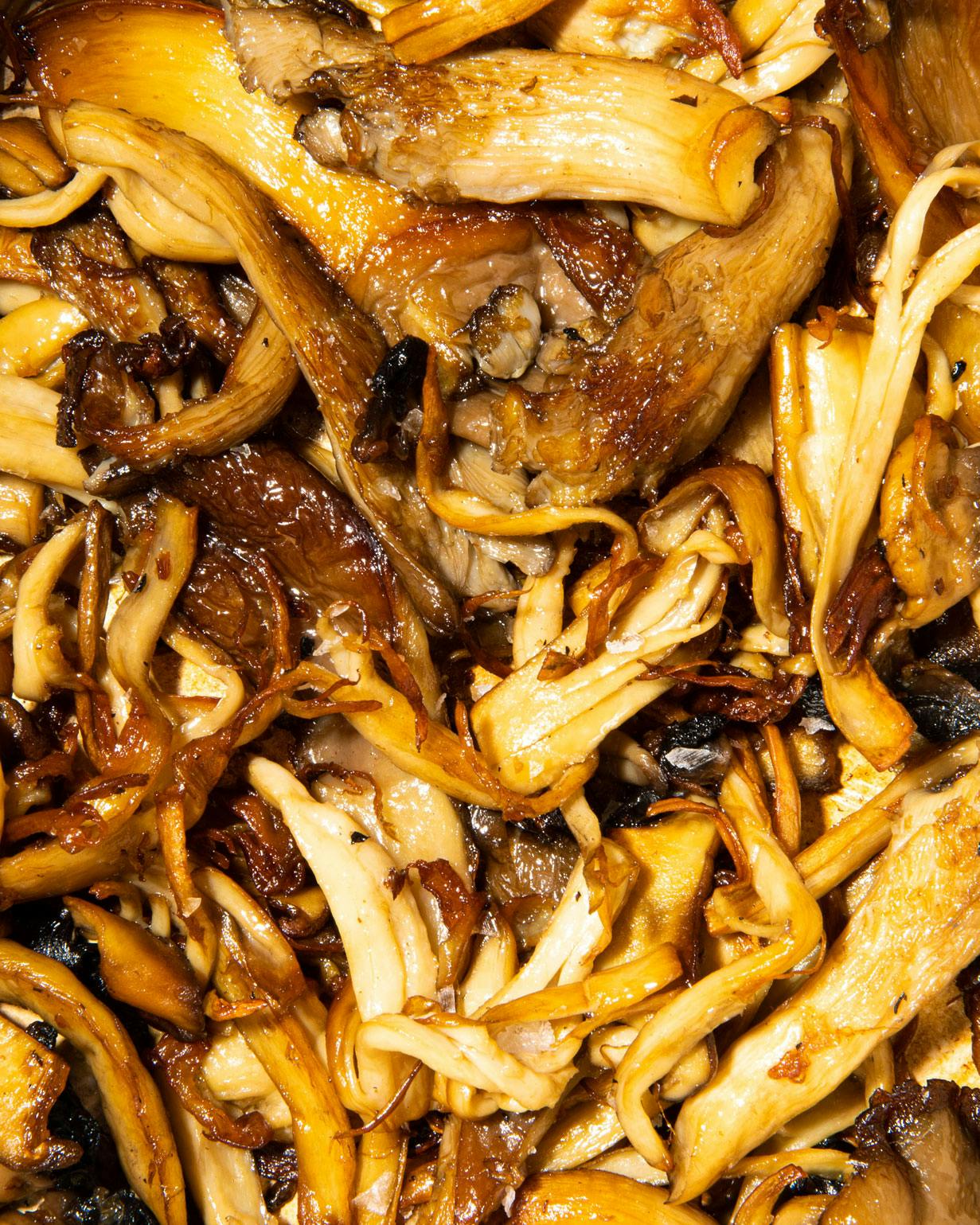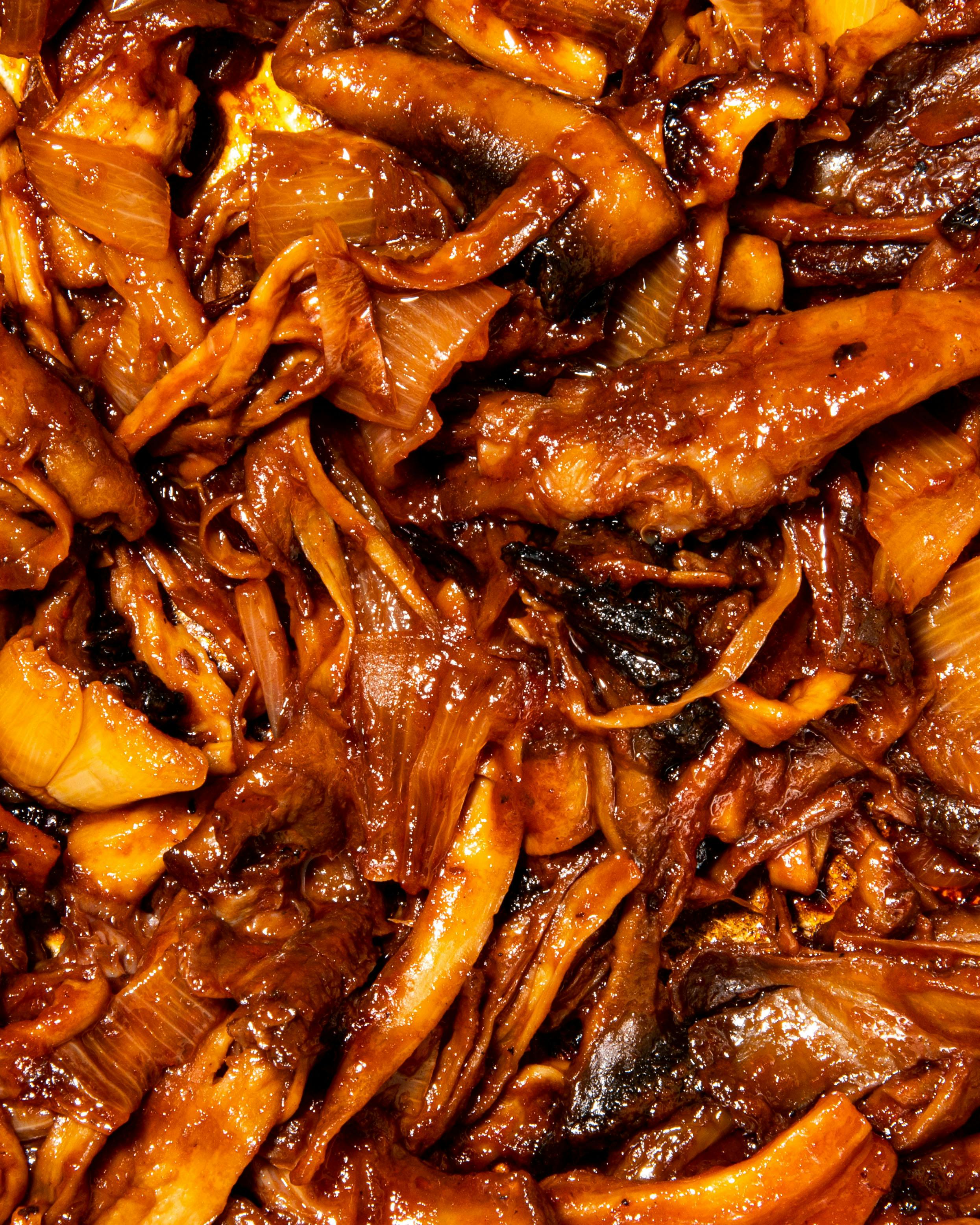 Ingredients
Mushrooms:
200g portobello mushrooms
200g oyster mushrooms  
2 tbsp + 1 tbsp olive oil, separated 
½ tsp salt 
2 shallots, finely sliced
2 cloves garlic, smashed
50g tomato paste
60g red wine 
200ml vegetable stock 
1 bay leaf 
⅛ tsp freshly ground black pepper
To serve:
10g chives, finely sliced
Plant based parmesan, optional
Mashed potatoes, polenta or crusty bread
Method
STEP 1
Start by preparing the mushrooms. Finely slice the portobello mushrooms and set them aside. Next, use your hands to pull the oyster mushrooms apart into shreds. 
STEP 2
Heat 2 tbsp of olive oil in a large heavy set pot over medium heat. Add the mushrooms to the pot and stir to coat them in the oil. Let the mushrooms cook undisturbed, for 6-7 minutes, until golden brown on the heat-facing side. 
STEP 3
Stir the mushrooms, then let them cook for 5-6 more minutes, undisturbed, until crisp and golden brown in most places. Stir in ¼ tsp salt, then transfer the mushrooms into a bowl. Set them aside. 
STEP 4
Add the remaining tbsp oil to the pot and heat over medium heat. Add the finely sliced shallots, and sauté them for 7-8 minutes, until soft. Add the smashed cloves of garlic and continue sautéeing for 4-5 more minutes. 
STEP 5
Add the cooked mushrooms back into the pot, and stir to coat them in the shallots. Stir in the tomato paste and cook it for 2-3 minutes - until it darkens in colour and starts sticking to the bottom of the pot.
STEP 6
Add the wine and stir to deglaze the pot. Cook the wine down for 2-3 minutes, then add the vegetable stock, ¼ tsp salt and the bay leaf. 
STEP 7
Lower the heat to medium low and simmer the mushrooms in the stock for 12-15 minutes - until the liquid has reduced and created a thick sauce. 
STEP 8
Add the black pepper, then taste for seasoning and adjust to taste. Cover the pot and let the braised mushrooms sit for 5-10 minutes before serving. Remove the bay leaf and the cloves of garlic. 
STEP 9
Serve the mushrooms with mashed potatoes, polenta or toasted bread, and top them with chopped chives and parmesan.
---
By Valentina Concordia
Valentina is our Food Editor, who dreams up our tasty dishes and recipes for our social channels. She has loads of experience cooking up a storm in Italian kitchens, so it's no surprise she can't live without good-quality olive oil (don't come between her and her olive oil) and fresh pasta.
---
Let us take care of dinner
After getting creative in the kitchen, give yourself the weekend off by letting us take care of dinner. Check out our delicious meals here.
Shop now