Recipes
Roasted Pepper & Olive Pasta Salad
by Iona Berry
2min read
This salad is fresh and colourful and incredibly easy to prepare. Once you have tried this combination of flavours, you will be tempted to make this again and again. This chickpea pasta salad is healthy and delicious in equal parts and can be on the table in 20 minutes so no need not to give it a go.
This salad recipe is easily adaptable to suit your tastes, so if you are not a fan of peppers, then you could use some roasted courgette or aubergine which would be really delicious. I also like to use capers if I don't have any olives in the cupboard as they add saltiness to the salad. You can also change the fresh herbs in the salad. In the past I have used dill and chives which are lovely and work really well with the other flavours. You also don't need to use chickpea pasta but I like the fact it adds extra protein to the dish and makes it a more balanced meal, however you could use a regular white or spelt pasta and mix through a can of chickpeas instead. Take this to your next picnic or use it for the speediest week day lunch. 
Ingredients
Dressing:
1 large clove of garlic, minced
1/2 tsp salt
3 tbsp extra virgin olive oil 
1 tbsp red wine vinegar 
½ tsp chilli flakes (optional)
Salad:
30g fresh flat leaf parsley, roughly chopped
30g fresh basil, roughly chopped
200g roasted red peppers, finely sliced 
150g green olives
100g black olives
200g cherry tomatoes, halved 
300g chickpea pasta (I used a fresh fusilli chickpea pasta from Dell Ugo)
50g walnuts, roughly chopped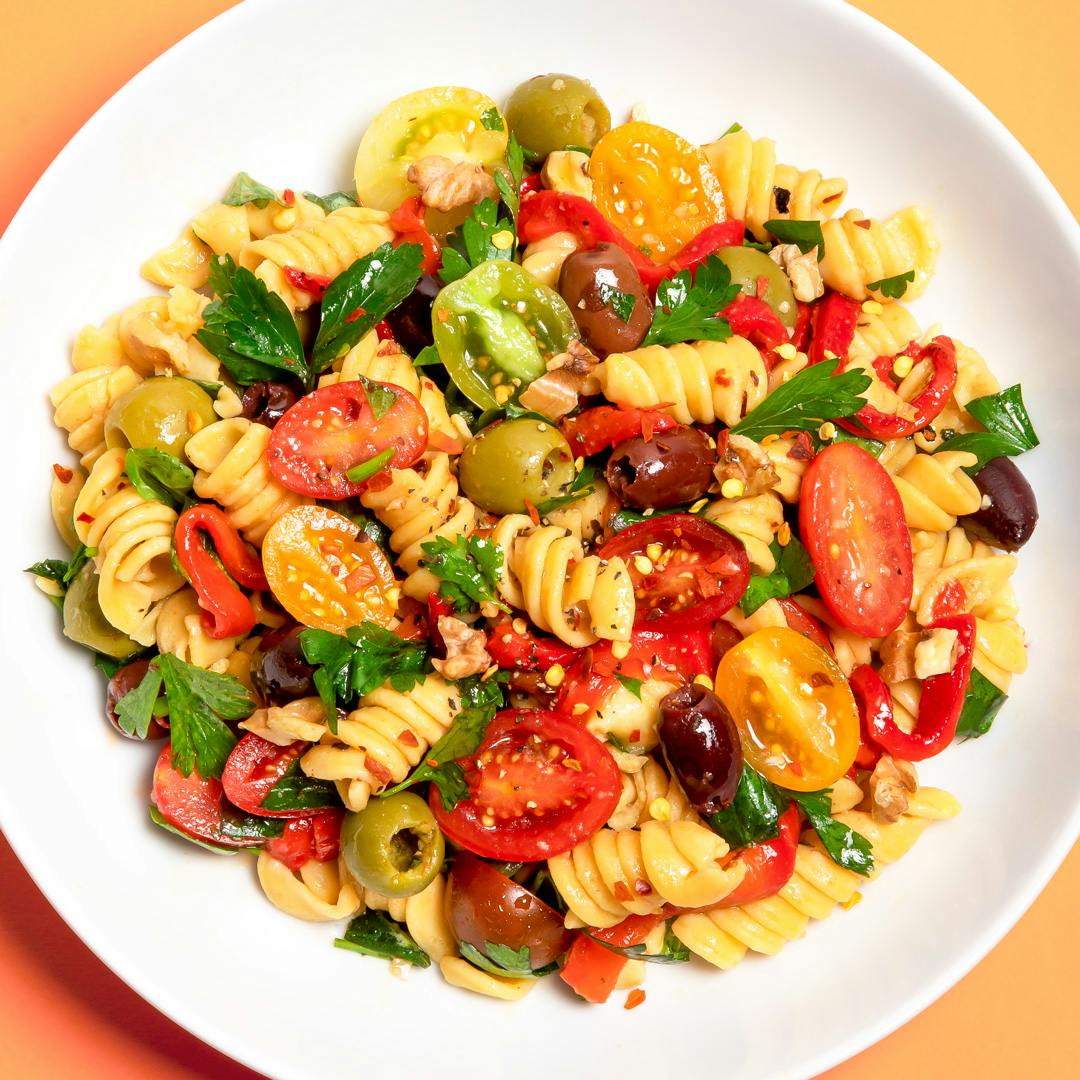 Method
STEP 1
Begin by toasting the walnuts. Heat a small frying pan on a medium heat and add the walnuts. Keep stirring regularly for 5 minutes until they are toasted and then set aside.
STEP 2
To make the dressing, add the minced garlic, salt, extra virgin olive oil, red wine vinegar and chilli flakes (if using) to a bowl and whisk thoroughly to combine.
STEP 3
Cook the chickpea pasta according to the package instructions, mine was a fresh variety so it only took a couple of minutes to cook. Leave the pasta to cool (you can also serve this hot and it is still delicious).
STEP 4
In a large bowl, combine the dressing with the cooked pasta and then mix through the olives, red pepper slices, cherry tomatoes, parsley and basil until well combined.
STEP 5
Serve up with the toasted walnuts sprinkled on top, extra parsley and basil sprigs and some extra chilli flakes.
---
By Iona Berry
Iona is our Development Chef, aka our go-to girl for developing, testing and tasting delicious dishes for you to all enjoy at home. When she's not in the kitchen, you'll find her either running or cycling, or trying out food markets and new restaurants around London. Continuous market research it would seem.
---
Let us take care of dinner
After getting creative in the kitchen, give yourself the weekend off by letting us take care of dinner. Check out our delicious meals here.