Recipes
Roasted Pumpkin Flatbreads
4min read
These easy vegan yoghurt flatbreads, don't require any yeast or rising time, come together in under 30 minutes, and make for a filling and satisfying lunch or dinner when topped with a dip or salad. These are topped with vibrant and delicious roasted pumpkin and chickpea salad, which can also be eaten on its own or with store bought flatbreads if you're in a rush.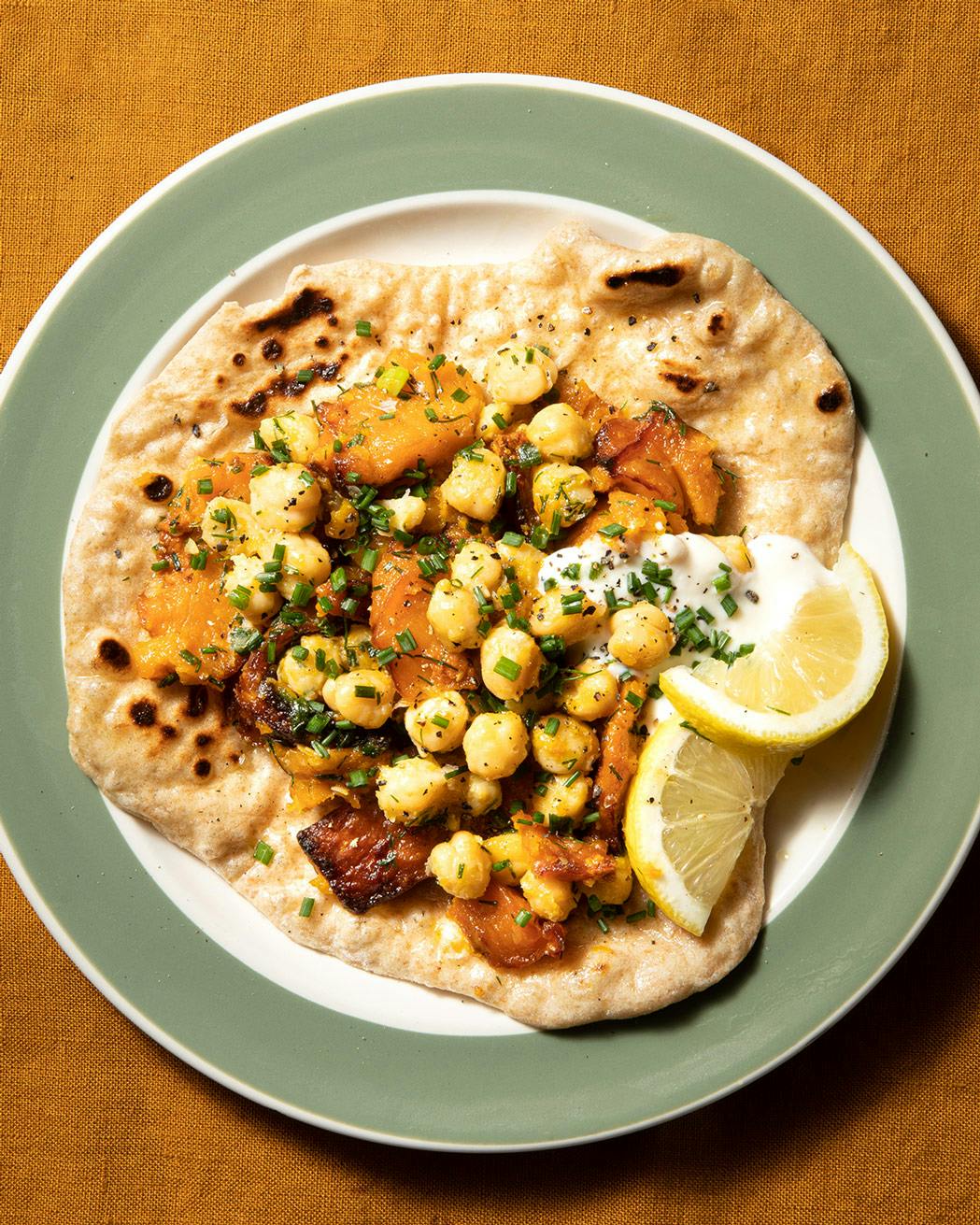 Ingredients
Flatbreads: 
160g plain flour
½ tsp baking powder
½ tsp salt 
130g plant based yoghurt 
1 tbsp (15ml) olive oil
Roasted Pumpkin: 
900g pumpkin 
2 tbsp + 2 tbsp (60ml) olive oil
½ tsp + ½ tsp salt
5g chives 
5g dill
½ lemon, juiced
300g chickpeas, drained and rinsed 
To serve:
4 tbsp plant based yoghurt
1 lemon, sliced
Method
STEP 1
Preheat the oven to 200˚C fan/220˚C conventional.
STEP 2
Next, make the dough for the flatbreads. In a large bowl combine the flour, baking powder and salt. Next, add the yoghurt and olive oil and use a spatula to stir it until a scrappy dough forms. 
STEP 3
Transfer the dough onto a lightly floured surface and knead it for 3-4 minutes, until soft and springy. Place the dough back into the bowl, cover it with a damp tea towel or cling film and let it rest for 20 minutes. 
STEP 4
In the meantime, slice the pumpkin into thin slices and add it to a large roasting tin. Drizzle the pumpkin with 2 tbsp olive oil and ½ tsp salt and use your hands to toss the pumpkin and oil together. Roast the pumpkin for 35-40 minutes, until very soft and crisp around the edges. 
STEP 5
While the pumpkin roasts, prepare the rest of the pumpkin salad. Add 2 tbsp olive oil, ½ tsp salt, chives, dill and lemon juice to a large bowl and stir to combine. Next, stir in the chickpeas. 
STEP 6
Once the pumpkin is roasted, let it cool for 10 minutes, then stir it into the bowl with the herbs and chickpeas. Set the salad aside. 
STEP 7
Transfer the flatbread dough onto a lightly floured surface. Split the dough into four portions and use a rolling pin to roll each piece out until it's roughly ½ cm thick. 
STEP 8
Heat a cast iron skillet or frying pan over medium high heat until hot. Cook each flatbread, one at a time, for around one minute on each side - until charred and puffed. 
STEP 9
Serve each flatbread topped with a big spoonful of pumpkin salad, a dollop of plant based yoghurt and a squeeze of lemon juice.
---
By Valentina Concordia
Valentina is our Food Editor, who dreams up our tasty dishes and recipes for our social channels. She has loads of experience cooking up a storm in Italian kitchens, so it's no surprise she can't live without good-quality olive oil (don't come between her and her olive oil) and fresh pasta.
---
Let us take care of dinner
After getting creative in the kitchen, give yourself the weekend off by letting us take care of dinner. Check out our delicious meals here.
Shop now